Evernote
Send Documents to Evernote Quickly. I've been using Evernote more and more lately to try and keep my blogging life and other business objectives straight.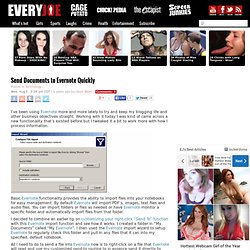 Working with it today I was kind of came across a new functionality that's existed before but I tweaked it a bit to work more with how I process information. Basic Evernote functionality provides the ability to import files into your notebooks for easy management. By default Evernote will import PDF's, images, text files and audio files. You can import folders or files as needed or have Evernote monitor a specific folder and automatically import files from that folder. I decided to combine an earlier tip on customizing your right-click "Send To" function with this Evernote import function and see how it works.
Expand Your Brain with Evernote. I like the Evernote initiative, though I have still problems using it myself.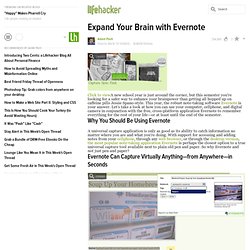 I use Firefox on MacOSX, and since Firefox doesn`t offer integration with OsX services, i have to rely on the web clipper to import formatted content into Evernote. The web clipper is SLOW. Much slower, in fact, than using the Google Toolbar/Send to Gmail feature, and emailing myself the same content to gmail.
Add Evernote to Windows' Send To Menu.
---