Evernote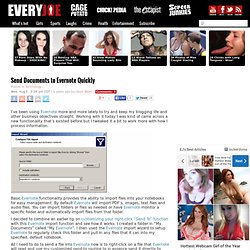 Send Documents to Evernote Quickly
I've been using Evernote more and more lately to try and keep my blogging life and other business objectives straight. Working with it today I was kind of came across a new functionality that's existed before but I tweaked it a bit to work more with how I process information. Basic Evernote functionality provides the ability to import files into your notebooks for easy management. By default Evernote will import PDF's, images, text files and audio files. You can import folders or files as needed or have Evernote monitor a specific folder and automatically import files from that folder. I decided to combine an earlier tip on customizing your right-click "Send To" function with this Evernote import function and see how it works.
SExpand Click to viewA new school year is just around the corner, but this semester you're looking for a safer way to enhance your brainpower than getting all hopped up on caffeine pills Jessie Spano-style. This year, the robust note-taking software Evernote is your answer. Let's take a look at how you can use your computer, cellphone, and digital camera in conjunction with the free, cross-platform application Evernote to remember everything for the rest of your life—or at least until the end of the semester.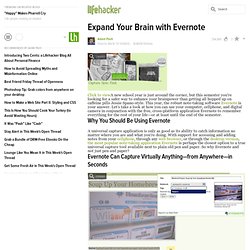 Expand Your Brain with Evernote
Add Evernote to Windows' Send To Menu
SExpand If you dig Evernote's capture powers but don't leave it constantly running on your system, the EveryJoe blog suggests creating a "Send To" shortcut in Windows' right-click menu to shuttle files over to where Evernote will catch them. Even if you do leave Evernote running and ready for note and item catching, sending files to a folder you tell Evernote to watch for uploads might fit into your work flow just a bit better. EveryJoe explains how heading to File/Import in Evernote allows you to leave a folder being constantly monitored by Evernote for PDFs, Word files, text items, and pictures. After creating a shortcut to that folder, simply add it to your Send To menu.