Business
Technorati. Technorati is an Internet search engine for searching blogs.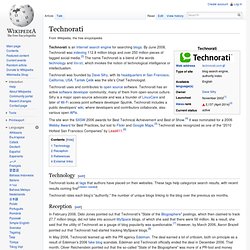 By June 2008, Technorati was indexing 112.8 million blogs and over 250 million pieces of tagged social media.[3] The name Technorati is a blend of the words technology and literati, which invokes the notion of technological intelligence or intellectualism. Technorati was founded by Dave Sifry, with its headquarters in San Francisco, California, USA. Tantek Çelik was the site's Chief Technologist. Technorati uses and contributes to open source software. Technorati has an active software developer community, many of them from open-source culture.
Jobs
The Top Five Social Media Mistakes. Sure you're marketing with Twitter and Facebook, but are you doing it well?
Here are the most common traps you might be falling into. No matter how you slice it, reaching out, connecting and having conversations with customers online costs a business owner time and money. Could your social-media efforts be yielding better results? Here's a list of the biggest mistakes I've seen business owners make with social media and how to avoid them. 1. The Top 10 Marketing Sites for Social Media Marketing Trends Brian Solis.
InShare744 Recently, the Pivot Conference team set out to learn more about the state of social advertising and the future ahead by conducting an industry survey of 230 brand managers, executives, and marketing professionals.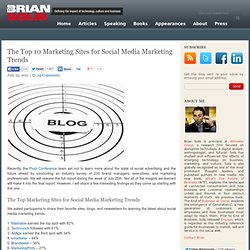 We will release the full report during the week of July 25th. Not all of the insights we learned will make it into the final report. However, I will share a few interesting findings as they come up starting with this one… The Top Marketing Sites for Social Media Marketing Trends. Why Niche Social Networks Encourage More Meaningful Interaction [OPINION]
Facebook Business Marketing.
---