Technology
Bento Laptop Tablet Hybrid by René Woo-Ram Lee & Yanko Design. Bento Box Kinda Like Voltron Bento is quite an exceptional and forward thinking concept by René Woo-Ram Lee.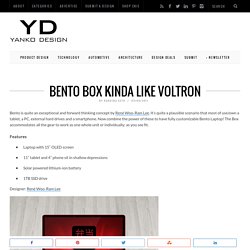 It's quite a plausible scenario that most of use/own a tablet, a PC, external hard drives and a smartphone. Now combine the power of these to have fully customizable Bento Laptop! The Box accommodates all the gear to work as one whole unit or individually; as you see fit.Features. Scientist creates lifelike cells out of metal. Scientists trying to create artificial life generally work under the assumption that life must be carbon-based, but what if a living thing could be made from another element?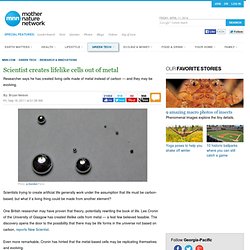 One British researcher may have proven that theory, potentially rewriting the book of life. Lee Cronin of the University of Glasgow has created lifelike cells from metal — a feat few believed feasible. Turn Your Home Router Into a Super-Powered Router with DD-WRT. Wireless is everywhere and routers are the force that makes it happen, so why not supercharge yours to take proper advantage of it?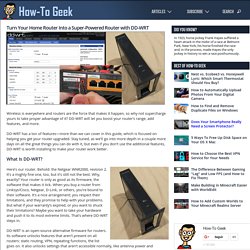 DD-WRT will let you boost your router's range, add features, and more. DD-WRT has a ton of features—more than we can cover in this guide, which is focused on helping you get your router upgraded. Stay tuned, as we'll go into more depth in a couple more days on all the great things you can do with it, but even if you don't use the additional features, DD-WRT is worth installing to make your router work better. What Is DD-WRT? Google Announces Google Fiber: 100X Faster Internet, Plus Free Internet. Google has just announced Google Fiber, a broadband service and interactive television provider that will offer internet speeds up to 100x faster than average broadband.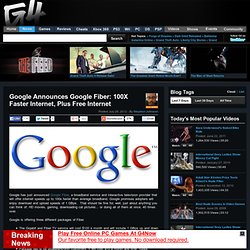 Google promises adopters will enjoy download and upload speeds of 1 GBps. That should be fine for, well, just about anything you can think of: HD movies, gaming, downloading cat pictures... or doing all of them at once, 40 times over. Google is offering three different packages of Fiber. The Gigabit and Fiber TV service will cost $120 a month and will include 1 GBps up and down speeds without a data cap, as well as a terabyte of Google Drive cloud storage. You'll be able to watch all regular broadcast TV channels, hundreds of Google Fiber TV channels, thousands of TV shows on demand, and premium movie channels.
- StumbleUpon. This is some pretty exciting news.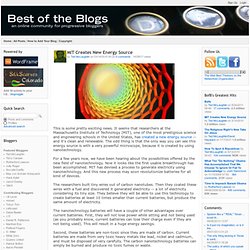 It seems that researchers at the Massachusetts Institute of Technology (MIT), one of the most prestigious science and engineering schools in the United States, has created a new energy source -- and it's clean and renewable. The odd thing is that the only way you can see this energy source is with a very powerful microscope, because it is created by using nanotechnology. For a few years now, we have been hearing about the possibilities offered by the new field of nanotechnology. 7th Grader mimics Nature. 13 year old copies Nature to Improve Solar Performance Thirteen year old Aidan Dwyer was walking in the woods in Upstate New York in the winter and noticed a spiral pattern to tree branches.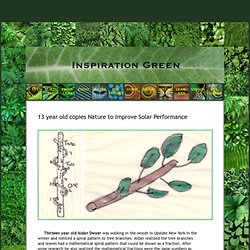 Aidan realized the tree branches and leaves had a mathematical spiral pattern that could be shown as a fraction. After some research he also realized the mathematical fractions were the same numbers as the Fibonacci sequence. "On the oak tree, the Fibonacci fraction is 2/5, which means that the spiral takes five branches to spiral two times around the trunk to complete one pattern.
---