Berkebun
Lama nggak ngeblog, lagi asyik sama komposter, hehe... setelah ngabisin 4 hari browsing sana sini tentang komposter... akhirnya cocok dan kayaknya pengen punya seperti yang dibuat pak Sukamto... kalo pesen kejauhan? kayaknya bisa buat sendiri buat dirumah...aaakhhh bulatkan niat dan tekad, Bismillah... Setelah mengumpulkan informasi gimana cara buat komposter Dno coba terjemahkan kedalam gambar di kertas , kayaknya seperti ini deh ..
Cerita hari ini...: Mari membuat komposter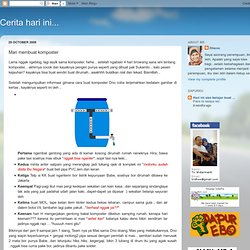 MOL hitam ini adalah MOL seperti biasanya, misalnya MOL tapai, dengan bahan-bahan tapai atau peuyeum (bisa tapai ketan atau tapai ubi) kira-kira 1 Kg, ditambah gula pasir (atau gula merah) kira-kira setengah Kg, air kelapa kira-kira 4 gelas, dicampurkan dalam tong plastik yang diisi air kira-kira 40 Liter. Maka yang terjadi adalah MOL tapai biasanya. Kebetulan saya mempunyai kelinci yang dipelihara dalam kandang, dan dasar kandang bagian luar diberi lembaran plastik, sehingga air kecing kelinci ini tertampung. Lalu air kencing kelinci ini saya tambahkan ke dalam MOL tapai, jadilah MOL kencing kelinci yang warnanya hitam. Ternyata MOL kencing kelinci ini relatif lebih cepat dalam membantu proses pengomposan.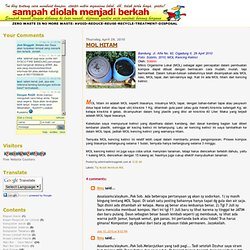 MOL HITAM
How To Grow An Avocado Tree
You can make some pretty tasty dishes with an avocado but did you know that you can grow a tree from it too? It probably won't produce any fruit, but it is a nice addition to your home plant life. For best chance of success, try this with a pit that has been taken from a very (very) ripe avocado that hasn't been refrigerated. You may also want to start 2 or 3 at a time in case one fails.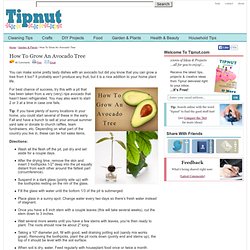 Gardening Tips
How To Grow Herbs in Pots & Containers | Herb Gardening Guide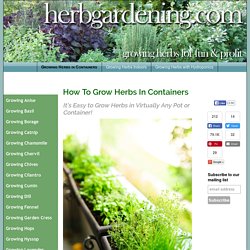 It's Easy to Grow Herbs in Virtually Any Pot or Container! Types of Pots or Containers for Herbs Most herbs can be grown in virtually any kind of pot or container.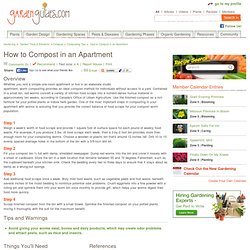 Overview Whether you rent a simple one-room apartment or live in an elaborate studio apartment, worm composting provides an ideal compost method for individuals without access to a yard. Contained in a small bin, red worms convert a variety of kitchen food scraps into a nutrient-dense humus material in approximately ten weeks, according to Canada's Office of Urban Agriculture.
How to Compost in an Apartment
There are a lot of variables that go into planning a garden. Smart Gardener does all the hard work for you. We collect, calculate and create a smart personal profile of your garden just for you. Learn more about your profile. We make it easy to find the right plants, so you can't go wrong. With over 3000 organic, GMO free, edible varieties to choose from (and buy from our partners), Smart Gardener offers you recommendations along with super simple ways to find plants suited to your growing conditions.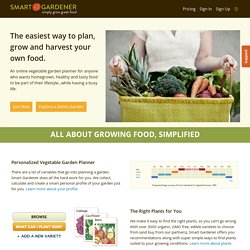 flowers and garden
we're so close to being done! this garden has truly been a family project. from cutting the wood, to filling the beds with dirt, to planting the seeds. tomorrow we will be installing the fencing that will prevent the little critters from getting in. when we first looked into a design that would emulate my inspiration picture, we realized it would take forever to build! the 8 foot fence height was mandatory. i loved the dramatic feel of it AND it is high enough to deter the deer.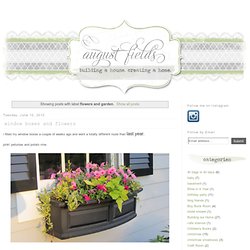 FAM Organic : Organic Home Gardening - Sayuran & Herbal Organik - Pelatihan, Konsultasi & Kemitraan - Eco Souvenir
Menanam Sayuran dalam Pot, memfungsikan taman keluarga sebagai sumber sayuran segar dan bergizi. Halaman rumah yang sempit bukan halangan untuk berkebun bahkan diteras rumah yang sempit dapat dimanfaatkan sebagai lahan, selain indah dan menyejukan pandangan mata ditempat bersantai teras rumah ternyata mampu untuk memenuhi kebutuhan dapur keluarga, asalkan dikelola dengan baik. Kehidupan metropolis telah merubah perilaku orang, semua serba instan dan praktis, semua menjadi mudah ditengah rutinitas keseharian. Bagi sebagian orang keadaan ini menjemukan bahkan bisa membuat orang jadi stres, untuk mengantisipasi hal ini banyak hal yang bisa dilakukan untuk menghilangkan kejenuhan. Salah satu kegiatan yang mudah, murah, dan bermanfaat sekaligus bisa menghemat pengeluaran adalah "berkebun" .
Menanam Sayuran dalam Pot | Teras Asri Dapur Mandiri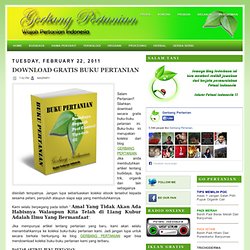 DOWNLOAD GRATIS BUKU PERTANIAN ~ GERBANG PERTANIAN
Salam Pertanian!! Silahkan download secara gratis buku-buku petanian ini. Buku-buku ini merupakan koleksi dari blog GERBANG PERTANIAN. Jika anda membutuhkan artikel tentang budidaya, tips trik, organik dan lain sebagainya disinilah tempatnya. Jangan lupa sebarluaskan koleksi ebook tersebut kepada sesama petani, penyuluh ataupun siapa saja yang membutuhkannya.