Migration
Immigration en France : et encore un tour de vis... Manifestation à Paris contre la poliitique di'mmigration du gouvernement, le 28 mai 2011.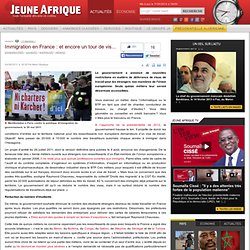 Le gouvernement a annoncé de nouvelles restrictions en matière de délivrance de visas de travail pour les étrangers non membres de l'Union européenne. Seuls quinze métiers leur seront désormais accessibles. Au large de Lampedusa, une centaine de migrants n'auraient pas survécu. UNHCR 2011 refugee statistics: full data | News. The latest refugee statistics are out.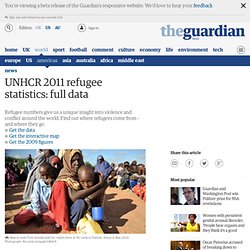 The number of people forcibly displaced worldwide has reached 43.7m people, the highest number in 15 years, according to a report published today to mark World Refugee Day. The annual 'Global Trends' report released by the UN's High Commission for Refugees (UNHCR) shows a rise of internally displaced people (IDP) - up to 27.5m at the end of 2010. However, it does also report a slight decrease in the number of refugees - down to 15.4m from 15.6m at the end of 2009. Afghanistan continues to be the prime country with the most refugees under UNHCR responsibility across the globe. There are three million Afghan refugees, one out of three of the total worldwide number. UNHCR report says refugee numbers at 15-year high | World news. The number of forcibly displaced people around the world has reached a 15-year high, according to the UN high commission for refugees (UNHCR), with the vast majority languishing in poor countries ill-equipped to cater to their needs.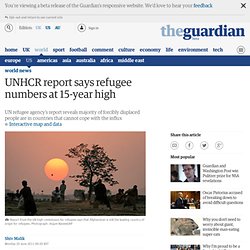 The UNHCR's 2010 trends report estimated that there were 43.7 million refugees and people displaced within their country by events such as war and natural disasters at the end of last year. More than half of the total are children. The figure does not take into account the new wave of migration set in train by the upheaval of the Arab spring. The figure breaks down into a global total of 15.4 million refugees, 27.5 million internally displaced people and a further 840,000 people waiting to be given refugee status.
The 48-page report also reveals that there has been a fall in the number of returning refugees to 197,600, the lowest in two decades. Les avocats contestent le contrôle d'identité au faciès. Un collectif de juristes et d'avocats veut saisir le conseil constitutionnel pour rendre les contrôles d'identité inconstitutionnels.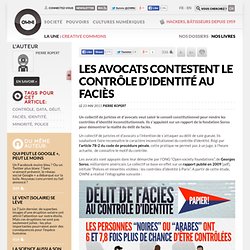 Ils s'appuient sur un rapport de la fondation Soros pour démontrer la réalité du délit de faciès. Un collectif de juristes et d'avocats a l'intention de s'attaquer au délit de sale gueule. Ils souhaitent faire reconnaître le caractère inconstitutionnel du contrôle d'identité. Régi par l'article 78-2 du code de procédure pénale, cette pratique ne permet pas à un juge, à l'heure actuelle, de connaître le motif du contrôle. Soupçons sur les navires de l'OTAN. C'est Migreurop qui le rappelle dans un communiqué (« Etau mortel en mer Méditerranée ») publié le 11 mai 2011 : « Depuis janvier 2011, plus de 1 000 migrants sont morts noyés en essayant d'atteindre les côtes fortifiées des rives sud de l'Union européenne. » La guerre faite aux personnes migrantes depuis une vingtaine d'années a tué, selon l'ONG United against racism, plus de 15 000 personnes, d'après le dernier recensement en date (mai 2011). « Cette guerre, s'alarme Migreurop, atteint actuellement des sommets d'inhumanité. » Le journal britannique The Guardian a révélé dans son édition du 8 mai 2011 (« Aircraft carrier left us to die, say migrants ») que soixante-et-un migrants de toutes nationalités sont morts de faim et de soif après avoir dérivé plusieurs jours dans un zodiac, alors même que des bâtiments de l'OTAN étaient à proximité et les avaient apparemment repérés.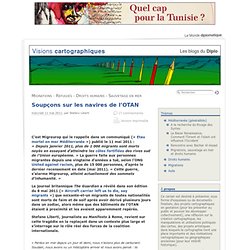 ---