Parcs nationaux
Yosemite National Park - Votre guide en français sur le parc national Yosemite en Californie. L'accès au Canyon n'est pas très facile.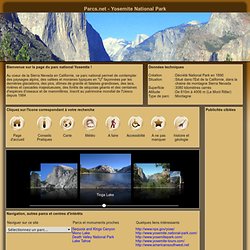 Il se fait tout d'abord en 4x4 puis à pied. Le sol au fond du canyon est sablonneux la majeure partie de l'année, mais devient vite boueux en cas de pluie. Yosemite Valley Les sequoias géants de Giant sequoias Grove Glacier Point La route menant au Tioga Pass Descendre le col Tioga pour appercevoir Mono Lake. Grand Canyon National Park. Bryce Canyon National Park. Monument Valley Navajo Tribal Park. Welcome to the Navajo Nation's Monument Valley Park.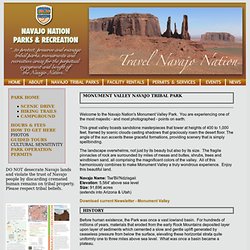 You are experiencing one of the most majestic - and most photographed - points on earth. This great valley boasts sandstone masterpieces that tower at heights of 400 to 1,000 feet. framed by scenic clouds casting shadows that graciously roam the desert floor. The angle of the sun accents these graceful formations, providing scenery that is simply spellbinding. The landscape overwhelms, not just by its beauty but also by its size.
The fragile pinnacles of rock are surrounded by miles of mesas and buttes, shrubs, trees and windblown sand, all comprising the magnificent colors of the valley.
---