My SocialMedia
ReSearch.ly - Instant Community. Welcome, mathieu! MySpace France - Aujourd'hui sur MySpace. MyVidster - collect the videos you love.
Facebook. We need to talk about Facebook - nadir.org. Expatriate Community from Expats for Expats. InterNations - the Community for Expatriates and Global Minds. 14 pistes et idées pour financer le non-profit » Article » owni. Le journaliste Jean Abbiateci nous ouvre une page de son bloc-note et partage quelques idées et solutions pour financer le non-profit.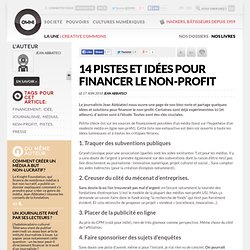 Certaines sont déjà expérimentées ici (et ailleurs), d'autres sont à l'étude. Toutes sont des clés cruciales. Petite check-list sur les sources de financement possibles d'un média (basé sur l'hypothèse d'un modeste média en ligne non-profit). Cette liste non exhaustive est bien sûr ouverte à toute les idées lumineuses et à toutes les critiques féroces. 1.
---