My SocialMedia
We need to talk about Facebook - nadir.org
New to InterNations? Have a look at our Guided Tour! Emmanuelle Archer "If you want to jumpstart your social life in your new country, InterNations Events are the place to be!" Robin Baker "InterNations Ankara welcomes existing and new members at our monthly events where a warm welcome and a friendly face awaits everyone." InterNations is present with expatriate communities in more than 390 cities across all countries of the world.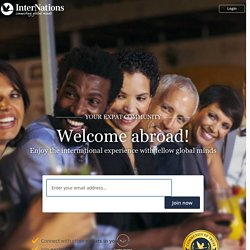 14 pistes et idées pour financer le non-profit » Article » owni.
Le journaliste Jean Abbiateci nous ouvre une page de son bloc-note et partage quelques idées et solutions pour financer le non-profit. Certaines sont déjà expérimentées ici (et ailleurs), d'autres sont à l'étude. Toutes sont des clés cruciales. Petite check-list sur les sources de financement possibles d'un média (basé sur l'hypothèse d'un modeste média en ligne non-profit). Cette liste non exhaustive est bien sûr ouverte à toute les idées lumineuses et à toutes les critiques féroces. 1.