Sherlock homes mycroft homes
http://www.mentalfloss.com/blogs/archives/137661
Omar Rodriguez Lopez - Nada de Amor
The Sentimental Engine Slayer Dir: Omar Rodriguez Lopez - Trailer I
Exclusive Interview: He Is Legend as Artist of the Day...
He Is Legend on TopspotUSA.com
M.I.A. on George Stroumboulopoulos show The Hour January 15th 2011
Beyond The Black Rainbow Trailer
M.I.A. on George Stroumboulopoulos show The Hour January 15th 2011
American head charge just so you know
M.I.A. - Bucky Done Gun
M.I.A. on George Stroumboulopoulos Tonight Interview Part 2
M.I.A - Interview
M.I.A. on Q TV (viewer discretion advised)
Zechs Marquise - "Everlasting Beacon Of Light": SXSW 2012 Showcasing Artist
Rx Bandits - Interview.
Matt Embree discussing Kurt Vonnegut
THE SAFETY FIRE - Huge Hammers (OFFICIAL VIDEO)
Getting Candid with Devin Townsend (Part 3)
Getting Candid with Devin Townsend (Part 2)
Getting Candid with Devin Townsend (Part 1)
Face Blindness: Oliver Sacks - The Mind's Eye
Oliver Sacks - Musicophilia - Amusia
Oliver Sacks - Musicophilia - Amusia
Oliver Sacks: Nervous System and the Soul (excerpt) - Thinking Allowed with Jeffrey Mishlove
Robin on Christopher Reeve & Oliver Sacks
Are Thoughts The Source of Ego?
Soap&Skin - Thanatos (official video)
In Greek mythology , Thanatos ( Greek : Θάνατος ( Thánatos ) , " Death ," [ 1 ] from θνῄσκω - thnēskō , "to die, be dying" [ 2 ] ) was the daemon personification of death. He was a minor figure in Greek mythology, often referred to but rarely appearing in person. His name is transliterated in Latin as Thanatus , but his equivalent in Roman mythology is Mors or Letus / Letum , [ citation needed ] and he is sometimes identified erroneously with Orcus (Orcus himself had a Greek equivalent in the form of Horkos , God of the Oath). [ citation needed ] In myth and poetry The Greek poet Hesiod established in his Theogony that Thánatos is a son of Nyx (Night) and Erebos (Darkness) and twin of Hypnos (Sleep).
Thanatos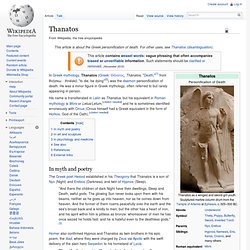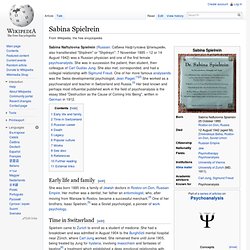 Sabina Spielrein
Memorial plaque at former residence of Sabina Spielrein in Berlin, Germany Sabina Naftulovna Spielrein ( Russian : Сабина Нафтуловна Шпильрейн, also transliterated "Shpilrein" or "Shpilreyn", 7 November 1885 – 12 or 14 August 1942) was a Russian physician and one of the first female psychoanalysts . She was in succession the patient, then student, then colleague of Carl Gustav Jung . She also met, corresponded, and had a collegial relationship with Sigmund Freud . One of her more famous analysands was the Swiss developmental psychologist, Jean Piaget . [ 1 ] [ 2 ] She worked as a psychoanalyst and teacher in Switzerland and Russia. [ 3 ] Her best known and perhaps most influential published work in the field of psychoanalysis is the essay titled "Destruction as the Cause of Coming Into Being", written in German in 1912. [ edit ] Early life, education and family
Kierkegaard - Sea of Faith - BBC documentary (Part 2 of 2)
Kierkegaard - Sea of Faith - BBC documentary (Part 1 of 2)
Jung_himself-on-TRANSFERENCE & Archtypes
Jung - Sea of Faith - BBC documentary (Part 2 of 2)
Jung - Sea of Faith - BBC documentary (Part 1 of 2)
Sigmund Freud Documentary Pt. 1 of 3
Sigmund Freud Documentary Pt. 3 of 3
Sigmund Freud Documentary Pt. 2 of 3
Carl Gustav Jung Documentary Pt. 2 of 2
Carl Gustav Jung Documentary Pt. 1 of 2
Filter - Jurassitol
FILTER - No Love
Filter - The Best Things
Filter - Welcome To The Fold
Filter - Hey Man, Nice Shot
Filter - Where Do We Go From Here
Filter - Take A Picture
Filter - Gimme All Your Lovin'
"Coast" - The Devin Townsend Project
"Bend It Like Bender!" - The Devin Townsend Project
Hilarious Devin Townsend Interview at Ozzfest '06
Devin Townsend - Earth Day
THE DEVIN TOWNSEND PROJECT - Juular (OFFICIAL VIDEO)
Devin Townsend Project Interview part 1 for Morow.com The Prog Radio
Devin Townsend - Storm
Devin Townsend Project Interview part 2 for morow.com
Knives Out - Blood Everywhere
This Is Menace - High Road
This is Menace - Dead Man
Making More Sound - Chaining Pocket Piano MIDIs Together - Critter & Guitari
Pocahontas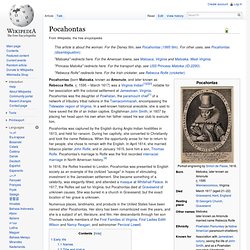 Pocahontas (born Matoaka , and later known as Rebecca Rolfe , c. 1595 – March 1617) was a Virginia Indian [ 1 ] [ 2 ] notable for her association with the colonial settlement at Jamestown, Virginia . Pocahontas was the daughter of Powhatan , the paramount chief [ 1 ] of a network of tributary tribal nations in the Tidewater region of Virginia . In a well-known historical anecdote, she is said to have saved the life of an Indian captive, Englishman John Smith , in 1607 by placing her head upon his own when her father raised his war club to execute him. Pocahontas was captured by the English during Anglo-Indian hostilities in 1613, and held for ransom. During her captivity, she converted to Christianity and took the name Rebecca. When the opportunity arose for her to return to her people, she chose to remain with the English.
Motograter Alumni Reunite In New Band Riven | Theprp.com – Metal, Hardcore And Rock News, Reviews And More
the lucky nine - hibernate
Vermin Supreme: When I'm President Everyone Gets A Free Pony
Autechre - Gantz Graf - HD 720p version
Documentary on Yogi Jeevan clip-2
Iiris - Melyse - R2 Mini Live
Les Savy Fav - Patty Lee
Iiris Live at Iceland Airwaves
Stuart Warwick - Man With A Pussy
Holy State - Lady Magika (Official Video)
Join The Dots-Queenadreena
Pulled Apart By Horses - V.E.N.O.M
Nosferatu the Vampyre is a 1979 West German vampire horror film written and directed by Werner Herzog . Its original German title is Nosferatu: Phantom der Nacht ("Nosferatu: Phantom of the Night"). The film is set primarily in 19th-century Wismar , Germany and Transylvania , and was conceived as a stylistic remake of the 1922 German Dracula adaptation, Nosferatu, eine Symphonie des Grauens . It stars Klaus Kinski as Count Dracula , Isabelle Adjani as Lucy Harker, Bruno Ganz as Jonathan Harker , and French artist - writer Roland Topor as Renfield .
Nosferatu the Vampyre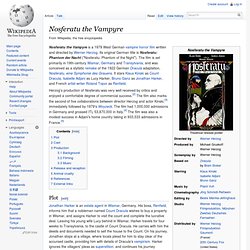 Werner Herzog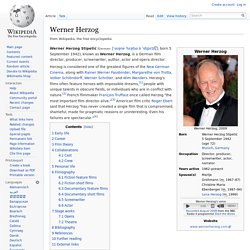 Werner Herzog Stipetić ( German pronunciation: [ˈʋɛɐ̯nɐ ˈhɛɐ̯tsoːk ˈstɪpɛtɪtʃ] ; born September 5, 1942), known as Werner Herzog , is a German film director, producer, screenwriter, and actor; and an opera director. Herzog is considered one of the greatest figures of the New German Cinema , along with Rainer Werner Fassbinder , Margarethe von Trotta , Volker Schlöndorff , Werner Schröter , and Wim Wenders . Herzog's films often feature heroes with impossible dreams, [ 1 ] people with unique talents in obscure fields, or individuals who find themselves in conflict with nature. [ 2 ] French filmmaker François Truffaut once called Herzog "the most important film director alive" [ 3 ] and American film critic Roger Ebert stated that Herzog "has never created a single film that is compromised, shameful, made for pragmatic reasons or uninteresting. Even his failures are spectacular." [ 4 ] [ edit ] Personal life
Into the Abyss (film)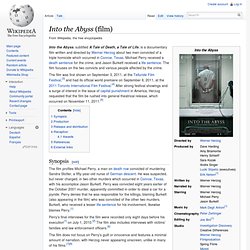 Into the Abyss , subtitled A Tale of Death, a Tale of Life , is a documentary film written and directed by Werner Herzog about two men convicted of a triple homicide which occurred in Conroe, Texas . Michael Perry received a death sentence for the crime, and Jason Burkett received a life sentence . The film focuses on the two convicts and various people affected by the crime. The film first showed on September 3, 2011, at the Telluride Film Festival , [ 3 ] and had its official world premiere on September 8, 2011, at the 2011 Toronto International Film Festival . [ 4 ] After strong festival showings and a surge of interest in the issue of capital punishment in America, Herzog requested that the film be rushed to a general theatrical release, scheduled for November 11, 2011. [ 5 ] [ edit ] Synopsis
Klaus Kinski filmography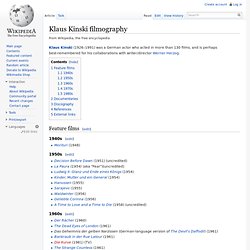 Klaus Kinski (1926–1991) was a German actor who acted in over 130 films, and is perhaps best-remembered for his collaborations with writer/director Werner Herzog . [ edit ] Feature films [ edit ] Documentaries Burden of Dreams (1982) Location Africa (1987) My Best Fiend (TV) (1999) Please Kill Mr. Kinski (1999) online Jesus Christus Erlöser (2008) [ edit ] Discography
Clive Russell (born 7 December 1945) is an Scottish actor . [ edit ] Biography Clive Russell was born in Reeth , England and brought up in Fife , Scotland . [ 1 ]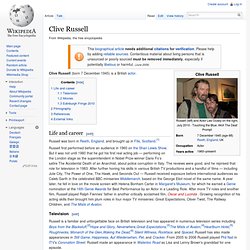 Clive Russell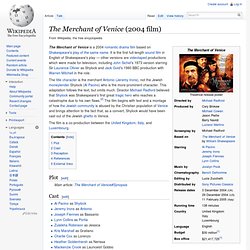 The Merchant of Venice (2004 film)
The Merchant of Venice is a 2004 romantic drama film based on Shakespeare 's play of the same name . It is the first full-length sound film version in English of Shakespeare's play; most other versions are videotaped productions made for television. There had been a British early sound nine-minute short subject production of the trial scene in 1927, with Lewis Casson as Shylock and Sybil Thorndike (Casson's wife) as Portia. The 2004 adaptation follows the text very closely, only missing occasional lines. The director, Michael Radford , believed that Shylock was Shakespeare's first tragic hero , who reaches a catastrophe due to his own flaws: [ 2 ] thus the film does not show Shylock purely as a villain, but partly also as a victim. It begins with text and a montage of how the Jewish community is abused by the Christian population of Venice .
Christopher Columbus ( Italian : Cristoforo Colombo ; Spanish : Cristóbal Colón ; Portuguese : Cristóvão Colombo ; before 31 October 1451 – 20 May 1506) was an explorer, navigator, and colonizer, born in the Republic of Genoa , in what is today northwestern Italy . [ 2 ] [ 3 ] [ 4 ] [ 5 ] Under the auspices of the Catholic Monarchs of Spain, he completed four voyages across the Atlantic Ocean that led to general European awareness of the American continents . Those voyages, and his efforts to establish permanent settlements on the island of Hispaniola , initiated the Spanish colonization of the New World .
Christopher Columbus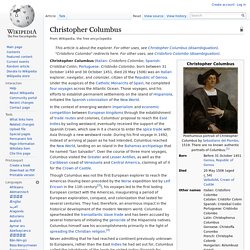 Queenadreena are an independent rock band from London . Vocalist KatieJane Garside and guitarist Crispin Gray had previously collaborated in the celebrated but short-lived band Daisy Chainsaw . They were joined by drummer Billy Freedom and bassist Orson Wajih and then released their first album, Taxidermy , in 2000, on the Blanco y Negro Records imprint. After its release, the band's name was changed slightly, from "Queen Adreena" to "Queenadreena", and subsequent releases reflect this.
QueenAdreena
A conversion disorder causes patients to suffer from neurological symptoms, such as numbness , blindness , paralysis , or fits without a definable organic cause. It is thought that symptoms arise in response to stressful situations affecting a patient's mental health, however no concrete evidence has been found that proves episodes of conversion are not symptoms of an underlying organic cause. Telling the patient that the blindness, stroke, or movement disorder has no organic cause will not cure them; it is important to recognize that the patient's symptoms are very real, not malingering or factitious. Conversion disorder is considered a psychiatric disorder in the Diagnostic and Statistical Manual of Mental Disorders fourth edition ( DSM-IV ). [ 1 ]
Conversion disorder
Hypochondriasis
Hypochondriasis or hypochondria (sometimes referred to as health phobia or health anxiety ) refers to excessive preoccupancy or worry about having a serious illness. This debilitating condition is the result of an inaccurate perception of the body's condition despite the absence of an actual medical condition. [ 1 ] An individual suffering from hypochondriasis is known as a hypochondriac . Hypochondriacs become unduly alarmed about any physical symptoms they detect, no matter how minor the symptom may be.
Somatization disorder
Somatization disorder (also Briquet's syndrome or hysteria ) is a somatoform disorder characterized by recurring, multiple, clinically significant complaints about pain, gastrointestinal, sexual and pseudoneurological symptoms. Those complaints must begin before the individual turns 30 years of age, [ 1 ] and could last for several years, resulting in either treatment seeking behavior or significant treatment. [ 2 ] Individuals with somatization disorder typically visit many doctors in pursuit of effective treatment. Somatization disorder also causes challenge and burden on the life of the caregivers or significant others of the patient. [ edit ] Diagnosis
Poison the Well is an experimental hardcore band from Miami / Ft. Lauderdale , Florida [ 1 ] who were last signed to Ferret Music . Guitarist Ryan Primack and drummer Chris Hornbrook were the only remaining members of the band who were involved since their inception, although vocalist Jeffrey Moreira was the singer on all five full-length albums. In 2010, they announced a hiatus to explore other interests. [ edit ] History
Poison the Well (band)
The Final Problem
The Dogbones 'The Whole World is Weird'
THE DOGBONES - All Your Friends (Are Going To Kill You).mp4
Queen Adreena-FM Doll
Queen Adreena pretty - like drugs
Medicine Jar(another edition) - Queenadreena
Queen Adreena - Jolene
Professor Moriarty
Adam Worth