Web
Our 50 Favorite Web Developers Resources and Tools from 2011. As a developer, anything that can save you just a little bit of time is well worth its weight in gold.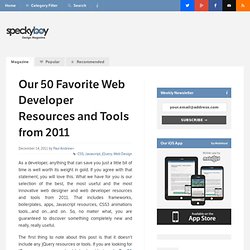 If you agree with that statement, you will love this. What we have for you is our selection of the best, the most useful and the most innovative web designer and web developer resources and tools from 2011. That includes frameworks, boilerplates, apps, Javascript resources, CSS3 animations tools…and on…and on. So, no matter what, you are guaranteed to discover something completely new and really, really useful. The first thing to note about this post is that it doesn't include any jQuery resources or tools. Dhteumeuleu. Rapidshare Search Shared Files | Megaupload. Free Web Resources – Web Resources Depot. Cacoo - Create diagrams online Real time collaboration. Prezi - The Zooming Presentation Editor. Index scripts.
Web Service
Point-Barre | Studio de création | Paris. Conférence. Neeed ♥ [Vote] Les 10 demi-finalistes du concours Capsulte To LeWeb. Lancé le 2 novembre dernier, Capsule To LeWeb est un concours d'applications encapsulées du programme pour développeurs Intel organisé avec BeMyApp.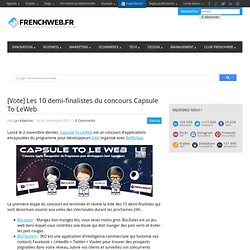 La première étape du concours est terminée et révèle la liste des 10 demi-finalistes qui sont désormais soumis aux votes des internautes durant les prochaines 24h. Bio-eater : Mangez bon mangez bio, vous serez moins gros.
Web Dev
Internet. Articles. Web Culture. WebSavoie. Ecrans. ODP - Open Directory Project. ODP - Open Directory Project. Don't Make Me Steal. Live Video and Annotation. 5 ressources pour comprendre et travailler sur l'identité numérique. Comprendre ce qu'est l'identité numérique n'est pas si simple.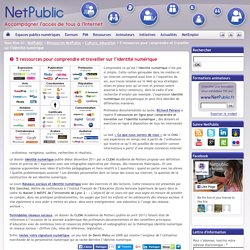 Cette notion galvaudée dans les médias et sur Internet correspond aussi bien à l'exposition de soi, aux traces laissées sur le Web qu'aux stratégies mises en place pour qu'un nom et prénom soient associsé à tel(s) contenu(s), dans le cadre d'une recherche d'emploi par exemple. L'expression identité numérique est polysémique et peut être abordée de différentes manières. Chère copie privée | - UFC Que Choisir. La Blogothèque.
Compare & Find Best Free Solutions. Commotion Wireless - Aperçu - Chambana.net Tech Projects. Ars Technica. Commotion, le projet d'un Internet hors de tout contrôle. LE MONDE | • Mis à jour le | Par Yves Eudes Un immeuble confortable et anonyme, au cœur de Washington, à quelques rues de la Maison Blanche.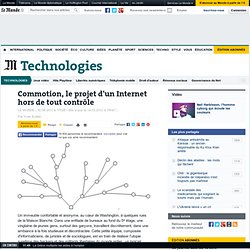 Dans une enfilade de bureaux au fond du 5e étage, une vingtaine de jeunes gens, surtout des garçons, travaillent discrètement, dans une ambiance à la fois studieuse et décontractée. Cette petite équipe, composée d'informaticiens, de juristes et de sociologues, est en train de réaliser l'utopie suprême des hackers et des militants libertaires du monde entier : un logiciel permettant la création de réseaux sans fil à haut débit 100 % autonomes, qui fonctionneront sur les fréquences Wi-Fi, sans s'appuyer sur aucune infrastructure existante – ni relais téléphonique, ni câble, ni satellite.
Ils seront mouvants, horizontaux, entièrement décentralisés et échapperont à toute surveillance, car le trafic sera anonyme et crypté. Créez simplement des mashup avec ifttt. Créer un mashup, ça n'est pas donné à tout le monde.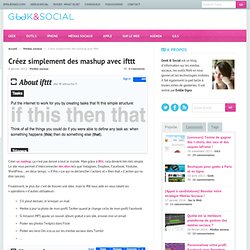 Mais grâce à ifttt, cela devient très très simple. Le site vous permet d'interconnecter des sites tels que Instagram, Dropbox, Facebook, Youtube, WordPress… en deux temps : « if this » (ce qui va déclencher l'action) et « then that » (l'action qui va être lancée). Put the internet to work for you. HerdictWeb : Home. The Open Graph Protocol. Web Equation. The Polynomial : Space of the music (game, demo, screenshots, and videos). The Polynomial : Space of the music.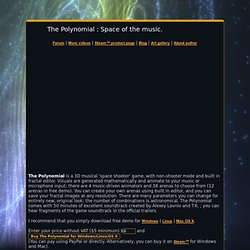 The Polynomial is a 3D musical 'space shooter' game, with non-shooter mode and built in fractal editor. Visuals are generated mathematically and animate to your music or microphone input; there are 4 music-driven animators and 38 arenas to choose from (12 arenas in free demo). You can create your own arenas using built in editor, and you can save your fractal images at any resolution. OpenNet Initiative. H2O Project - Ideas. Berkman Geekroom Blog Weblog written by the developers of the H2O system.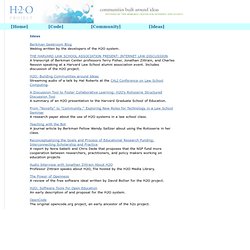 THE HARVARD LAW SCHOOL ASSOCIATION PRESENT: INTERNET LAW DISCUSSION A transcript of Berkman Center professors Terry Fisher, Jonathan Zittrain, and Charles Nesson speaking at a Harvard Law School alumni association event. Includes discussion of the H2O project. H2O: Building Communities around Ideas Streaming audio of a talk by Hal Roberts at the CALI Conference on Law School Computing. A Discussion Tool to Foster Collaborative Learning: H2O's Rotisserie Structured Discussion Tool A summary of an H2O presentation to the Harvard Graduate School of Education.
From "Novelty" to "Community:" Exploring New Roles for Technology in a Law School Seminar A research paper about the use of H2O systems in a law school class.
---