Visualisation de données
Graph Visualization and Neo4j. So far we've learned how to get Neo4j up and running with Neography, how to find friends of friends and degrees of separation with the Neo4j REST API and a little bit of the Gremlin and Cypher languages.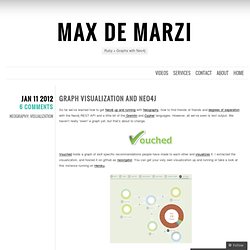 However, all we've seen is text output. We haven't really "seen" a graph yet, but that's about to change. Vouched holds a graph of skill specific recommendations people have made to each other and visualizes it. I extracted the visualization, and hosted it on github as neovigator.
Graph & Science des Réseaux
Free Open source Geocoder via REST webservices (for geonames and openstreetmap data) The art of data visualization. A Tour through the Visualization Zoo. Related Content Visualizing System Latency Heat maps are a unique and powerful way to visualize latency data.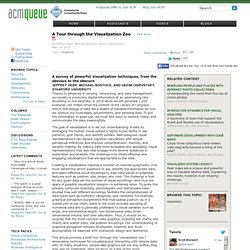 Explaining the results, however, is an ongoing challenge. Browse this Topic: Linkfluence - Social Web Insight. Linkfluence wahlradar.
Economie. Blogs. API / Toolkit / Tools. Data Cartographie. Media. Politique. Knowledge Visualization. Article.
---