Video Game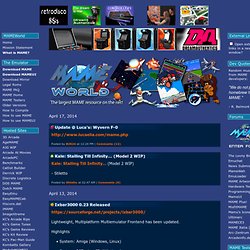 January 11, 2014 MAME4droid (0.139u1) 1.6.1 JXD S7800b, Archos Gamepad 2 support. Improved immersive mode. Added option to delete nvram and cfg files.
MAMEWorld - The Largest MAME Resource on the Net
Wing Commander CIC
Klavs' first sketches of the new year are a tribute to the artist mentioned in Claw Marks, Lt. "Tooner" Dibbles. Although he's a very minor footnote in the history of Kilrathi War, every inch of the original Wing Commander games' documentation is memorable to thousands of Wingnuts. Klavs has turned that nostalgia up a notch with some artisy sketches that Tooner would have produced, plus an anecdote from Paladin that drives his loss home. Tooner was a great kid.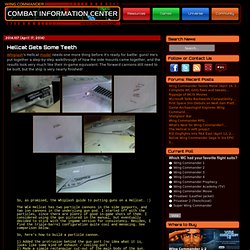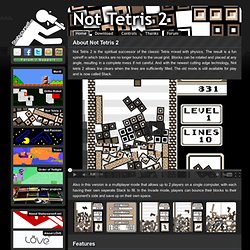 Not Tetris 2 is the spiritual successor of the classic Tetris mixed with physics. The result is a fun spinoff in which blocks are no longer bound to the usual grid. Blocks can be rotated and placed at any angle, resulting in a complete mess if not careful. And with the newest cutting edge technology, Not tetris 2 allows line clears when the lines are sufficiently filled.
Not Tetris 2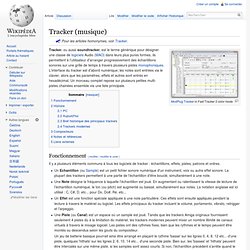 Tracker (musique)
Un article de Wikipédia, l'encyclopédie libre. Pour les articles homonymes, voir Tracker. Tracker, ou aussi soundtracker, est le terme générique pour désigner une classe de logiciels Audio (MAO) dans leurs plus pures formes, ils permettent à l'utilisateur d'arranger progressivement des échantillons sonores sur une grille de temps à travers plusieurs pistes monophoniques. L'interface du tracker est d'abord numérique; les notes sont entrées via le clavier, alors que les paramètres, effets et autres sont entrés en hexadécimal. Un morceau complet repose sur plusieurs petites multi-pistes chainées ensemble via une liste principale.
KeygenJukebox.com - Streams Keygen Music Directly to Your Web Browser!
Trash80.net :: We <3 Music :: Home
Woolyss
Newly Submitted Files 1 - 100
Tower of Heaven - Original Soundtrack | flashygoodness
Home - Chipamp (Winamp Chiptune Plugin Bundle)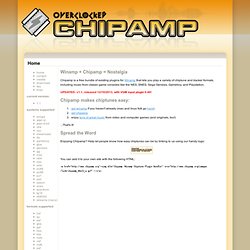 Winamp + Chipamp = Nostalgia Chipamp is a free bundle of existing plugins for Winamp that lets you play a variety of chiptune and tracker formats, including music from classic game consoles like the NES, SNES, Sega Genesis, Gameboy, and Playstation. UPDATED: v1.1, released 12/10/2013, with VGM input plugin 0.40! Chipamp makes chiptunes easy: get winamp if you haven't already (mac and linux folk go here)get chipampenjoy tons of great music from video and computer games (and originals, too!) ...That's it!
FantomenK | 8bc - Online Chiptune Media Sharing
新宿8bit cafe | エイトビットカフェ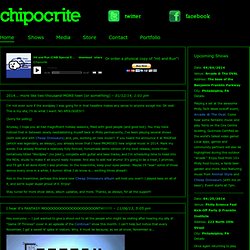 Chipocrite
Sorry if it seems like I haven't updated the news on this page in a while. It certainly wasn't for a lack of things to talk about — I just wanted to keep the Lebowski announcement at the top. But with a slew of upcoming shows to announce, I figured it was time to highlight some of this exciting stuff! (And in case you wanted to hear it anyway, I did keep the Lebowski player at the top... See what I did there?!)
2080
C64.COM - To Protect and Preserve
Mario Sound Tracks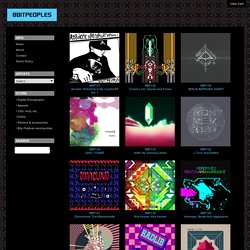 Here it comes! All details are in place for the sixth edition of the Blip Festival New York, taking place May 25-27 at The Gramercy Theatre in Manhattan. Come dance all night to the sounds and lights produced by: BATSLY ADAMS · BIT SHIFTER · BURNKIT2600 · CHiKA · CHIPOCRITE · CHROMACLE · :| kREW · DANIMAL CANNON · DEADBEATBLAST · DR.
Télécharger et jouer à d'anciens jeux en ligne, sur PC et iPhone - DotEmu
Light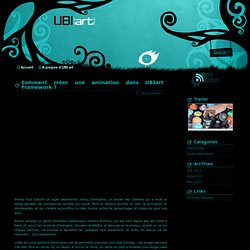 Prenez tout d'abord un super dessinateur, tiens, Christophe, un ancien des Gobelins qui a roulé sa bosse pendant de nombreuses années sur moult films et dessins animés en tant qu'animateur et storyboarder, et qui s'éclate aujourd'hui à créer toutes sortes de personnages et créatures pour nos jeux. Prenez ensuite un gentil animateur talentueux, comme Anthony, qui est sorti depuis peu de LISAA à Paris, et, sous l'œil avisé de Christophe, récupère la bébête, la découpe en morceaux, ajoute un os sur chaque élément, recompose le squelette en quelques clics seulement, et enfin, lui donne vie en l'animant… tout simplement. L'idée de notre système d'animation est de permettre d'animer tout type d'image. Les images peuvent très bien être un rendu 3d, un dessin à l'encre de chine, un décor en pate a modeler, une image créée sur tablette ou scannée. En fait, toute source visuelle peut être utilisée.
Blog Ubiart
From Portal 2 ARG Wiki - Valve ARG Network This page contains information from the ARG that is directly linked to the Half-Life 2/Portal 1/2 universe. The "Potato" theme seems to stem from removing R, L, and W from the phrase "Portal Two", as shown by the banner that appears when you can claim your Portal "Resurrection Associate Pin" pin in Team Fortress 2. This is a list of all the maps that will be in the game. Very interesting information can be extracted, and if it is not useful to the ARG, it is interesting to any Portal 2 fan. There is other interesting info found in the scripts, and sounds folder.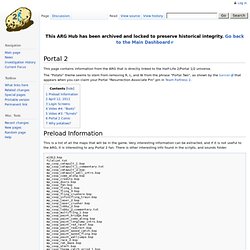 Portal 2 - Valve ARG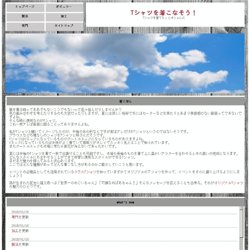 着こなし 服を着る時ってああでもないこうでもないって色々悩んだりしませんか? 色の組み合わせを考えたりするのも大変だったりしますが、夏には涼しい格好で冬にはセーターなどを来たりとあまり季節感のない服装ってできないですよね。 そんな時に便利なのがTシャツ。
OldDoom.com
Not Tetris