Video Game
Émulation, jeux vidéo & retrogaming - Emu Nova. MAMEWorld - The Largest MAME Resource on the Net. Wing Commander CIC. Not Tetris 2. Not Tetris 2 is the spiritual successor of the classic Tetris mixed with physics.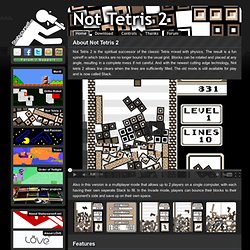 The result is a fun spinoff in which blocks are no longer bound to the usual grid. Blocks can be rotated and placed at any angle, resulting in a complete mess if not careful. And with the newest cutting edge technology, Not tetris 2 allows line clears when the lines are sufficiently filled. VGM.
Tracker (musique) Un article de Wikipédia, l'encyclopédie libre.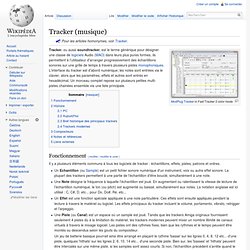 Pour les articles homonymes, voir Tracker. Tracker, ou aussi soundtracker, est le terme générique pour désigner une classe de logiciels Audio (MAO) dans leurs plus pures formes, ils permettent à l'utilisateur d'arranger progressivement des échantillons sonores sur une grille de temps à travers plusieurs pistes monophoniques. L'interface du tracker est d'abord numérique; les notes sont entrées via le clavier, alors que les paramètres, effets et autres sont entrés en hexadécimal.
Un morceau complet repose sur plusieurs petites multi-pistes chainées ensemble via une liste principale. OverClocked ReMix - Video Game Music Community. KeygenJukebox.com - Streams Keygen Music Directly to Your Web Browser! Trash80.net :: We <3 Music :: Home.
Woolyss. Newly Submitted Files 1 - 100. Tower of Heaven - Original Soundtrack | flashygoodness. Home - Chipamp (Winamp Chiptune Plugin Bundle) FantomenK | 8bc - Online Chiptune Media Sharing. 新宿8bit cafe | エイトビットカフェ. Chipocrite. 2080. C64.COM - To Protect and Preserve. Mario Sound Tracks. 8bitpeoples. Télécharger et jouer à d'anciens jeux en ligne, sur PC et iPhone - DotEmu. Play Game Boy Online.
Light. Blog Ubiart. Portal 2 - Valve ARG. From Portal 2 ARG Wiki - Valve ARG Network This page contains information from the ARG that is directly linked to the Half-Life 2/Portal 1/2 universe.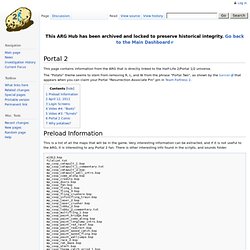 The "Potato" theme seems to stem from removing R, L, and W from the phrase "Portal Two", as shown by the banner that appears when you can claim your Portal "Resurrection Associate Pin" pin in Team Fortress 2. This is a list of all the maps that will be in the game. Very interesting information can be extracted, and if it is not useful to the ARG, it is interesting to any Portal 2 fan.
There is other interesting info found in the scripts, and sounds folder. OldDoom.com. Not Tetris.
---