Electro / Techno
Official Home of The Chemical Brothers | Home. :::: WWW.TECHNOPOP.COM.BR - 2011-APR-5 :::: Ishkur's Guide to Electronic Music | New Home on Techno.org.
Ishkur's Guide
Kraftwerk. Un article de Wikipédia, l'encyclopédie libre.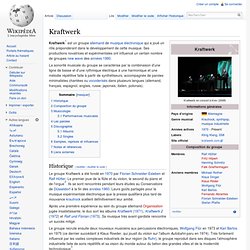 Kraftwerk Kraftwerk en concert à Kiev (2008) La sonorité musicale du groupe se caractérise par la combinaison d'une ligne de basse et d'une rythmique électrique à une harmonique et une mélodie répétitive faite à partir de synthétiseurs, accompagnée de paroles minimalistes chantées ou vocoderisés dans plusieurs langues (allemand, français, espagnol, anglais, russe, japonais, italien, polonais). Historique[modifier | modifier le code] Le groupe Kraftwerk a été fondé en 1970 par Florian Schneider-Esleben et Ralf Hütter. :::: KRAFTWERK OFFICIAL FAN WEBSITE - 2011-JAN-26 :::: Kraftwerk. Ken Ishii. Un article de Wikipédia, l'encyclopédie libre.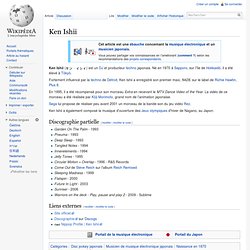 Ken Ishii (ケン・イシイ) est un DJ et producteur techno japonais. Né en 1970 à Sapporo, sur l'île de Hokkaidō, il a été élevé à Tōkyō. KENISHII.COM. Acid Techno Pattern TB 303. Are you wondering how to create a famous 303 pattern?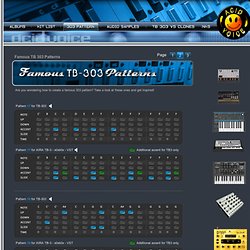 Take a look at these ones and get inspired! Pattern 17 for TB-303 Pattern 17 for AIRA TB-3 - x0xb0x - VST Additional accent for TB3 only.