Data Cartographie
Manuel de TileMill en français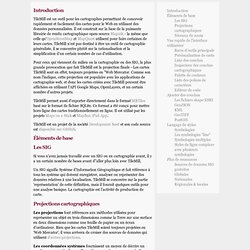 TileMill est un outil pour les cartographes permettant de concevoir rapidement et facilement des cartes pour le Web en utilisant des données personnalisées. Il est construit sur la base de la puissante librairie de rendu cartographique open-source Mapnik - la même que celle qu'OpenStreetMap et MapQuest utilisent pour faire certaines de leurs cartes. TileMill n'est pas destiné à être un outil de cartographie généraliste, il se concentre plutôt sur la rationalisation et la simplification d'un certain nombre de cas d'utilisation. Pour ceux qui viennent du milieu ou la cartographie ou des SIG, la plus grande provocation que fait TileMill est la projection finale - Les cartes TileMill sont en effet, toujours projetées en "Web Mercator. Comme son nom l'indique, cette projection est populaire avec les applications de cartographie web, et donc les cartes créées avec TileMill peuvent être affichées en utilisant l'API Google Maps, OpenLayers, et un certain nombre d'autres projets.
Serial Mapper
Places and Spaces :: Mapping Science
L'objectif de GéoTribu est simple, vous fournir un maximum de documentation et tutoriaux sur tous les sujets ayant attrait au WebMapping (une définition simple pourrait être « l'ensemble des technologies permettant d'afficher une carte par internet »).
GéoTribu, Tout sur le webmapping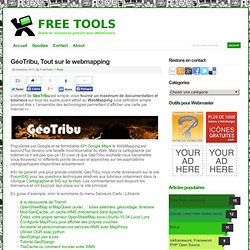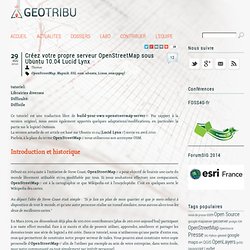 Créez votre propre serveur OpenStreetMap sous Ubuntu 10.04 Lucid Lynx
Ce tutoriel est une traduction libre de build-your-own-openstreetmap-server.
web cartography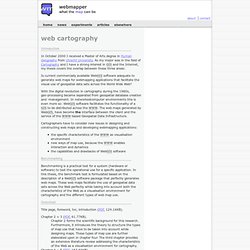 Introduction
Tiled Based Vector & Raster Maps using SVG and Javascript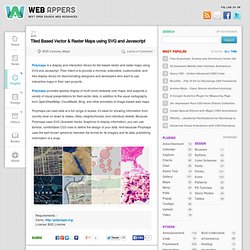 Polymaps is a display and interaction library for tile-based vector and raster maps using SVG and Javascript. Their intent is to provide a minimal, extensible, customizable, and free display library for discriminating designers and developers who want to use interactive maps in their own projects.
HTML5 Mobile Mapping
WebMapping , Les solutions libre
Till Nagel – TileMill for Processing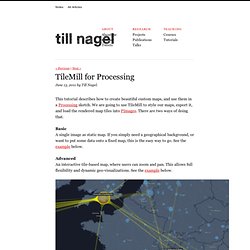 This tutorial describes how to create beautiful custom maps, and use them in a Processing sketch.
Le petit blog cartographique
Atelier cartographique multiplateforme : RasterChart2BSB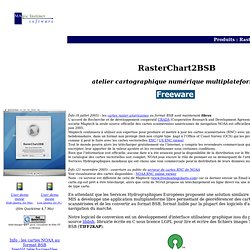 atelier cartographique numérique multiplateforme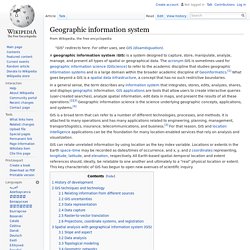 A geographic information system (GIS) is a system designed to capture, store, manipulate, analyze, manage, and present all types of geographical data.
Geographic information science
La cartographie SIG en ligne ou Web mapping: les outils «libres»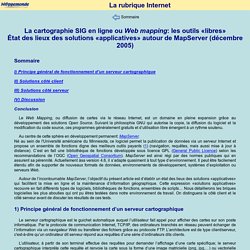 Sommaire I) Principe général de fonctionnement d'un serveur cartographique II) Solutions côté client
Cartes géographiques statistiques sur drawmeagraph.com
OpenLayers: Home
Safecast
Carte géolocalisée du métro de Paris - nojhan/art
Géolocalisation Contrairement au plan de la RATP (et à la plupart des autres plans), chaque station est placée à sa position géographique réelle. Cela permet d'éviter de prendre une correspondance ou une station supplémentaire là où un peu de marche à pieds vous aurait permis d'aller plus vite.
art
En 2005, j'ai participé, au sein du LUG idile , à l'organisation de la seconde édition de l'évènement libr'east .
Data This map distills more than 4000 moves from over 1700 people, collected in an informal survey by WNYC, a New York based public radio station.
moritz.stefaner.eu - Map your moves
Till Nagel – TileMill for Processing
Les outils de cartographie peuvent-ils émerger ? La réponse d'Amaury De Buchet
Yann Gourvennec (un des animateurs des ateliers organisés dans le cadre de Just Map It!), a rédigé un article sur son blog pour annoncer l'événement.
Max Planck Research Networks
JUNG - Java Universal Network/Graph Framework
GLGraphics
A simple particle system physics engine for processing.
unnamed pearl
Unfolding - Interactive Map Library for Processing and Java
Want to use TileMill on Windows? Try our [VirtualBox image](http://support.mapbox.com/kb/introduction-installation/tilemill-virtualbox-vm).
Home
Serial Mapper
Mise en "Seine" de 70 blogs
affordance.info
Bienvenue sur le portail de la cartographie sémantique
Strange Maps
The Center for Graphic Facilitation
Cartographie subjective de la blogarchie francophone
anuhi lou / Design sociétal + Innovation du quotidien: visualisation
Edward Tufte Forum
eagereyes | Visualization and Visual Communication
in English
>Think>Draw>Make>
Neoformix - Discovering and Illustrating Patterns in Data
Cool Infographics
Cool Infographics - Blog
writing
information aesthetics - Data Visualization & Information Design
Mapping the Republic of Letters
ITO - Road Fatalities USA
PROJ.4