Data Cartographie
Manuel de TileMill en français. TileMill est un outil pour les cartographes permettant de concevoir rapidement et facilement des cartes pour le Web en utilisant des données personnalisées.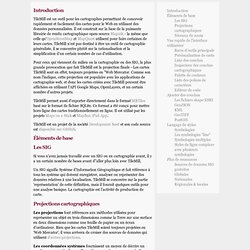 Il est construit sur la base de la puissante librairie de rendu cartographique open-source Mapnik - la même que celle qu'OpenStreetMap et MapQuest utilisent pour faire certaines de leurs cartes. TileMill n'est pas destiné à être un outil de cartographie généraliste, il se concentre plutôt sur la rationalisation et la simplification d'un certain nombre de cas d'utilisation. Pour ceux qui viennent du milieu ou la cartographie ou des SIG, la plus grande provocation que fait TileMill est la projection finale - Les cartes TileMill sont en effet, toujours projetées en "Web Mercator. Comme son nom l'indique, cette projection est populaire avec les applications de cartographie web, et donc les cartes créées avec TileMill peuvent être affichées en utilisant l'API Google Maps, OpenLayers, et un certain nombre d'autres projets. Serial Mapper. Places and Spaces :: Mapping Science. GéoTribu, Tout sur le webmapping. L'objectif de GéoTribu est simple, vous fournir un maximum de documentation et tutoriaux sur tous les sujets ayant attrait au WebMapping (une définition simple pourrait être « l'ensemble des technologies permettant d'afficher une carte par internet »).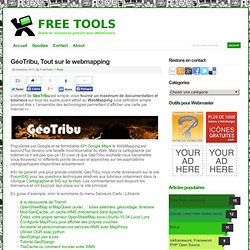 Popularisé par Google et sa formidable API Google Maps le WebMapping est aujourd'hui devenu une facette incontournable du Web. Mais la cartographie par Internet ce n'est pas que ça ! Et c'est ce que GéoTribu souhaite nous transmettre. Créez votre propre serveur OpenStreetMap sous Ubuntu 10.04 Lucid Lynx. Ce tutoriel est une traduction libre de build-your-own-openstreetmap-server.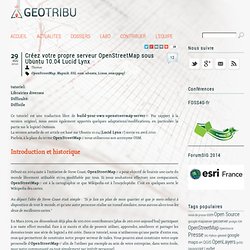 Par rapport à la version originel, nous avons également apportés quelques adaptations/modifications, en particulier la partie sur le logiciel Osmosis. La version actuelle de cet article est basé sur Ubuntu 10.04 (Lucid Lynx) sortie en avril 2010. Parfois, à la place du terme OpenStreetMap nous utiliserons son acronyme OSM. Web cartography. Introduction In October 2000 I received a Master of Arts degree in Human Geography from Utrecht University.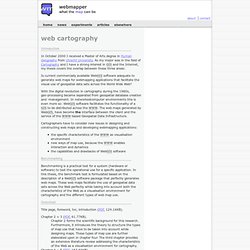 As my major was in the field of Cartography and I have a strong interest in GIS and the Internet, my thesis covers the overlap between these three areas: Is current commercially available WebGIS software adequate to generate web maps for webmapping applications that facilitate the visual use of geospatial data sets across the World Wide Web? With the digital revolution in cartography during the 1980s, geo-processing became separated from geospatial database creation and -management.
Tiled Based Vector & Raster Maps using SVG and Javascript. Polymaps is a display and interaction library for tile-based vector and raster maps using SVG and Javascript.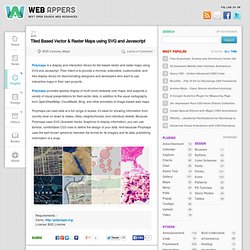 Their intent is to provide a minimal, extensible, customizable, and free display library for discriminating designers and developers who want to use interactive maps in their own projects. Polymaps provides speedy display of multi-zoom datasets over maps, and supports a variety of visual presentations for tiled vector data, in addition to the usual cartography from OpenStreetMap, CloudMade, Bing, and other providers of image-based web maps Polymaps can load data at a full range of scales, it's ideal for showing information from country level on down to states, cities, neighborhoods, and individual streets. Because Polymaps uses SVG (Scalable Vector Graphics) to display information, you can use familiar, comfortable CSS rules to define the design of your data.
HTML5 Mobile Mapping. WebMapping , Les solutions libre. Till Nagel – TileMill for Processing. This tutorial describes how to create beautiful custom maps, and use them in a Processing sketch.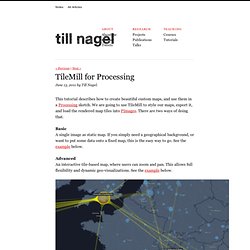 We are going to use TileMill to style our maps, export it, and load the rendered map tiles into PImages. There are two ways of doing that. Basic A single image as static map. If you simply need a geographical background, or want to put some data onto a fixed map, this is the easy way to go. Le petit blog cartographique. Atelier cartographique multiplateforme : RasterChart2BSB. Atelier cartographique numérique multiplateforme Info (9 juillet 2005) : les cartes raster américaines au format BSB sont maintenant libres L'accord de Recherche et de développement coopératif CRADA (Cooperative Research and Development Agreement) qui a fait de la société Maptech la seule source officielle des cartes scannérisées américaines de navigation NOAA est officiellement terminé depuis juin 2005.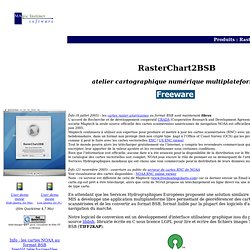 Maptech continuera à utiliser son expertise pour produire et mettre à jour les cartes scannérisées (RNC) avec une fréquence hebdomadaire, dans un format non protégé (bsb non crypté type .kap) à l'Office of Coast Survey (OCS) qui les proposera sur le Web comme il peut le faire avec les cartes vectorielles ENC / US ENC viewer Tout le monde pourra alors les télécharger gratuitement via l'Internet, y compris les revendeurs commerciaux qui pourront les encrypter, leur apporter de la valeur ajoutée et les reconditionner sous certaines conditions. Geographic information science. A geographic information system (GIS) is a computer system designed to capture, store, manipulate, analyze, manage, and present all types of geographical data.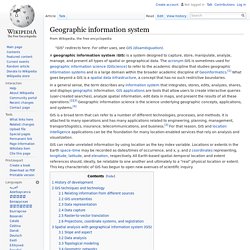 The acronym GIS is sometimes used for geographical information science or geospatial information studies to refer to the academic discipline or career of working with geographic information systems and is a large domain within the broader academic discipline of Geoinformatics.[1] GIS can be thought of as a system that provides spatial data entry, management, retrieval, analysis, and visualization functions. The implementation of a GIS is often driven by jurisdictional (such as a city), purpose, or application requirements. Generally, a GIS implementation may be custom-designed for an organization. La cartographie SIG en ligne ou Web mapping: les outils «libres»
Sommaire I) Principe général de fonctionnement d'un serveur cartographique II) Solutions côté client.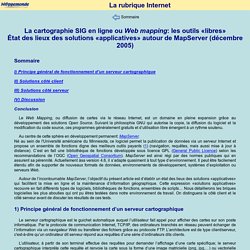 Cartes géographiques statistiques sur drawmeagraph.com. OpenLayers: Home. Safecast. Carte géolocalisée du métro de Paris - nojhan/art. Géolocalisation Contrairement au plan de la RATP (et à la plupart des autres plans), chaque station est placée à sa position géographique réelle.
Cela permet d'éviter de prendre une correspondance ou une station supplémentaire là où un peu de marche à pieds vous aurait permis d'aller plus vite. Art. En 2005, j'ai participé, au sein du LUG idile , à l'organisation de la seconde édition de l'évènement libr'east . Sur trois jours, des conférences sur le logiciel libre, des stands associatifs, le tout sur le campus de Champs-sur-Marne. J'y ai même fait un tutoriel sur Inkscape :-) Bref, à cette occasion, j'ai conçu l'affiche, les flyers et le design web (sous inkscape), après un nombre incalculable d'essais et de confrontation aux exigences des autres membres de l'association.
Map your moves. Data This map distills more than 4000 moves from over 1700 people, collected in an informal survey by WNYC, a New York based public radio station. For generating the geo–coordinates from the entered ZIP codes, I used the free bulk geocoder at gpsvisualizer.com. I did not check every single data row in detail, so a few of the moves might be misrepresented. Mapping As most moves occurred from, to or within the New York area, this area displayed enlarged in the white circle at the center of the graphic. Till Nagel – TileMill for Processing. Les outils de cartographie peuvent-ils émerger ? La réponse d'Amaury De Buchet. Yann Gourvennec (un des animateurs des ateliers organisés dans le cadre de Just Map It!) , a rédigé un article sur son blog pour annoncer l'événement.
Il (l'article) a généré quelques échanges et également une question : J'aimerais demandé leur avis aux intervenants de la journée. Voici la réponse d' Amaury De Buchet , qui animera le 25 novembre prochain l'atelier sur la cartographie et les usages « grand public ». Cette entrée a été publiée dans Cartographie , avec comme mot(s)-clef(s) amaury de buchet , cartes , cartographie , cartographie d'informations , graphes , mapstan , organigramme , outils , pearltrees , plan de métro , prezi , societe.com , yann gourvennec . Vous pouvez la mettre en favoris avec ce permalien . Max Planck Research Networks. JUNG - Java Universal Network/Graph Framework. GLGraphics. Untitled. A simple particle system physics engine for processing. I've designed this to be application / domain agnostic.
All this is supposed to do is let you make particles, apply forces and calculate the positions of particles over time in real-time. Anything else you need to handle yourself. Unfolding - Interactive Map Library for Processing and Java. Home. Want to use TileMill on Windows? Try our [VirtualBox image]( ### Support [Report bugs on GitHub]( or get support from the dev team at [support.mapbox.com]( You can also join us on IRC at `#mapbox` on `irc.freenode.net` or follow us at [twitter.com/mapbox]( ### Features - Access datasources on the local filesystem or use online public datasources from the MapBox library - Manage map layers with Shapefile, GeoJSON, Raster, PostGIS and other datasources - Edit `carto` stylesheets directly in the browser or use your own text editor - Preview map tiles instantly while editing stylesheets - Inspect datasource field values and data types - Export maps to PNG, PDF and [MBTiles]( formats Features.
Serial Mapper. Mise en "Seine" de 70 blogs. Affordance.info. Bienvenue sur le portail de la cartographie sémantique. Strange Maps. The Center for Graphic Facilitation. Cartographie subjective de la blogarchie francophone. Anuhi lou / Design sociétal + Innovation du quotidien: visualisation. Edward Tufte Forum. Eagereyes | Visualization and Visual Communication. In English. >Think>Draw>Make>
Neoformix - Discovering and Illustrating Patterns in Data. Cool Infographics. Cool Infographics - Blog. Writing. Information aesthetics - Data Visualization & Information Design. Mapping the Republic of Letters. ITO - Road Fatalities USA. PROJ.4.
---