Network Tools
Url Check. Monitoring your website's uptime is imperative to the success of your online endeavors.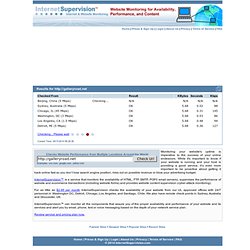 While it's important to know if your website is running and your host is providing a good service, it's even more important to be proactive about getting it back online fast so you don't lose search engine position, miss out on possible revenue or blow your advertising budget. InternetSupervision™ is a service that monitors the availability of HTML, FTP, SMTP, POP3 email servers), supervises the performance of website and ecommerce transactions (including website forms) and provides website content supervision (cyber-attack monitoring). For as little as $2.95 per month InternetSupervision checks the availability of your website from our UL approved offices with 24/7 personnel in Washington DC, Detroit, Chicago, Los Angeles, and Santiago, Chile. We also have remote check points in Sydney, Australia and Gloucester, UK.
Network Diagnostic Tools. This page provides tools for customers to examine connectivity, path, and route information in XO Data Network.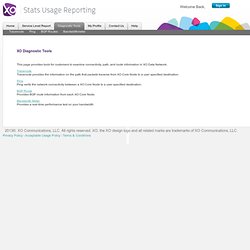 Traceroute Traceroute provides the information on the path that packets traverse from XO Core Node to a user specified destination. Ping Ping verify the network connectivity between a XO Core Node to a user specified destination. Traceroute, nslookup, dig, whois lookup, ping. WHOIS - domain/IP. Announcing a great feature for WHOIS users You can now start a WHOIS query directly in your browser!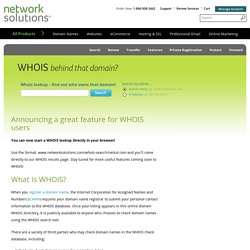 Use the format: www.networksolutions.com/whois-search/netsol.com and you'll come directly to our results page. Port Numbers. Last Updated Expert(s) TCP/UDP: Joe Touch; Eliot Lear, Allison Mankin, Markku Kojo, Kumiko Ono, Martin Stiemerling, Lars Eggert, Alexey Melnikov and Wes Eddy; DCCP: Eddie Kohler; SCTP: Allison Mankin Reference Note.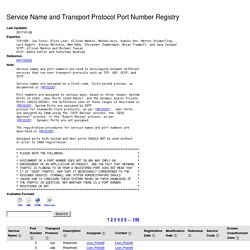 Firewall/Proxy Test. Webmaster Toolkit.
---