Psychologie / Neurowissenschaften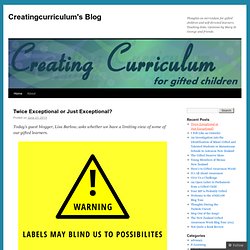 Guest blogger Emma Scobie-Jennings writes about her research. Gifted and talented education has always been a passion of mine, but as my career has progressed I have become more and more interested in how students from minority cultures are identified and catered for in mainstream schools. In 2012 I completed a Master's thesis on this topic and, in recognition of Gifted Awareness Week, would like to briefly share the outcomes and recommendations that arose from my research. Giftedness and talent is a cultural construct and what it means to be gifted and talented varies from culture to culture. When schools operate on the norms of the majority culture, what it means to be gifted and talented for minority cultures is often overlooked or not understood. My research set out to establish what is happening in mainstream schools for Māori students who are gifted and talented.
Creatingcurriculum's Blog | Thoughts on curriculum for gifted children and self-directed learners. Teaching links. Opinions by Mary St George and friends.