Decoration
Quilling has been around for hundreds of years, but it's still as impressive and popular now as it was during the Renaissance. The art of quilling first became popular during the Renaissance, when nuns and monks would use it to roll gold-gilded paper and decorate religious objects, as an alternative to the expensive gold filigree. Later, during the 18th and 19th centuries, it became a favorite pass-time of English ladies who created wonderful decorations for their furniture and candles, through quilling.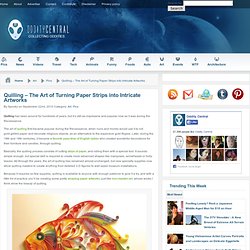 Pages Kim's twin sister's blog Kim's fav decor shops in Ottawa Maura Paoletti via Flickr elizabeth&jane Modern Karibou Kim's Flickr Jo's Flickr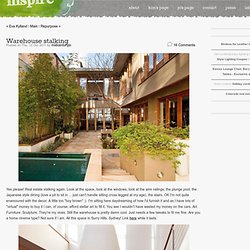 Gorgeous Grain: Wooden Bathtubs Really Go with the Flow
Combining German hand-crafting expertise and curved ship hull construction methods, this patterned wooden tub shoots both to satisfy the eye and to soothe any aching back.
Posted by Ray | 30 Sep 2011 | Comments (9) Designer Angela Jansen of Design Academy Eindhoven recently collaborated with engineer Ger Jansen on a pair of skeuomorphic LED lamps that they're currently selling as Light Light. Their website knowingly notes that "It is uncommon for engineers to find good domestic applications for their technology... and it is likewise rare for designers of consumer objects to embrace cutting-edge technology wholeheartedly." Which, of course, is "perhaps what makes the cross-pollination of ideas between Angela Jansen and Ger Jansen so remarkable." The Light Light series creates an incredible visual conversation piece. It is like an optical illusion, yet one that is kind to the eyes and easy on the mind.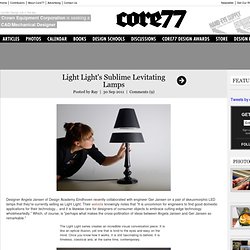 This is the photo that got me busy writing this ideabook. I had never before seen a glass-sided bathtub, and this one completely appeals to my minimalist tendencies. The architect, David Stern, says the client wanted this custom made tub for the kids bathroom and wanted it to feel fresh and fun. Well, he succeeded. But here is what I want to know: Why should the kids have all the fun? I have a rubber ducky.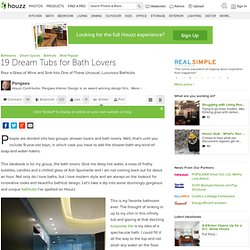 Do you prefer plush padding a minimalist pillow, a decked-out design or toned-down interior? From dazzling abstract designs to humorously offbeat sleeping spaces here are seven brilliant bedroom designs to inspire your imagination. Who knows, with a few decorative adjusts you might be able to remodel your own bedrooms to similar effect.