Herbs
Herbs - Encyclopedia Mythallica
A Northern-Tradition Herbal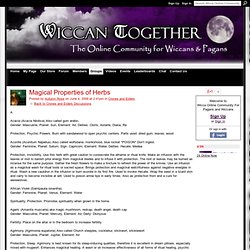 Acacia (Acacia Nilotica) Also called gum arabic. Gender: Masculine, Planet: Sun, Element: Air, Deities: Osiris, Astarte, Diana, Ra Protection, Psychic Powers. Burn with sandalwood to open psychic centers.
Plants and Their Magical Uses - Unexplained - IN SEARCH FOR TRUTH - RIN.RU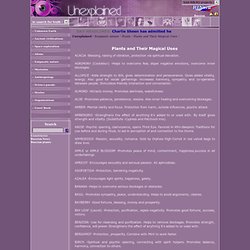 ACACIA -Blessing, raising of vibration, protection via spiritual elevation. AGRIMONY (Cocklebur) -Helps to overcome fear, dispel negative emotions, overcome inner blockages. ALLSPICE -Adds strength to Will, gives determination and perseverance. Gives added vitality, energy.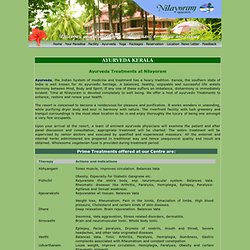 Kerala Ayurveda Resort | Nilayoram Ayurvedic Resorts Kerala
Ayurveda Treatments at Nilayoram Ayurveda , the Indian System of medicine and treatment has a hoary tradition. Kerala, the southern state of India is well known for its ayurvedic heritage.
Herbs and Teas
Herb list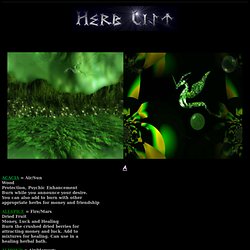 undefined ACACIA = Air/Sun Wood Protection, Psychic Enhancement Burn while you announce your desire. You can also add to burn with other appropriate herbs for money and friendship ALLSPICE = Fire/Mars Dried Fruit Money, Luck and Healing Burn the crushed dried berries for attracting money and luck.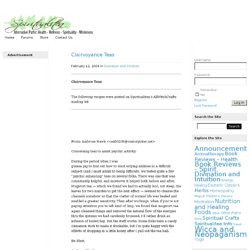 Clairvoyance Teas The following recipes were posted on Spiritualitea's AllWitchCrafts mailing list From: Ambrose Hawk <cen50205@centuryinter.net> Concerning teas to assist psychic activity:
Clairvoyance Teas | Spiritualitea
Herbs: Magickal Properties
Herbs and Magic, A - L
Powerful Herbs to Increase Psychic Ability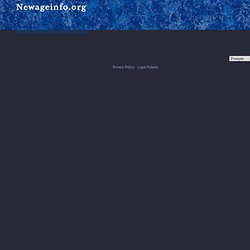 Herbs can stimulate psychic visions and aid concentration by Tana Hoy Psychic Herbs Herbs possess marked qualities that render them ideal for many psychic endeavors and supernatural exercises. Coming out from the soil and nurtured with water and sun, they are wealthy in raw energies which provide significant aid in meditation and other practices.
Herbs that enhance psychic abilities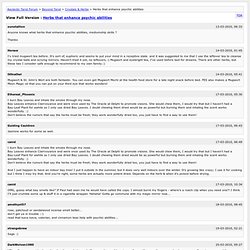 View Full Version : Herbs that enhance psychic abilities sunstallion Anyone knows what herbs that enhance psychic abilities, mediumship skills ?
What herbs and vitamins enhance psychic abilities?
Abstain from desire. Your emotions cloud your judgement. And know what results you want. And although this sounds like it's out of Star Wars, it's totally accurate. If you want something to happen, your mind will try to force it in. Try realizing that you're just a small part of the universe, and this moment is just a small part of your life, that doesn't really matter anyway.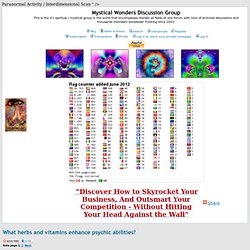 Magic Herb Encyclopedia Article Exploring the Medical Benefits of Goldenseal Goldenseal is among the most widely sought and purchased natural herbal remedies on the market today. You can find a variety of types of goldenseal when visiting your local pharmacy. Magic Herb Encyclopedia Information
A Witches' Herbal Reference
Herbalism, Medieval, Magickal and Modern
Disclaimer: please read Aunt Bunny's Herbal Safety Rant ; this is NOT a medical advice site! (Primarily directed at Society for Creative Anachronism members- by Jadwiga Zajaczkowa/Jenne Heise) Class Handouts Making Herbal Preparations An outline of instructions for creating various basic herbal preparations
Magical Herbal Encyclopedia
undefined Adder's Tongue, Adder's Tongue has large pendulous, lily like flowers that appear in late April and early May. When made into a tea with horsetail grass Adder's tongue is a good agent for conditions of bleeding or ulcers of bowels, or for tumors and inflammation of the bowels. This plant is also a quick relief for nose bleeds and it also aids sore eyes. Magickal Powers: Healing
Magic Herb Encyclopedia
MAGICKAL HERBS - The Witch's Corner
From here to there | Wicca Herbs, Wiccan Herb uses, How to use Herbs in Wicca, Wicca Herb Help, Pagan Herb Help | SpellWorks
Herbs and Magical Correspondences