Windows2008
How IT Works: NTFS Permissions
How IT works NTFS Permissions Richard Civil Several years ago I got quite a surprise while fixing the permissions on a client's file server.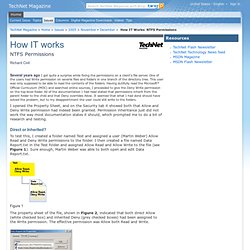 How IT Works: NTFS Permissions, Part 2
How IT Works NTFS Permissions, Part 2 Richard Civil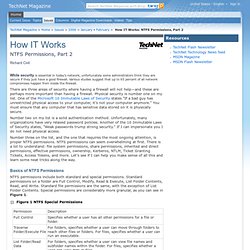 Windows Server 2008 Essentials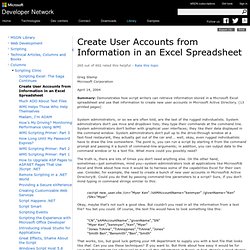 Create User Accounts from Information in an Excel Spreadsheet
Greg Stemp Microsoft Corporation
ErgoGroup Blogg | En fagblogg om smarte IT-løsninger og ny teknologi.
by Daniel Petri - January 8, 2009 Installing Windows Server 2008 is pretty straightforward and is very much like installing Windows Vista, but I thought I'd list the necessary steps here for additional information. For those of you who have never installed Vista before, the entire installation process is different than it used to be in previous Microsoft operating systems, and notably much easier to perform.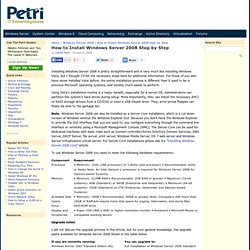 How to Install Windows Server 2008 Step by Step
Service Pack 2 (SP2) for Windows Server 2008 and Windows Vista is an update to Windows Vista and Windows Server 2008.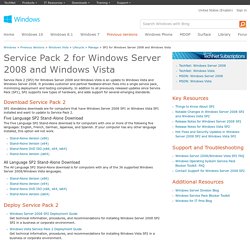 Windows Server 2008 SP2 and Windows Vista SP2 Information
Windows Server 2008 "How Do I?" Videos
Windows Server
Creating Backups of Windows 2008 Server Core Machines « the back room tech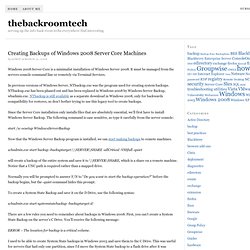 Windows 2008 Server Core is a minimalist installation of Windows Server 2008. It must be managed from the servers console command line or remotely via Terminal Services.
Overview Microsoft Remote Server Administration Tools (RSAT) enables IT administrators to remotely manage roles and features in Windows Server 2008 from a computer that is running Windows Vista with SP1 or later versions of Windows Vista Service Packs. Top of page
Download details: Microsoft Remote Server Administration Tools for Windows Vista
Before installing AD on Server Core you should make sure you have all the basic requirements satisfied.
How to install Active Directory on Longhorn Server Core - Windowmaker's blog
The typical server manager in the IT industry hails from the DOS era, and thus still sees the world without windows and colors. Consider that most of the procedures associated with server administration are controlled by the command console, and there is no way to even attach a mouse. Microsoft has tried to recognize the nature of many server admins in its development of Windows Server 2008; as you install, you see a new option: Core Installation.
Windows Server 2008 Core Installation : Windows Server 2008 Core Installation - Review Tom's Hardware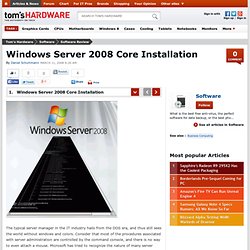 Server Core Installation Option of Windows Server 2008 Step-By-Step Guide
Installing Windows Server 2008
Windows Server 2008 Trial Software