Nettverk
The Open Systems Interconnection (OSI) model (ISO/IEC 7498-1) is a product of the Open Systems Interconnection effort at the International Organization for Standardization . It is a prescription of characterizing and standardizing the functions of a communications system in terms of abstraction layers . Similar communication functions are grouped into logical layers. A layer serves the layer above it and is served by the layer below it. For example, a layer that provides error-free communications across a network provides the path needed by applications above it, while it calls the next lower layer to send and receive packets that make up the contents of that path.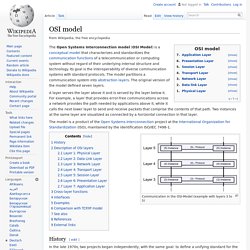 Kategori:Kommunikasjonsteknologi
Technical stuff om kommunikasjon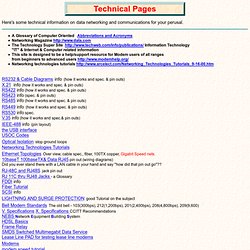 Here's some technical information on data networking and communications for your perusal. A Glossary of Computer Oriented Abbreviations and Acronyms Networking Magazine http://www.data.com The Technology Super Site http://www.techweb.com/info/publications/ Information Technology "IT" & Internet & Computer related information This site is designed to be a help/support resource for Modem users of all ranges from beginners to advanced users http://www.modemhelp.org/ Networking technologies tutorials http://www.arcelect.com/Networking_Technologies_Tutorials_9-16-00.htm RS232 & Cable Diagrams info (how it works and spec. & pin outs) X.21 info (how it works and spec. & pin outs) RS422 info (how it works and spec. & pin outs) RS423 info (spec. & pin outs) RS485 info (how it works and spec. & pin outs) RS449 info (how it works and spec. & pin outs) RS530 info spec.
Ethernet ramme mm
Kismet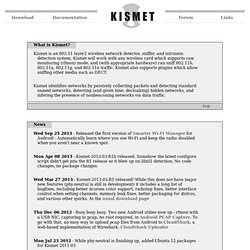 Kismet is an 802.11 layer2 wireless network detector, sniffer, and intrusion detection system. Kismet will work with any wireless card which supports raw monitoring (rfmon) mode, and (with appropriate hardware) can sniff 802.11b, 802.11a, 802.11g, and 802.11n traffic. Kismet also supports plugins which allow sniffing other media such as DECT.
Hjemmeside for Telemator og MX Data
TCP/IP Protocol Sequence Diagrams
Internetworking Technology Handbook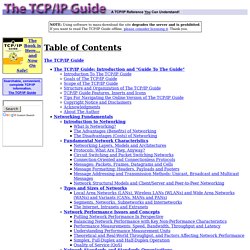 I know everyone hates ads. But please understand that I am providing premium content for free that takes hundreds of hours of time to research and write. I don't want to go to a pay-only model like some sites, but when more and more people block ads, I end up working for free. And I have a family to support, just like you. :) If you like The TCP/IP Guide, please consider the download version .
Table Of Contents
UNINETT ABC / Publikasjoner
The Free NAS Server - Feature request list
EtherApe, a graphical network monitor
Connection Documentation
Svitsjeprinsipper
Innholdet i denne siden og sidene som ligger under alle pekerene, skal du ha kjennskap til. Både lyd og bilde kan digitaliseres. Derfor er elektronisk kommunikasjon basert på overføring av digitale signaler. En kilde sender ut en strøm av informasjon.
Home > Standards Dear customers, partners and friends, At Siemon, we believe industry standards help you achieve the most out of your networks.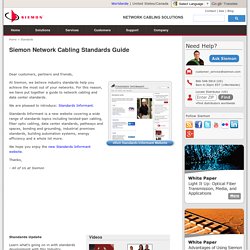 Network Cabling Standards Guide, By Siemon