Things
Sistine Chapel - StumbleUpon. How Hangovers Work". ­The only fool-proof way to avoid a hangover, of course, is not to drink alcohol.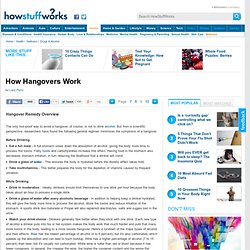 But from a scientific perspective, researchers have found the following general regimen minimizes the symptoms of a hangover. Before Drinking Eat a full meal - A full stomach slows down the absorption of alcohol, giving the body more time to process the toxins. Fatty foods and carbohydrates increase this effect.
Having food in the stomach also decreases stomach irritation, in turn reducing the likelihood that a drinker will vomit.Drink a glass of water - This ensures the body is hydrated before the diuretic effect takes hold.Take multivitamins - This better prepares the body for the depletion of vitamins caused by frequent urination. Kaleidoskop.swf (application/x-shockwave-flash Object) Street Art by Pavel Puhov | HypeDot. How to grow a Rainbow Rose, Naturally - StumbleUpon.
In 2004, two dutch companies, River Flowers and F.J.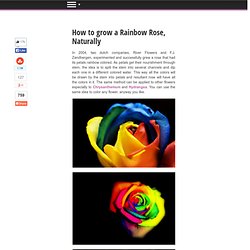 Zandbergen, experimented and successfully grew a rose that had its petals rainbow colored. As petals get their nourishment through stem, the idea is to split the stem into several channels and dip each one in a different colored water.
---