Psychology
What Is Holistic Psychology? - Holistic Renewal
The following is excerpted from the book, Sing Your Own Song, Dance Your Own Dance : Holistic psychology is a new awakening. It sweeps aside the one-dimensional picture of standard psychology and reveals our true nature — multidimensional, yet unitary. It brings about a theoretical and practical integration that includes all aspects of the person: physical, mental, and spiritual, within a physical and social context. Thus it reorients us to the essence of our human nature, and of our personal identity. It paints the picture of ourselves in proper perspective — a picture of the whole person, the unique person, the person with will and consciousness, with potential for transformation and transcendence.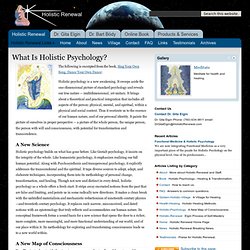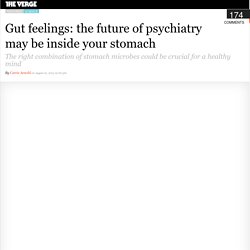 6 in Share Jump To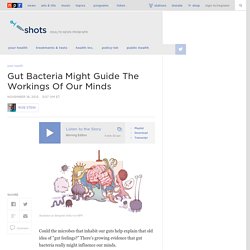 Gut Bacteria Might Guide The Workings Of Our Minds : Shots - Health News
Illustration by Benjamin Arthur for NPR Could the microbes that inhabit our guts help explain that old idea of "gut feelings?"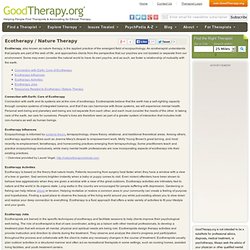 Ecotherapy / Nature Therapy
Ecotherapy , also known as nature therapy, is the applied practice of the emergent field of ecopsychology.
Existential Psychotherapy - A General Overview
General Introduction This overview of existential theory should be considered a postmodern, integrative overview. In stating this is a 'postmodern' approach, I am intending to emphasize that this is one of many valid approaches to existential theory and therapy.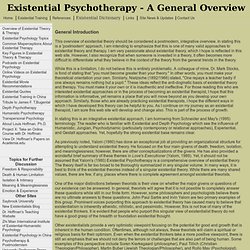 Joy Higgs, Margo Paterson and Elizabeth Anne Kinsella
Contemporary Psychotherapy » HERMENEUTIC INQUIRY: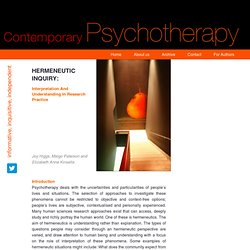 Beyond Words: Nature-therapy in action
(Below are a few key excerpts from this report, please review the link at the bottom for the full report.) 120 subjects were exposed to a stressful movie, and then to videotapes of either natural or urban settings.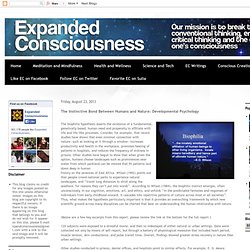 Developmental Psychology
Posted on 02 Aug | 2 comments
Rethinking Mental Health: Towards a Holistic Organismic Paradigm (Part 1 of 4) | The New Existentialists