Food
Aquaponics. DIY Greenhouses. Food Storage. Whole Fraud: Exposing the Myth of So-Called Natural Foods. On Jan. 31, organic and natural foods giant Whole Foods Market (WFM) once again attacked the Organic Consumers Association, the nation's leading watchdog on organic standards, as being too "hard-line" for insisting that retailers like WFM stop selling, or at least start labeling, billions of dollars worth of so-called "natural" foods in their stores - foods that are laced with unlabeled, hazardous genetically engineered (GE) ingredients.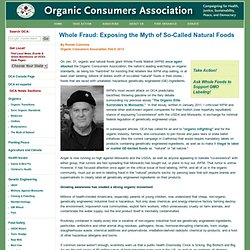 WFM's most recent attack on OCA predictably backfired, throwing gasoline on the fiery debate surrounding my previous essay "The Organic Elite Surrenders to Monsanto. " In that essay, written in January 2011, I criticized WFM and several other well-known organic companies for their foolish (now hopefully repudiated) stance of espousing "co-existence" with the USDA and Monsanto, in exchange for minimal federal regulation of genetically engineered crops.
Bill Mollison - In Grave Danger of Falling Food [1of5] Welcome to Seattle Tilth! — Seattle Tilth. Kitchen Gardeners International | You can grow your own food. We can help. Food Forest Open Source Hub. Intentional earth stewardship by creating an abundant and productive food forest is, in our opinion, essential to comprehensive food sustainability and self-sufficiency.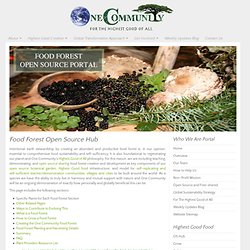 It is also foundational to regenerating our planet and One Community's Highest Good of All philosophy. For this reason, we are including teaching, demonstrating, and open source sharing food forest creation and development as key components of our open source botanical garden, Highest Good food infrastructure, and model for self-replicating and self-sufficient teacher/demonstration communities, villages, and cities to be built around the world. As a species we have the ability to truly live in harmony and mutual support with nature and One Community will be an ongoing demonstration of exactly how personally and globally beneficial this can be. This page includes the following sections: It's Not a Fairytale: Seattle to Build Nation's First Food Forest | TakePart - News, Culture, Videos and Photos That Make the World Better. Seattle's vision of an urban food oasis is going forward.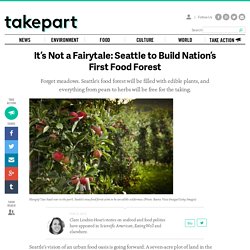 A seven-acre plot of land in the city's Beacon Hill neighborhood will be planted with hundreds of different kinds of edibles: walnut and chestnut trees; blueberry and raspberry bushes; fruit trees, including apples and pears; exotics like pineapple, yuzu citrus, guava, persimmons, honeyberries, and lingonberries; herbs; and more. All will be available for public plucking to anyone who wanders into the city's first food forest. "This is totally innovative, and has never been done before in a public park," Margarett Harrison, lead landscape architect for the Beacon Food Forest project, tells TakePart.
Food Forests: All-You-Can-Eat and Coming to a City Near You. Consider it a modern take on the legendary tale of Johnny Appleseed.
Vancouver, B.C., has announced plans to plant food forests, with over 150,000 fruit and nut trees on city streets, in parks, and on city-owned lands in the next eight years, reports the Vancouver Sun . At the moment, the city has about 600 fruit and nut trees on city streets, and another 425 can be found in the city's parks, community gardens, and pocket orchards. "Street trees play an important role in helping Vancouver adapt to climate change, manage stormwater run-off, support biodiversity, and even provide food," Mayor Gregor Robertson said in a statement about the food forests to the city's council last week.
It's that last factor that matters to hunger advocates: Fruit and nut trees are basically free food forests. Ron Finley: Food Forest. FULL (EXTENDED) INTERVIEW: Vandana Shiva. U.N: Small-Scale Farming Could Double the World's Food Production. Carla Hall + Tuesday, April 22 Baked Spinach & Herb Omelet View.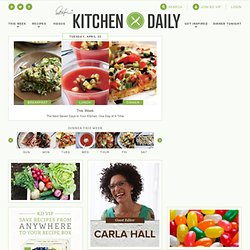 One Million Gardens can change the world. The Guerrilla Gardening Home Page. Guerrilla Gardening Seed Bomb Guide. How to Make a Seed Bomb. All materials in this instructable are cheap or free, easy to find, and are natural and organic.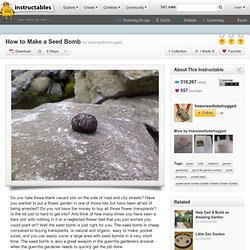 Clay from your area if available or if clay unavailable in your area you can use crayola air dry clay and is found in walmart for about $5.00 (used to protect the seeds from insects, birds, etc. that might eat them)Water (For forming clay, do not water seed bomb when finished)Seeds native to your area (Check with your local Nature Conservancy or your state's department of natural resources for which seeds/plants are native to your area)( buy seed mixtures of native flowers and plants. Not only will they grow well, they will not crowd out other plants, disrupt bird and insect populations, or do other environmental damage)Compost or worm castingsYogurt container top or any large flat surface For the dried red clay mix 5 parts clay with 1 part compost and 1 part flower seeds, put some careful drops of water into the mixture(make sure not to make it into a goopy sloppy mess!) TEDxDirigo - Roger Doiron - A Subversive Plot: How to Grow a Revolution in Your Own Backyard. Edible City: Grow the Revolution.
ExtraShare. Falling Fruit. RipeTrack. WWOOF-USA® - Worldwide Opportunities on Organic Farms, USA. Biowave Industries. Out in the Open: This Farmbot Makes Growing Food as Easy as Playing Farmville | Wired Enterprise. Image: Farmbot The world's population is expected to grow from about 7 billion to over 9 billion by 2050.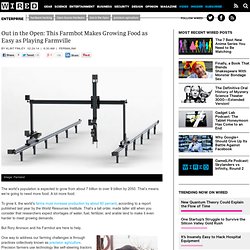 That's means we're going to need more food. A lot more food. To grow it, the world's farms must increase production by about 60 percent, according to a report published last year by the World Resources Institute. Got Weeds? Use Vinegar, Not Roundup. South Asia | Farmers tackle pests with colas. For farmers in the eastern Indian state of Chhattisgarh it is cheaper than pesticides and gets the job done just as well.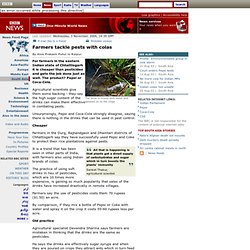 The product? Pepsi or Coca-Cola. Agricultural scientists give them some backing - they say the high sugar content of the drinks can make them effective in combating pests. Unsurprisingly, Pepsi and Coca-Cola strongly disagree, saying there is nothing in the drinks that can be used in pest control. Cheaper. Enjoy Fresh, Local Food All Year. Can you name three crops that will keep easily for months in a cool closet?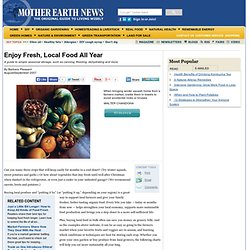 (Try winter squash, sweet potatoes and garlic.) Or how about vegetables that stay fresh until well after Christmas when stashed in the refrigerator, or even just a cooler in your unheated garage? (We recommend carrots, beets and potatoes.) How John Muir Is Revolutionizing the Farm-to-Table Food Movement - Joe Fassler. Yes, that John Muir.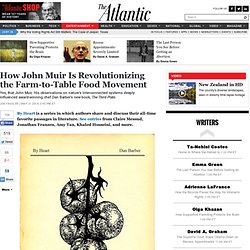 His observations on nature's interconnected systems deeply influenced award-winning chef Dan Barber's new book, The Third Plate. By Heart is a series in which authors share and discuss their all-time favorite passages in literature. See entries from Claire Messud, Jonathan Franzen, Amy Tan, Khaled Hosseini, and more.
Plant Identification. Gardening. Companion Planting.
---