Guitar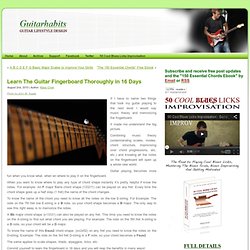 Photo by John W. Tuggle If I have to name two things that took my guitar playing to the next level I would say music theory and memorizing the fingerboard. It made me understand the big picture.
Penny Lane tab by Beatles
Control Bar Tuning: if you leave the guitar in standard tuning 'standard' will be displayed here. You can edit the tuning to 4 semitones up and down from standard. You can save chords with alternative tunings. The tuning preference will not be saved and will return to standard when you return.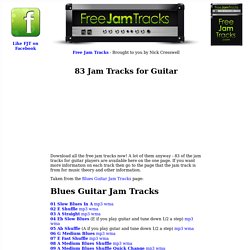 Download all the free jam tracks now! A lot of them anyway - 83 of the jam tracks for guitar players are available here on the one page. If you want more information on each track then go to the page that the jam track is from for music theory and other information. Taken from the Play Guitar Blues 01 page: 01 Slow Blues In A mp3 wma 02 E Shuffle mp3 wma 03 A Straight mp3 wma 04 Eb Slow Blues (E if you play guitar and tune down 1/2 a step) mp3 wma 05 Ab Shuffle (A if you play gutar and tune down 1/2 a step) mp3 wma 06 G Medium Blues mp3 wma 07 E Fast Shuffle mp3 wma 08 A Medium Blues Shuffle mp3 wma 09 A Medium Blues Shuffle Quick Change mp3 wma 10 Eb Straight Ahead Blues (E if you play guitar and tune down 1/2 a step) mp3 wma 11 B Slow Blues (C if you play guitar and tune down 1/2 a step) mp3 wma