Blogs Autodesk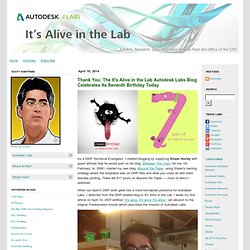 It is Alive in the Lab
The POV Dispatch is our Autodesk internal newsletter, published monthly, where we discuss the big ideas that are important to us and our customers. It is published by our Corporate Strategy & Engagement (CS&E) team of which Autodesk Labs is a part. In addition to articles authored by members of our CS&E team, we take guest submissions. We were thrilled to get a write-up by Autodesk Distinguished Research Scientist Andrew Hessel.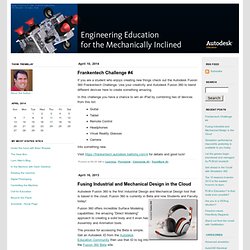 Engineering Education for the Mechanically Inclined
I've been fortunate enough to use Inventor since just before Release 1 and while a lot has changed since then there are a few enhancements to the latest release that I think make it even easier for new users to learn than previous releases. Here are some of my favorite additions (in no particular order) to Inventor Professional 2013 that you can download from the Autodesk Education Community. 1. Sketch Scaling – One of the hardest things for students to grasp in Parametric modelers is sketching to a scale that is close to the final model. If you're a teacher you've likely seen students fold sketches inside out as they begin to apply parametric dimensions to a sketch.
Ellipsis
I've never seen anything like it. Yes, the technology is hot but what I'm talking about is the reactions we are getting from customers to the much ballyhooed PLM solution, Autodesk 360 Nexus. The speculation around what we were going to do was kind of fun to watch in I think most people that were talking about what we had up our sleeve just figured that we would put Autodesk Vault in the cloud and have it do a few more things than it does today. Why? It's what we've come to expect from software solutions aimed at Product Lifecycle Management. Take a PDM tool and make it do more than just manage CAD files.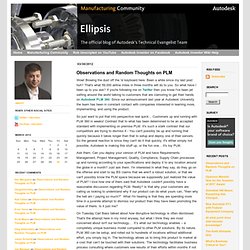 Being Inventive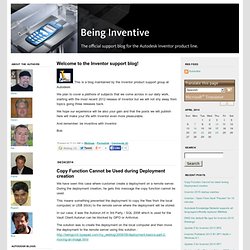 If you have Inventor Publisher 2013 R1 and you are Windows 8.1, you will get this error: Inventor Publisher has stopped working. In order to resolve this issue, you will need to run this update:
One of the most exciting things for me about Autodesk University is when I catch some time to speak to attendees, those who use Autodesk software to design products, engineer solutions, innovate the next big thing and they can't wait to get back to the office. Hang on; they can't wait to get back to the office? Why are they so excited about getting back to the office? Because they have seen something during one of the classes, or had a conversation with a fellow attendee, maybe someone who uses the same Autodesk solutions they do, or maybe they use other Autodesk software. Whatever it is they have seen or heard, they are excited about taking it back to the office because they know it will transform the way that they and their colleagues do what they do. Let me give you an example…..
Autodesk Manufacturing Northern Europe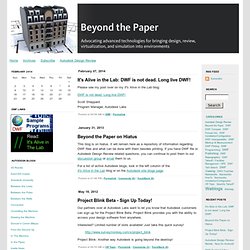 We recently launched our public Beta for Autodesk Design Review 2013 and highly recommend our customers join us in the Autodesk Design Review 2013 Beta program. We have been able to include some of the feature requests submitted including measuring 2D angles, dynamic stamps, restoring to the original scale, and more. We are certain that you will be pleased by the enhancements we've added. Apply here for the Autodesk Design Review 2013 Beta. Existing Feedback Community users can enter their usernames and passwords to apply. (If you have forgotten your password, you can click on the Forgot Password link under Login menu and an email will be sent to you with your password or send an email request to myfeedback@autodesk.com.)
Beyond the Paper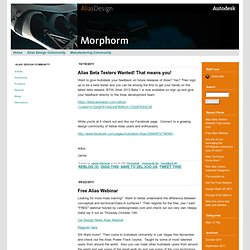 Three weeks ago I had to make a trip down to the Bay Area and it just so happened to sunny and warm while I was there. A nice break from the dreary June gloom that often casts itself over the Willamette Valley in Northern Oregon. It also happened to be Design Week SF, an annual event where a number of design related symposiums, lectures and open houses take place to highlight what creative teams all over San Francisco are up to. I had had a lot of fun reconnecting with some old colleagues I haven''t seen in a quite some time and there was a palpable sense of something big going on in the Bay Area. I can't quite put my finger on it, but there was a lot of interesting energy going on around there.
Morphorm
DaVinci
Autodesk | AutoCAD WS – Blog
Guest blogger and CAD expert Shaun Bryant offers up today's post on the Internet's funniest CAD memes (yep, they exist). Enjoy! So, what exactly is a "meme"?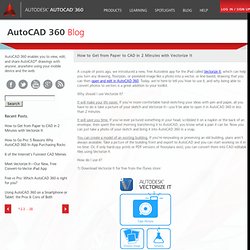 Pat Jenakanandhini here. I know it's been a while since my last blog post. We have been busy getting the 2013 release out the door.
In the Pipes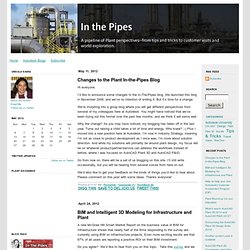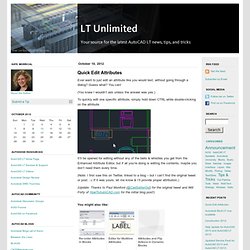 LT Unlimited
No, that's not a typo in the header. I'm taking a slight detour today to post about an international charity organization whose mission is "to engage, amaze and inspire the community to work together raising canned food to feed hundreds of thousands of hungry people." Canstruction is a series of events where members of the local architecture & engineering community team up with grocery stores to collect canned goods and use them to build some absolutely amazing sculptures, helping to raise awareness of hunger issues. Here's a link to their upcoming events, in case there's one near you. (If there is, you should definitely pay a visit.)
Without A Net
Today, we have a guest post from Technical Support Specialist Martin Langolf in Ireland. You want to know how to configure and enable RSS Feeds within AutoCAD 2014. First, you need to install the "CAD Manager Control Utility" that ships with AutoCAD.
I'd like to share a great experience done at the Autodesk Design Center in Buenos Aires. First of all, what is the Autodesk Design Center? It's a facility located at the offices of SONDA, Autodesk's distributor for MCO (multi country organization that includes most of Latin America, with the exception of Mexico and Brazil). They created an extremely well designed space where Autodesk's technology is showcased, and where customers can go and get in contact with our products.
What a Mesh
photo credit: Marcin Wichary via photopin cc As mentioned in the last post, fibers are now inactive in AutoCAD 2015 (the code paths are still there, largely for testing purposes, but should not need to be enabled for typical usage of the product). So what does this mean to AutoCAD developers, and why do we care? Aside from making debugging more predictable – Visual Studio hasn't allowed debugging of applications using fibers for a few releases – this work has brought significant benefits for developers.
Through the Interface
AutoCAD 2014 had some big features like improved Geolocation, improved point cloud support with ReCap and Design Feed. My favorite features by far are the lesser known, everyday productivity enhancements that add up to less tedium and faster designs. Cadalyst Magazine recently published my article on Eleven Efficiency Boosters for AutoCAD - if you're on AutoCAD 2014 I highly encourage you to take a look! Circles and Lines: High-profile features are nice, but these subtle improvements will really enhance your productivity. The big, shiny new AutoCAD 2014 features may get all the attention, but you and I know that it's often the more subtle enhancements that turn out to be the most valuable. Remove just one step from a process you do all the time, and you'll notice an instant bump in productivity.
Lynn Allen's Blog
After Janet Echelman's TED presentation three years ago "Taking Imagination Seriously", between sessions she met Autodesk CEO Carl Bass and Autodesk CTO Jeff Kowalski. Janet mentioned she had reached the limits of what she could design due to software limitations on scale and assuring the sculpture design could actually be fabricated and withstand the loads. Carl and Jeff said they knew a few things about digital design and simulation and could take on the challenge of the scale limitations that Janet was hitting.
Between the Lines
AutoCAD Insider