Autodesk
The main goal of ArchBlocks.com is to Finally! An updated set of for professional and student CAD designers. This is an extensive library of AutoCAD blocks that can be used to speed up your design process and make your AutoCAD drawings look more professional.
AutoCAD Blocks | AutoCAD Symbols | CAD Blocks Library | AutoCAD Furniture Blocks | Free CAD Blocks | Download AutoCAD Blocks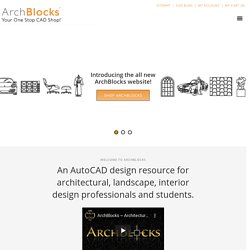 Autodesk - 主页
Autodesk - Portugal
T4R© (Tools 4 Revit®) is the trademark of Autodesk® Revit® add-ons developed by AGA CAD for architects, constructors, engineers and building contractors. Autodesk and Revit are registered trademarks or trademarks of Autodesk, Inc., in the USA and other countries. T4R (Tools 4 Revit) extensions for Autodesk Revit Architecture, Revit Structure, Revit MEP automate the modeling, BIM data analysis and specification process by extracting the required elements, various parameters and material requirements directly from the project's BIM models. These Revit add-ons significantly increase productivity and reduce design costs for Architects, MEP Engineers, Structural Engineers and Contractors. T4R tools for Revit are fully integrated with all Autodesk Revit-based BIM products and based on ISO, DIN and STR standards.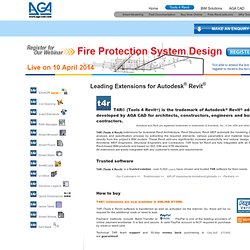 Acercas.com - Consultor Revit®
La Dirección de la Escuela Técnica Superior de Arquitectura de A Coruña se ha propuesto facilitar a sus alumnos la posibilidad de conocer nuevas tecnologías y metodologías de trabajo para formar técnicos adaptados a las actuales exigencias. Hace unos años me vi sorprendido por el equipo de Dirección de la Escuela Técnica Superior de Ingeniería de Edificación de la Universidad Politécnica de Valencia, llamada entonces Escuela Técnica Superior de Gestión de la Edificación, cuando me propusieron participar como profesor en el Primer Curso de Adaptación al Grado de Ingeniería de Edificación para Arquitectos Técnicos. Muchos os preguntaréis ¿cuál fue la sorpresa?, y es que oír hablar ahora de Building Information Modeling, ya no extraña a casi nadie, sobre todo si está relacionado con la industria de la Arquitectura, Edificación o Construcción, pero aquellos eran otros tiempos y muy, muy pocos, habían oído hablar de BIM.
Creating more than one conditional format for the same cell within schedules, much like IF parameters. Workarounds do work (albeit taking time to set up various conditions), but the freedom to create multiple conditional formats for one schedulable cell would be first prize I have to create terminal strips or schematics which use the same block (contact or terminal) several times.
AUGI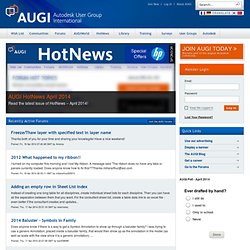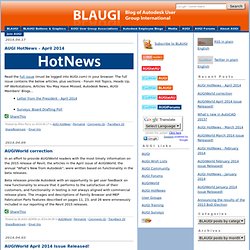 Autodesk invited a handful of AutoCAD bloggers to their offices in San Francisco yesterday. They showed us many fun things, and among them, some highlights of Acad 2015. I would like to share my notes from these demonstrations so you can get an idea of what to expect. We learned that there were three spears of focus in this release: Modernity - Connectivity - Productivity A highlight list of improvements - Darker theme Selection improvements Tuning for visible performance improvements Reality capture evolved more Productivity - command preview and AutoCAD experience
BLAUGI Blog of Autodesk User Group International
AutoCAD Exchange
Autodesk User Communities