WP Social Network Plugins
Floating Social Media Icon. This Plugin Links Social Media Icons to Your Social Media Profiles Twitter,Facebook,Pinterest,Youtube,Rss Feed,Linkedin,google plus...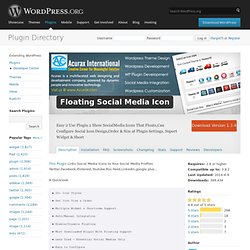 A Quicklook ★ 20+ Icon Styles ★ Set Icon Size & Order ★ Multiple Widget & Shortcode Support ★ Auto/Manual Integration ★ Enable/Disable Floating ★ Most Downloaded Plugin With Floating Support ★ Less Load - Essential Social Medias Only ★ Easy to Configure ★ Detailed Help Documentation ★ Featured Plugin On Many Plugin Review Sites You can make the icons to appear automatically or you can use social media widgets, short-code or PHP code to display icons where ever you like to show. If you use the option to show it automatically.
Twitter Tools
KN Social Slide. Digg Digg. With Digg Digg by Buffer, you have an all in one social sharing plugin for your blog.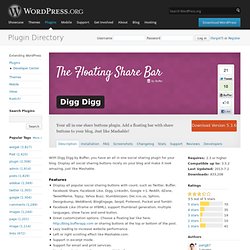 Display all social sharing buttons nicely on your blog and make it look amazing, just like Mashable. Features Display all popular social sharing buttons with count, such as Twitter, Buffer, Facebook Share, Facebook Like, Digg, LinkedIn, Google +1, Reddit, dZone, TweetMeme, Topsy, Yahoo Buzz, StumbleUpon, Del.icio.us, Sphinn, Designbump, WebBlend, BlogEngage, Serpd, Pinterest, Pocket and Tumblr.Facebook Like (Iframe or XFBML), support thumbnail generation, multiple languages, show faces and send button.Great customization options.
Social Media Widget.
---