Typographie | Fonts
Get flash to fully experience Pearltrees
À la base, la typographie peut être considérée comme l'« art de l'imprimerie ». Il s'agit donc de disposer, de manière cohérente et élégante, un ensemble de caractères d'imprimerie, afin de composer un écrit. Il y a donc plusieurs aspects dans cette discipline : l'aspect technique, en rapport avec les techniques traditionnelles de l'imprimerie, et l'aspect, plus large, de la mise en forme des écrits. En effet, très rapidement après l'invention et l'expansion de l'imprimerie (dont Johannes Gutenberg fut un acteur majeur en occident, notamment par son invention des caractères mobiles donc réutilisables), certaines règles ont été mises en place et adoptées par les professionnels. Ces règles ont plusieurs vocations : uniformisation des textes écrits, facilitation de la lecture, optimisation de la compréhension, etc.
The first and foremost thing that comes in your mind when you go through an articles is the font used while typing . Well, you can ignore the fonts or put more emphasis on the content itself, but fonts are not to be ignored as well. The outlook of an article, or in other words the very preventability of it depends upon the structure and the layout of the fonts used.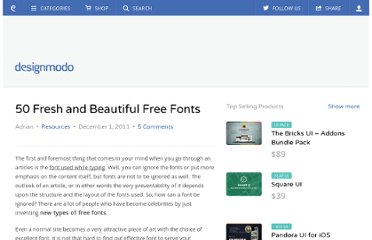 Fonts are an essential component of any designer's repertoire. Fonts are what can tie together a design, a logo, a template and create a coherent branding image. Fonts can make or break a product advertisement, and they are often very difficult to choose. Fonts come in all shapes and sizes, and all sorts of styles, from futuristic to grunge to retro. In this post, Peter Olexa has kindly rounded up and shared 25 excellent free retro fonts for designers to use. Whether you're a web designer, advertising designer, or just a hobbyist, these fonts will definitely come in handy during future projects.
It seems there are two camps among web designers: those who embrace web typography , experiment with it, and try new things in virtually all of their designs; and those who avoid it like the plague, opting to use standard, web-safe font stacks with little variation. It also seems like a lot of the designers who fall into the second group wish they were more like the first. The resources below can help you improve your web typography, regardless of which camp you fall into.