Ressources
5 of the Best CSS3 Font Tools. Fonts have made the most dramatic visual impact on the web since graphic support was added to browsers.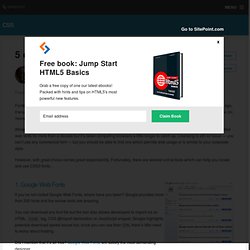 A few years ago, it would be impossible to find a website using anything other than Arial, Verdana, Tahoma, Times New Roman or Georgia (or, heaven forbid, Comic Sans). While there's nothing wrong with standard font stacks, they can become a little monotonous. Internet Explorer has supported web fonts for more than a decade but it's taken competing browsers a little longer to catch up. Licensing is still an issue — you can't use any commercial font — but you should be able to find one which permits web usage or is similar to your corporate style. New High-Quality Free Fonts - Smashing Magazine. Advertisement Every now and then, we look around, select fresh free high-quality fonts and present them to you in a brief overview.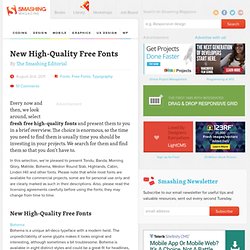 The choice is enormous, so the time you need to find them is usually time you should be investing in your projects. How to Create Beautiful and Creative Typographic. Web Typography for the Lonely aims to excite designers about the possibilities of cutting-edge web standards and javascript through beautiful and inspiring typographic explorations.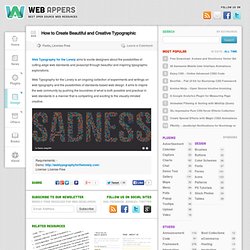 Web Typography for the Lonely is an ongoing collection of experiments and writings on web typography and the possibilities of standards-based web design. It aims to inspire the web community by pushing the boundries of what is both possible and practical in web standards in a manner that is compelling and exciting to the visually-minded creative. Requirements: - Demo: License: License Free. 25 Most Beautiful Web Button Designs : Free Download. Fire Freebies | Free photoshop sources | Wordpress themes | Creative stuff for web designers. Lost Type Co-op. Mockups. Take a second.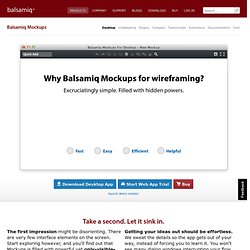 Let it sink in. The first impression might be disorienting. There are very few interface elements on the screen. Subtle Patterns | High quality patterns for your next web project. 150 Scripts Photoshop pour améliorer vos créations - ressources. Les ressources du Lundi #6 - inspiration. Lorempixum - placeholder images for every case. Kuler. BgPatterns — Background Patterns Maker.
Create a New Pattern. Stripemania - Striped background generator. Stripe Generator - ajax diagonal stripes background designer. Icotrip – Each day a new (ico)trip.
---