Référencement, positionnement
La recherche de lien entrant ou l'échange de lien reste une activité utile pour le référencement. Google donne beaucoup de poids à ce paramètre. C'est d'ailleurs la base de son algorithme.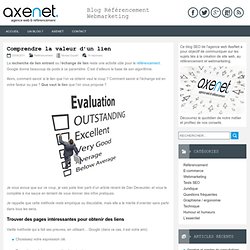 Faisant suite au teaser (vous avez dit linkbait ?) du mois précédent : http://referencement-qualitatif.blogspot.com/2011/02/les-listes-dannuaires-internet-pour-le.html, voici donc un tout petit retour d'expérience sur le saint-Graal de tout référenceur, à savoir une liste de bons annuaires et guides sur lesquels référencer ses sites. Si j'ai dérogé à la règle de régularité de publication des derniers billets, mis en ligne le 4 du mois, c'est parce que je souhaitais attendre les résultats d'un maximum de sites utiles pour le référencement. Le contexte de l'élaboration de cette liste des meilleurs annuaires :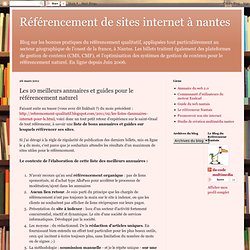 Les 10 meilleurs annuaires et guides pour le référencement naturel
Backlink Checker
Backlinks Checker Tool - Backlink Watch
The smart tool measures the evolution of your websites on major search engines. Positions, traffic, backlinks, indexing, competitive intelligence, suggested keywords ... All these elements combined to a personalized dashboard. Allorank provides comprehensive statistical reports on a unlimited amount of keywords.