Timelines
Online Timelines and timeline creating tools Feb 17
Did you know you can click on any entry in a timeline that is underlined? Those are links to pages that provide additional detail on the event in question. Many of the pages are new and don't have a great deal on them yet, but we're adding additional content every day. Plus, you can contribute your own articles to these expanded pages! That's right, you can write about historical events and we'll be happy to give you full, linked credit.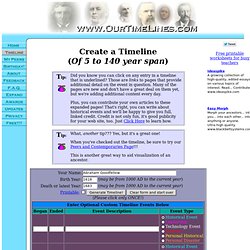 Large Time Line Generator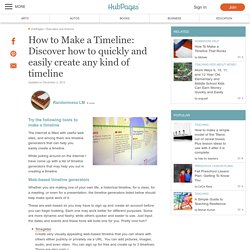 How to Make a Timeline: How to Easily Create any Kind of Timeline
Timelines help us understand the relationship between dates and events.
This British Library interactive timeline allows you to explore collection items chronologically, from medieval times to the present day.
Timelines: Sources from History
Interactive Learning Tool
Timeline Index - People, Periods, Places, Events...
History - Timelines