Leading Change
Intentional_Change(3) The Change Leadership Framework® Bridge Change Leadership Framework. The Framework is designed to enable strategic leaders to diagnose (and tackle) issues related to their complex change programmes.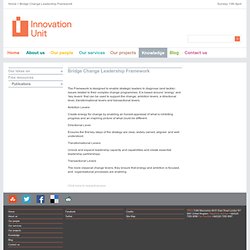 It is based around 'energy' and 'key levers' that can be used to support the change: ambition levers, a directional lever, transformational levers and transactional levers. Ambition Levers Create energy for change by enabling an honest appraisal of what is inhibiting progress and an inspiring picture of what could be different. Bridge Partnership | What we do | Change Management. Change facilitators' handbook: using the Bridge Change Leadership Framework. Kotter's 8-Step Change Model - Change Management Training from MindTools.
Implementing Change Powerfully and Successfully Learn how to implement change successfully. © iStockphoto Change is the only constant. – Heraclitus, Greek philosopher What was true more than 2,000 years ago is just as true today.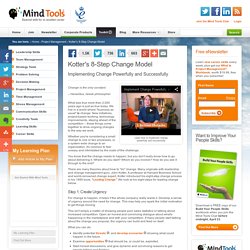 We live in a world where "business as usual" is change.
---