Imprimante 3D
Wiki Home - Make Your Bot!
This whitepaper is also available as a PDF and can be purchased on the Amazon Kindle Store. This white paper, It Will Be Awesome if They Don't Screw it Up: 3D Printing, Intellectual Property, and the Fight Over the Next Great Disruptive Technology, examines how intellectual property (IP) law impacts the rapidly maturing technology of 3D printing, and how incumbents who feel threatened by its growth might try to use IP law to stop it.
L'impression 3D est en train de naître sous nos yeux. Demain il sera ainsi possible de reproduire toute sorte d'objets chez nous aussi facilement, ou presque, qu'un texte numérique se couche sur le papier à l'aide de notre bonne vieille imprimante 2D.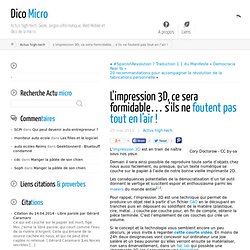 L'impression 3D, ce sera formidable… s'ils ne foutent pas tout en l'air ! | Dico Micro
Digital Designs for Physical Objects