dsi
Get flash to fully experience Pearltrees
The DSi rolled out a new firmware v1.4.2 at the beginning of May 2011. Till now, the following cards are compatible with 1.4.2 once they have been installed the corresponding firmware 1.4.2 fix: 1. R4i Gold 3DS Card (r4ids.cn)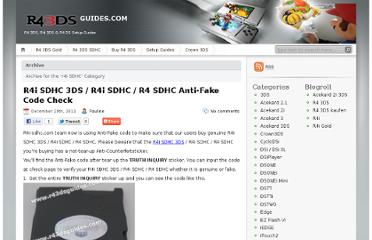 R4i-sdhc.com team now is using Anti-Fake code to make sure that our users buy genuine R4i SDHC 3DS / R4i SDHC / R4 SDHC. Please beware that the R4i SDHC 3DS / R4i SDHC / R4 SDHC you're buying has a not-tear-up Anti-Counterfeitsticker. You'll find the Anti-Fake code after tear up the TRUTH INQUIRY sticker. You can input the code at check page to verify your R4i SDHC 3DS / R4i SDHC / R4 SDHC whether it is genuine or fake. 1.
We've recently stumbled upon this slick doo-hicky called the R4 Revolution for Nintendo DS/Lite. The R4DS is basically a blank cartridge for the Nintendo DS or Nintendo DS Lite. The R4 uses any microSD flash memory card (up to 4GB according to the official site, but 2GB is recommended, does not support microSDHC) for storage.
If you have not completed STEP 1 then please go and do that first: HOW TO: Setting up your DS Card - STEP 1: Installing WinRAR STEP2: Formatting your Micro SD It is quite important that your micro sd card that you intend to use in your DS card is formatted properly. If you are using a brand new card then you can skip this step but if you have had problems with the card then just to rule out formatting issues follow these steps.