DIY Blogs :)
Easy Craft Ideas - Accordion Book. This easy to make accordion book is a personalized way to organize all of your small odds and ends.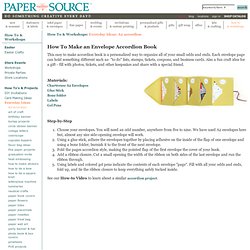 Each envelope page can hold something different such as- "to do" lists, stamps, tickets, coupons, and business cards. Also a fun craft idea for a gift - fill with photos, tickets, and other keepsakes and share with a special friend. Tutorial: how to make a miniature satchel. Wait, wha?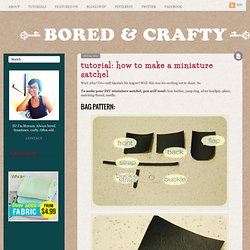 Two craft tutorials for August? Well, this was too exciting not to share. How to Recover a Notice Board. ScrapBusters: Two-Handed Pot Holder. Today in our ScrapBusters Series, we're cooking up a great kitchen project.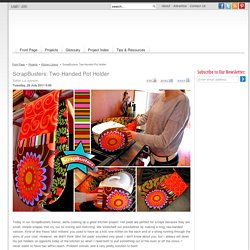 Hot pads are perfect for scraps because they are small, simple shapes that cry out for mixing and matching. We 'stretched' our possibilities by making a long, two-handed version. Kind of like those 'idiot mittens' you used to have as a kid; one mitten on the each end of a string running through the arms of your coat. However, we didn't think 'idiot hot pads' sounded very good. I don't know about you, but I set down my pot holders on opposite sides of the kitchen so when I need both to pull something out of the oven or off the stove, I never seem to have two within reach. A Soft And Slouchy Book Bag Goes Back-To-School. Backpacks are safe and stable... all well and good for the color-inside-the-lines crowd.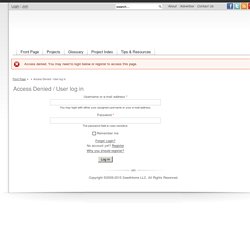 But if you want something comfortably soft and slouchy, go with : the wild child of school totes. Our back-to-school book bag tutorial uses a beautiful tiny-wale corduroy, and while we use a lining – we didn't stiffen it with interfacing. I love the little gold rivets that attach the straps and the cord and button closure. Don't let its laid-back exterior fool you, this bag is roomy and tough enough to carry plenty of books and supplies. Untitled Document. Sewing 101: electronics sleeve. It's really starting to feel like fall, and whether or not that means back to school for you, fall always seems to mean new supplies.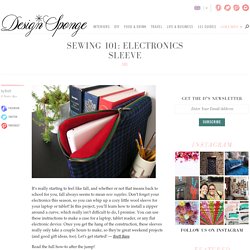 Don't forget your electronics this season, so you can whip up a cozy little wool sleeve for your laptop or tablet! In this project, you'll learn how to install a zipper around a curve, which really isn't difficult to do, I promise. Vintage-style book dustcovers. Looking at this picture, can you tell which of these books are actually hardbound?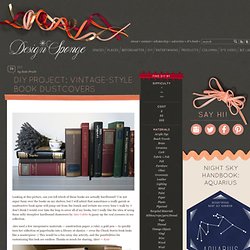 I'm not super fussy over the books on my shelves, but I will admit that sometimes a really garish or unattractive book spine will jump out from the bunch and irritate me every time I walk by. I don't think I would ever take the leap to cover all of my books, but I really like the idea of using these nifty deceptive hardbound dustcovers by Alex Cobbe to gussy up the real eyesores in my collection. Alex used a few inexpensive materials — construction paper, a ruler, a gold pen — to quickly turn her collection of paperbacks into a library of classics — even the Chuck Norris book looks like a masterpiece :) This would be a fun rainy day activity, and the possibilities for customizing this look are endless. Diy wednesdays: door organizer. We tend to subscribe to the "a place for everything, and everything in its place" philosophy, but when it came to derek's running-out-the-door essentials (phone, notebook, pen) we hadn't quite worked out a solution. this fused felt door-handle organizer was a super simple way to eliminate a frantic and frustrating search from our morning routine. have fun!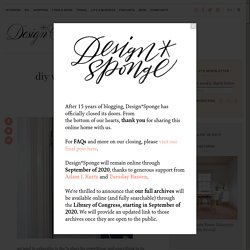 Derek & lauren CLICK HERE for the full project instructions after the jump… Derek and Lauren's Door Organizer. Vintage postcard calendar journal. Growing up, I kept a daily journal.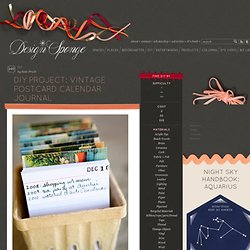 I always enjoyed looking back at previous entries to see what had changed over the course of a year. These days, I can't seem to find the time to journal, but I do try to jot down a little note from each day on my perpetual calendar/journal. Random Tutorial Generator. The World's Healthiest Foods. 100 foods that can serve as the basis of your Healthiest Way of Eating.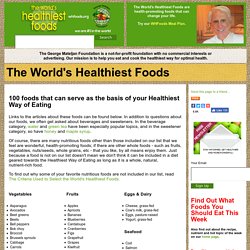 Links to the articles about these foods can be found below. In addition to questions about our foods, we often get asked about beverages and sweeteners. In the beverage category, water and green tea have been especially popular topics, and in the sweetener category, so have blackstrap molasses, honey and maple syrup. Of course, there are many other nutritious foods other than those that we have included on our list that we feel are wonderful, health-promoting foods; if there are other whole foods - such as fruits, vegetables, nuts/seeds, whole grains, etc - that you like, by all means enjoy them. Just because a food is not on our list doesn't mean that we don't think that it can be included in a diet geared towards the Healthiest Way of Eating as long as it is a whole, natural, nutrient-rich food. Wednes-diy. UPDATE: This post originally ran on March 23 2011, but with summer winding down we wanted to bring it back up for some late summer inspiration!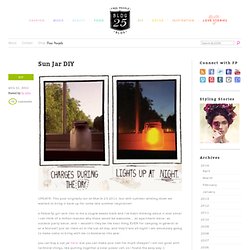 A fellow fp girl sent this to me a couple weeks back and i've been thinking about it ever since! I can think of a million reasons why these would be awesome… as apartment décor, as outdoor party décor, and – wouldn't they be the best thing EVER for camping in general or at a festival? Just let them sit in the sun all day, and they'll last all night! I am absolutely going to make some to bring with me to bonnaroo this year. you can buy a sun jar here, but you can make your own for much cheaper!
Paper Flower Key Holder / Mark Montano. Difficulty Rating: Beginner Tags If you need a quick 'just because' gift for someone, this is it! It's simple to make, couldn't be less expensive and we can all use one. Twenty Three Oh One: The Hair Bow. Puking Pastilles» Blog Archive » Free Car CD Holder / Case Tutorial. You'll love this little piece of sunshine in your car! Not only is it fabulously chic, it holds all your favorite Muse music and DVD's.
And as an added bonus, you get to use up a bunch of scraps from your stash! This free sewing tutorial was a winner of the Scrap Buster Contest over at Sew, Mama Sew! Enjoy! Be sure to add your photos of your CD case to the new Puking Pastilles Flickr Pool to win awesome prizes! For the Home / Chalk Menu Board! » How to Make a Fabric Bow | Tutorial » Whipperberry. Re-purposed Suitcases - Vintage love - The Clothspring. The Creative Place.
Welcome to The Creative Place. The Creative Place features the art and craft of me, Ashley Connelly: crafter, graphic designer, consignment shop shopper, and now (novice) gardener. I am a lover of paper, fabric and most anything vintage. Projects / A Beautiful Mess D.I.Y Index. You knew i was going to make one. They are all over pinterest.... (i still am not signed up for pinterest because i don't have time for one more thing but browsing is fun!) So we made one.
---