Fun things and Travel
! Barbados Tourism Encyclopedia - Official site of the Barbados
This time last year, I wrote about the 10 ways social media will change 2009 , and while all predictions have materialized or are on their way, it has only become clear in recent months how significant of a change we've seen this year. 2009 will go down as the year in which the shroud of uncertainty was lifted off of social media and mainstream adoption began at the speed of light. Barack Obama's campaign proved that social media can mobilize millions into action, and Iran's election protests demonstrated its importance to the freedom of speech.
10 job tweeters you should be following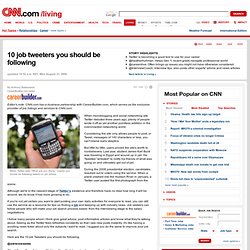 By Anthony Balderrama CareerBuilder.com writer Editor's note: CNN.com has a business partnership with CareerBuilder.com, which serves as the exclusive provider of job listings and services to CNN.com. When Twitter asks "What are you doing," maybe you should be following tweets on job advice. When microblogging and social networking site Twitter debuted three years ago, plenty of people wrote it off as yet another pointless addition in the overcrowded networking world. Considering the site only allows people to post, or Tweet, messages of 140 characters or less, you can't blame early skeptics. But little by little, users proved the site's worth to nonbelievers.
The Official Site of Colorado Tourism - Colorado Travel Guide, V
Duluth Web Cam - LSMMA - Lake Superior Marine Museum Association