Romantic era/20th century transition composers (1860-1880)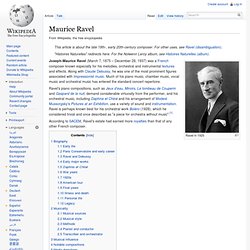 Ravel in 1912 Joseph-Maurice Ravel (March 7, 1875 – December 28, 1937) was a French composer known especially for his melodies, orchestral and instrumental textures and effects. Along with Claude Debussy , he was one of the most prominent figures associated with Impressionist music . Much of his piano music, chamber music, vocal music and orchestral music has entered the standard concert repertoire.
Maurice Ravel
Maurice Ravel-Bolero [FULL]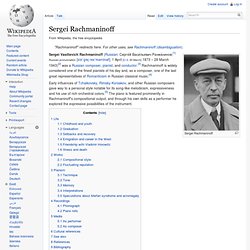 Sergei Rachmaninoff Sergei Vasilievich Rachmaninoff ( Russian : Серге́й Васи́льевич Рахма́нинов; [ 1 ] Russian pronunciation: [sʲɪrˈɡʲej rɐxˈmanʲɪnəf] ; 1 April [ O.S. 20 March] 1873 – 28 March 1943) was a Russian [ 2 ] composer, pianist, and conductor. Rachmaninoff is widely considered one of the finest pianists of his day and, as a composer, one of the last great representatives of Romanticism in Russian classical music. [ 3 ] Early influences of Tchaikovsky , Rimsky-Korsakov , and other Russian composers gave way to a thoroughly personal idiom that included a pronounced lyricism, expressive breadth, structural ingenuity, and a tonal palette of rich, distinctive orchestral colors. [ 4 ] The piano is featured prominently in Rachmaninoff's compositional output. He made a point of using his own skills as a performer to explore fully the expressive possibilities of the instrument.
Sergei Rachmaninoff
Kissin -Rachmaninov piano concerto n.2, I. Moderato (part1)
Rachmaninov plays Rachmaninov Piano Concerto 3 (1939)
Portrait of Jean Sibelius from 1913 Jean Sibelius ( pronunciation ; born Johan Julius Christian Sibelius ) (8 December 1865 – 20 September 1957) was a Finnish composer of the late Romantic period . His music played an important role in the formation of the Finnish national identity . The core of Sibelius's oeuvre is his set of seven symphonies . Like Beethoven , Sibelius used each successive work to further develop his own personal compositional style.
Jean Sibelius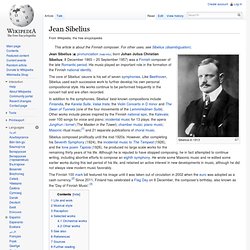 Jean Sibelius: Finlandia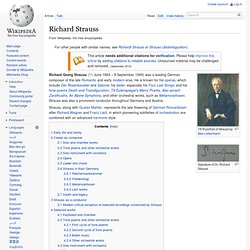 Richard Strauss
Signature of Dr. Richard Strauss Richard Georg Strauss (11 June 1864 – 8 September 1949) was a leading German composer of the late Romantic and early modern eras.
Richard Strauss - Salomé - Dance of the Seven Veils
Richard Strauss - Also sprach Zarathustra, Op. 30