Romantic era/20th century transition composers (1860-1880)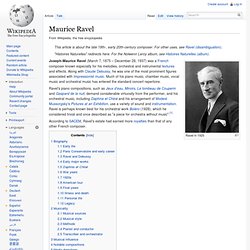 Ravel in 1925 According to SACEM, Ravel's estate had earned more royalties than that of any other French composer. Biography[edit] Early life[edit]
Maurice Ravel
Maurice Ravel-Bolero [FULL]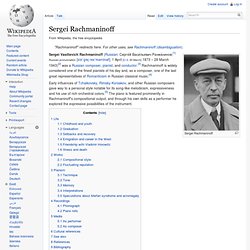 Sergei Rachmaninoff Sergei Vasilievich Rachmaninoff (Russian: Серге́й Васи́льевич Рахма́нинов;[1] Russian pronunciation: [sʲɪrˈɡʲej rɐxˈmanʲɪnəf]; 1 April [O.S. 20 March] 1873 – 28 March 1943)[2] was a Russian composer, pianist, and conductor.[3] Rachmaninoff is widely considered one of the finest pianists of his day and, as a composer, one of the last great representatives of Romanticism in Russian classical music.[4] Early influences of Tchaikovsky, Rimsky-Korsakov, and other Russian composers gave way to a personal style notable for its song-like melodicism, expressiveness and his use of rich orchestral colors.[5] The piano is featured prominently in Rachmaninoff's compositional output, and through his own skills as a performer he explored the expressive possibilities of the instrument. Life[edit] Rachmaninoff at age 10
Sergei Rachmaninoff
Kissin -Rachmaninov piano concerto n.2, I. Moderato (part1)
Rachmaninov plays Rachmaninov Piano Concerto 3 (1939)
Sibelius in 1913 Jean Sibelius ( pronunciation ; born Johan Julius Christian Sibelius; 8 December 1865 – 20 September 1957) was a Finnish composer of the late Romantic period. His music played an important role in the formation of the Finnish national identity. The core of Sibelius' oeuvre is his set of seven symphonies. Like Beethoven, Sibelius used each successive work to further develop his own personal compositional style.
Jean Sibelius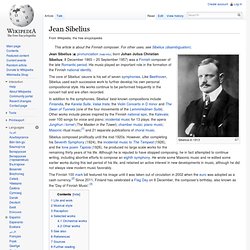 Jean Sibelius: Finlandia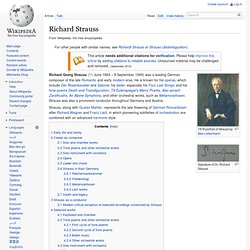 Richard Strauss
Signature of Dr. Richard Strauss Strauss, along with Gustav Mahler, represents the late flowering of German Romanticism after Richard Wagner and Franz Liszt, in which pioneering subtleties of orchestration are combined with an advanced harmonic style.
Richard Strauss - Salomé - Dance of the Seven Veils
Richard Strauss - Also sprach Zarathustra, Op. 30