Natural History
George Edwards (naturalist)
George Edwards George Edwards (3 April 1694 – 23 July 1773) was an English naturalist and ornithologist, known as the "father of British ornithology". Edwards was born at Stratford, Essex. In his early years he travelled extensively through mainland Europe, studying natural history, and gained some reputation for his coloured drawings of animals, especially birds. In 1733, on the recommendation of Sir Hans Sloane, he was appointed librarian to the Royal College of Physicians in London.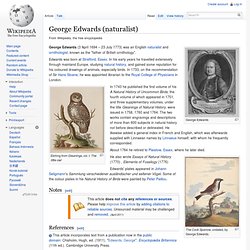 Pierre Louis Maupertuis
Pierre-Louis Moreau de Maupertuis (French: [mopɛʁtɥi]; 28 September 1698 – 27 July 1759)[1] was a French mathematician, philosopher and man of letters. He became the Director of the Académie des Sciences, and the first President of the Prussian Academy of Science, at the invitation of Frederick the Great.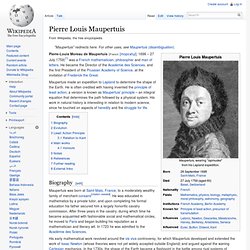 John Bartram
John Bartram (March 23, 1699 – September 22, 1777) was an early American botanist, horticulturist and explorer. Carolus Linnaeus said he was the "greatest natural botanist in the world.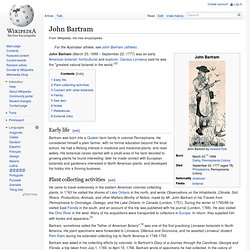 Nicholas Culpeper
Nicholas Culpeper (18 October 1616 – 10 January 1654) was an English botanist, herbalist, physician, and astrologer.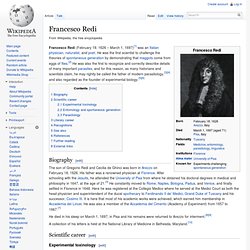 Francesco Redi (February 18, 1626 – March 1, 1697)[1] was an Italian physician, naturalist, and poet. He was the first scientist to challenge the theory of spontaneous generation by demonstrating that maggots come from eggs of flies.[2] He was also the first to recognize and correctly describe details of many important parasites, and for this reason, as many historians and scientists claim, he may rightly be called the father of modern parasitology,[3][4] and also regarded as the founder of experimental biology.[5][6] Biography[edit]
Francesco Redi
John Ray (29 November 1627 – 17 January 1705) was an English naturalist, widely regarded as one of the earliest of the English parson-naturalists, and the man with whom "the adventure of modern science begins".[1] Until 1670, he wrote his name as John Wray. From then on, he used 'Ray', after "having ascertained that such had been the practice of his family before him".[2] Early life[edit]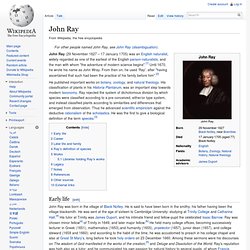 John Ray
Marcello Malpighi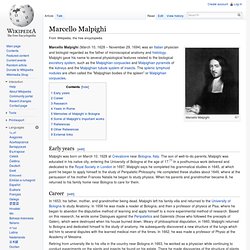 Marcello Malpighi.
Antonie van Leeuwenhoek
Antonie Philips van Leeuwenhoek[note 1] (/ˈleɪvənhʊk/, Dutch: [ɑnˈtoːni vɑn ˈleːuə(n)ˌɦuk] (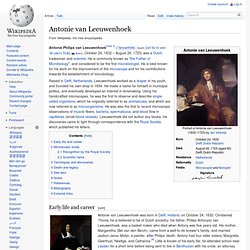 Jan Swammerdam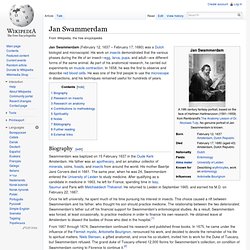 Biography[edit] Once he left university, he spent much of his time pursuing his interest in insects. This choice caused a rift between Swammerdam and his father, who thought his son should practice medicine.
Nicolas Steno (1 January 1638 – 25 November 1686[7][8] [NS: 11 January 1638 – 5 December 1686][7]) was a Danish Catholic bishop and scientist and a pioneer in both anatomy and geology. Steno was trained in the classical texts on science; however, by 1659 he seriously questioned accepted knowledge of the natural world.[9] Importantly he questioned explanations for tear production, the idea that fossils grew in the ground and explanations of rock formation.
Nicolas Steno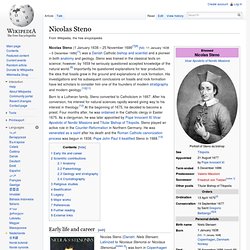 Herman Boerhaave
Herman Boerhaave (Dutch: [ˈɦɛrmɑn ˈbuːrˌɦaːvə], 31 December 1668 – 23 September 1738) was a Dutch botanist, humanist and physician of European fame. He is regarded as the founder of clinical teaching and of the modern academic hospital.
William Borlase
William Borlase (2 February 1695 – 31 August 1772), Cornish antiquary, geologist and naturalist. From 1722 he was Rector of Ludgvan, Cornwall, where he died in 1772.