Natural History
George Edwards (naturalist) George Edwards George Edwards (3 April 1694 – 23 July 1773) was an English naturalist and ornithologist, known as the "father of British ornithology".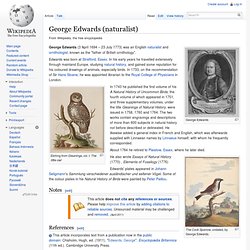 Edwards was born at Stratford, Essex. In his early years he travelled extensively through mainland Europe, studying natural history, and gained some reputation for his coloured drawings of animals, especially birds. In 1733, on the recommendation of Sir Hans Sloane, he was appointed librarian to the Royal College of Physicians in London. Pierre Louis Maupertuis. Pierre-Louis Moreau de Maupertuis (French: [mopɛʁtɥi]; 1698 – 27 July 1759)[1] was a French mathematician, philosopher and man of letters.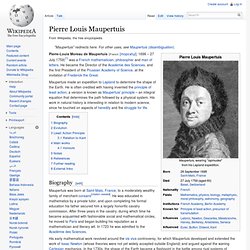 He became the Director of the Académie des Sciences, and the first President of the Prussian Academy of Science, at the invitation of Frederick the Great. Biography[edit] Maupertuis was born at Saint-Malo, France, to a moderately wealthy family of merchant-corsairs[citation needed]. He was educated in mathematics by a private tutor, and upon completing his formal education his father secured him a largely honorific cavalry commission. After three years in the cavalry, during which time he became acquainted with fashionable social and mathematical circles, he moved to Paris and began building his reputation as a mathematician and literary wit. John Bartram. John Bartram (March 23, 1699 – September 22, 1777) was an early American botanist, horticulturist and explorer.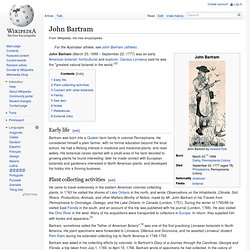 Carolus Linnaeus said he was the "greatest natural botanist in the world. Nicholas Culpeper. Nicholas Culpeper (18 October 1616 – 10 January 1654) was an English botanist, herbalist, physician, and astrologer.
His published books include The English Physician (1652) and the Complete Herbal (1653), which contain a rich store of pharmaceutical and herbal knowledge, and Astrological Judgement of Diseases from the Decumbiture of the Sick (1655), which is one of the most detailed documents we have on the practice of medical astrology in Early Modern Europe. Culpeper spent the greater part of his life in the English outdoors cataloging hundreds of medicinal herbs.
He criticized what he considered the unnatural methods of his contemporaries, writing: "This not being pleasing, and less profitable to me, I consulted with my two brothers, DR. Francesco Redi. Francesco Redi (February 19, 1626 – March 1, 1697)[1] was an Italian physician, naturalist, and poet.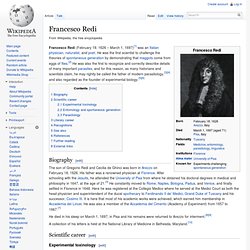 He was the first scientist to challenge the theories of spontaneous generation by demonstrating that maggots come from eggs of flies.[2] He was also the first to recognize and correctly describe details of many important parasites, and for this reason, as many historians and scientists claim, he may rightly be called the father of modern parasitology,[3][4] and also regarded as the founder of experimental biology.[5][6] Biography[edit] John Ray. John Ray (29 November 1627 – 17 January 1705) was an English naturalist, widely regarded as one of the earliest of the English parson-naturalists, and the man with whom "the adventure of modern science begins".[1] Until 1670, he wrote his name as John Wray.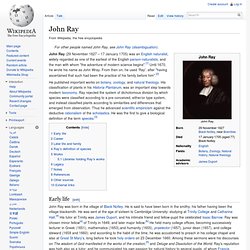 From then on, he used 'Ray', after "having ascertained that such had been the practice of his family before him".[2] Early life[edit] Marcello Malpighi. Marcello Malpighi.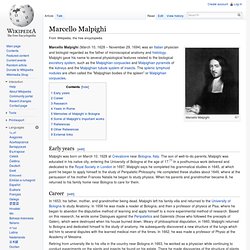 Marcello Malpighi (March 10, 1628 – November 29, 1694) was an Italian physician and biologist regarded as the father of microscopical anatomy and histology. Malpighi gave his name to several physiological features related to the biological excretory system, such as the Malpighian corpuscles and Malpighian pyramids of the kidneys and the Malpighian tubule system of insects.
The splenic lymphoid nodules are often called the "Malpighian bodies of the spleen" or Malpighian corpuscles. Early years[edit] Antonie van Leeuwenhoek. Antonie Philips van Leeuwenhoek[note 1] (/ˈleɪvənhʊk/, Dutch: [ɑnˈtoːni vɑn ˈleːuə(n)ˌɦuk] ( ); October 24, 1632 – August 26, 1723) was a Dutch tradesman and scientist.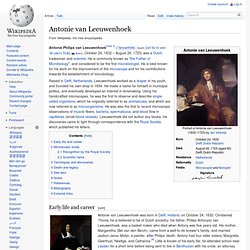 He is commonly known as "the Father of Microbiology", and considered to be the first microbiologist. He is best known for his work on the improvement of the microscope and for his contributions towards the establishment of microbiology. Raised in Delft, Netherlands, Leeuwenhoek worked as a draper in his youth, and founded his own shop in 1654. Jan Swammerdam. Biography[edit] Once he left university, he spent much of his time pursuing his interest in insects.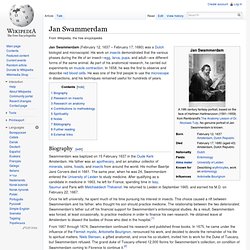 This choice caused a rift between Swammerdam and his father, who thought his son should practice medicine. Nicolas Steno. Nicolas Steno (1 January 1638 – 25 November 1686[7][8] [NS: 11 January 1638 – 5 December 1686][7]) was a Danish Catholic bishop and scientist and a pioneer in both anatomy and geology.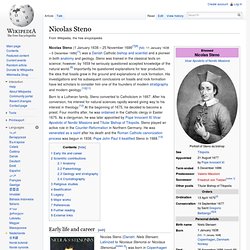 Steno was trained in the classical texts on science; however, by 1659 he seriously questioned accepted knowledge of the natural world.[9] Importantly he questioned explanations for tear production, the idea that fossils grew in the ground and explanations of rock formation. His investigations and his subsequent conclusions on fossils and rock formation have led scholars to consider him one of the founders of modern stratigraphy and modern geology.[10][11] Early life and career[edit] At the urging of Thomas Bartholin, Steno first travelled to Rostock, then to Amsterdam, where he studied anatomy under and lodged at Gerard Blasius, focusing on the Lymphatic system.
Herman Boerhaave. Herman Boerhaave (Dutch: [ˈɦɛrmɑn ˈbuːrˌɦaːvə], 31 December 1668 – 23 September 1738) was a Dutch botanist, humanist and physician of European fame. He is regarded as the founder of clinical teaching and of the modern academic hospital. His main achievement was to demonstrate the relation of symptoms to lesions. In addition, he was the first to isolate the chemical urea from urine.[1] His motto was Simplex sigillum veri; Simplicity is the sign of truth.
From 1950 to 1970, Boerhaave's image was printed on Dutch 20-guilder banknotes. The Leiden University Medical Centre organises medical trainings called Boerhaave-courses. William Borlase. William Borlase (2 February 1695 – 31 August 1772), Cornish antiquary, geologist and naturalist. From 1722 he was Rector of Ludgvan, Cornwall, where he died in 1772.
Life and works[edit] New Grimsby harbour, from Observations on the Ancient and Present State of the Islands of Scilly, and their Importance to the Trade of Great Britain Borlase was born in 1695 at Pendeen, of an ancient family originating at St Wenn. He was educated at Exeter College, Oxford from 1713, and in 1719 he was ordained.
---