Medieval Philosophy
Saint Anselm of Canterbury (/ˈænsɛlm/; c. 1033 – 21 April 1109), also called Anselm of Aosta for his birthplace, and Anselm of Bec for his home monastery, was a Benedictine monk, philosopher, and prelate of the Church, who held the office of Archbishop of Canterbury from 1093 to 1109. Called the founder of scholasticism, he has been a major influence in Western theology and is famous as the originator of the ontological argument for the existence of God and the satisfaction theory of atonement. Born into the House of Candia, he entered the Benedictine order at the Abbey of Bec at the age of 27, where he became abbot in 1079. He became Archbishop of Canterbury under William II of England. He was exiled from England from 1097 to 1100, and again from 1105 to 1107 (under Henry I of England), as a result of the investiture controversy, the most significant conflict between Church and state in Medieval Europe.
Anselm of Canterbury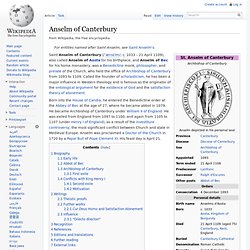 Peter Abelard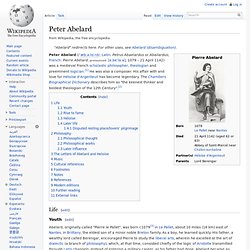 Peter Abelard (/ˈæb.ə.lɑːrd/; Latin: Petrus Abaelardus or Abailardus; French: Pierre Abélard, pronounced: [a.beˈlaːʁ]; 1079 – 21 April 1142) was a medieval French scholastic philosopher, theologian and preeminent logician.[1] He was also a composer. His affair with and love for Héloïse d'Argenteuil has become legendary. The Chambers Biographical Dictionary describes him as "the keenest thinker and boldest theologian of the 12th Century".[2]
Anicius Manlius Severinus Boëthius,[1][2] commonly called Boethius[3] (c. 480–524 or 525 AD), was a philosopher of the early 6th century. He was born in Rome to the ancient and prominent Anicia family which included emperors Petronius Maximus and Olybrius and many consuls.[2] His father, Flavius Manlius Boethius, was consul in 487 after Odoacer deposed the last Western Roman Emperor. Boethius himself entered public life at a young age and was already a senator by the age of 25.[4] He was consul in 510 in the kingdom of the Ostrogoths. In 522 he saw his two sons become consuls.[5] Boethius was imprisoned and eventually executed by King Theodoric the Great,[6] who suspected him of conspiring with the Eastern Roman Empire. While jailed, Boethius composed his Consolation of Philosophy, a philosophical treatise on fortune, death, and other issues.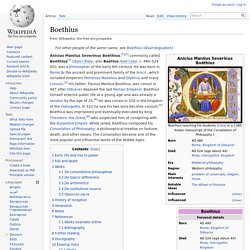 Boethius
Bonaventure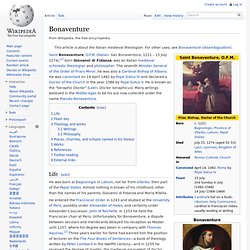 Saint Bonaventure, O.F.M. (Italian: San Bonaventura; 1221 – 15 July 1274),[1] born Giovanni di Fidanza, was an Italian medieval scholastic theologian and philosopher. The seventh Minister General of the Order of Friars Minor, he was also a Cardinal Bishop of Albano. He was canonised on 14 April 1482 by Pope Sixtus IV and declared a Doctor of the Church in the year 1588 by Pope Sixtus V. He is known as the "Seraphic Doctor" (Latin: Doctor Seraphicus). Many writings believed in the Middle Ages to be his are now collected under the name Pseudo-Bonaventura.
Duns Scotus was given the medieval accolade Doctor Subtilis (Subtle Doctor) for his penetrating and subtle manner of thought. He was beatified by Pope John Paul II in 1993. Life[edit]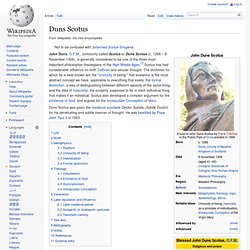 Duns Scotus
Augustine of Hippo (/ɔːˈɡʌstɨn/[1][2] or /ˈɔːɡəstɪn/;[2] Latin: Aurelius Augustinus Hipponensis;[3] 13 November 354 – 28 August 430), also known as Saint Augustine or Saint Austin,[4] was an early Christian theologian whose writings were very influential in the development of Western Christianity and Western philosophy. He was bishop of Hippo Regius (present-day Annaba, Algeria) located in the Roman province of Africa. Writing during the Patristic Era, he is viewed as one of the most important Church Fathers. Among his most important works are City of God and Confessions, which continue to be read widely today. According to his contemporary, Jerome, Augustine "established anew the ancient Faith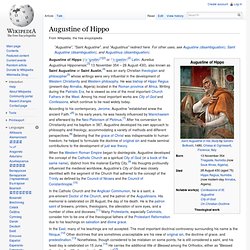 Augustine of Hippo
Confessions (Latin: Confessiones) is the name of an autobiographical work, consisting of 13 books, by St. Augustine of Hippo, written in Latin between AD 397 and AD 398. Modern English translations of it are sometimes published under the title The Confessions of St. Augustine in order to distinguish the book from other books with similar titles. Its original title was "Confessions in Thirteen Books," and it was composed to be read out loud with each book being a complete unit.[1] In the work St.
Confessions (St. Augustine)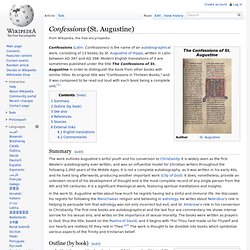 He was the foremost classical proponent of natural theology, and the father of Thomism. His influence on Western thought is considerable, and much of modern philosophy was conceived in development or refutation of his ideas, particularly in the areas of ethics, natural law, metaphysics, and political theory. Unlike many currents in the Church of the time,[6] Thomas embraced several ideas put forward by Aristotle — whom he referred to as "the Philosopher" — and attempted to synthethise Aristotelian philosophy with the principles of Christianity.[7] The works for which he is best known are the Summa Theologica and the Summa contra Gentiles. His commentaries on Sacred Scripture and on Aristotle are an important part of his body of work.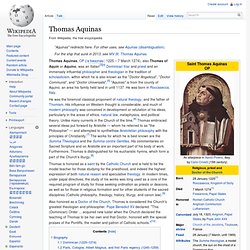 John Calvin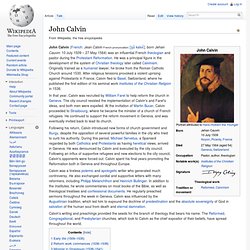 John Calvin (French: Jean Calvin, born Jehan Cauvin: 10 July 1509 – 27 May 1564) was an influential French theologian and pastor during the Protestant Reformation. He was a principal figure in the development of the system of Christian theology later called Calvinism. Originally trained as a humanist lawyer, he broke from the Roman Catholic Church around 1530.
Martin Luther OSA (German: [ˈmaɐ̯tiːn ˈlʊtɐ] ( ); 10 November 1483 – 18 February 1546) was a German monk, Catholic priest, professor of theology and seminal figure of a reform movement in 16th century Christianity, subsequently known as the Protestant Reformation.[1] He strongly disputed the claim that freedom from God's punishment for sin could be purchased with monetary values. He confronted indulgence salesman Johann Tetzel, a Dominican friar, with his Ninety-Five Theses in 1517.