Creatividad
6 Simple Tips for Becoming an Awesome Creative Director. You are already immersed in your industry's magazines.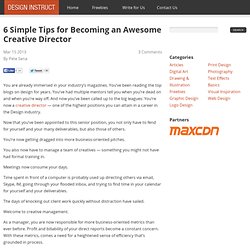 You've been reading the top blogs on design for years. You've had multiple mentors tell you when you're dead on and when you're way off. Designers' List - Great resources and websites for designers. - StumbleUpon. RedactoresP (RedactoresP) Logopond - Identity Inspiration. Loads.in - test how fast a webpage loads in a real browser from over 50 locations worldwide.
Fillerati - Faux Latin is a Dead Language. Favigen: Favicon Generator - The easiest way to create a favicon for your site. Kuler. Launchlist - Your one stop website checklist! Screenr | Instant screencasts: Just click record.
Gridulator: Make pixel grids, lickety-split. Free Online Invoice Software - Invoice Bubble. Cool gadgets for creative offices | Awwwards. Each designer or agency office should be filled with creative and innovative gadgets that surprise our clients and stimulate the imagination.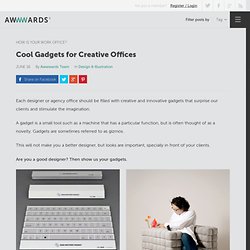 A gadget is a small tool such as a machine that has a particular function, but is often thought of as a novelty. Gadgets are sometimes referred to as gizmos. This will not make you a better designer, but looks are important, specially in front of your clients. 100 Principles for Designing Logos and Building Brands | Brand Identity Essentials. Achieving a Vintage Look Through Color Tones in Photoshop CS.
By Guest Contributor Anna Gay Photographers are often striving for a "vintage" look in their photos, and even though there are endless ways of achieving a vintage look, there are a couple of characteristics to keep in mind.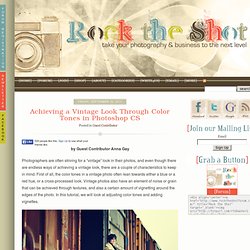 First of all, the color tones in a vintage photo often lean towards either a blue or a red hue, or a cross-processed look. Vintage photos also have an element of noise or grain that can be achieved through textures, and also a certain amount of vignetting around the edges of the photo. In this tutorial, we will look at adjusting color tones and adding vignettes. This photo is the result of adjusting the color curves, adding two vignettes, and a color fill, which we will walk through step-by-step.
Ten Steps to Becoming the Designer You Want to Be - Design - GOOD. McDonald's Interactive Gaming Billboard. 2K SharesTwitter42Facebook48Google+1Pin It Share4LinkedIn22StumbleUpon1.9K2K Flares× DDB Stockholm recently ran a cool interactive billboard for McDonald's that allows people a game of pong with their smartphones using app-free geolocation technology.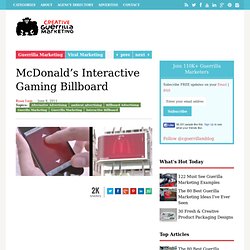 Users in the general area have the ability to log on to the website and control the billboard. Players who last for more than 30 seconds win McDonald's coupons. This campaign is very similar to the other DDB digital billboard campaign they did for McDonalds. A New Collection of Unusual Business Card. We have already showcased a collection of unusual business cards in the past.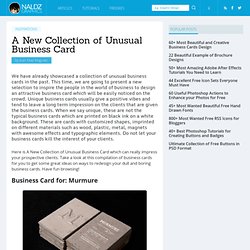 This time, we are going to present a new selection to inspire the people in the world of business to design an attractive business card which will be easily noticed on the crowd. Unique business cards usually give a positive vibes and tend to leave a long term impression on the clients that are given the business cards.
When we say unique, these are not the typical business cards which are printed on black ink on a white background. These are cards with customized shapes, imprinted on different materials such as wood, plastic, metal, magnets with awesome effects and typographic elements. Do not let your business cards kill the interest of your clients. 50 Beautiful and Effective Package Designs. When choosing one product over another, the design of the packaging probably influences your decision far more than you realize.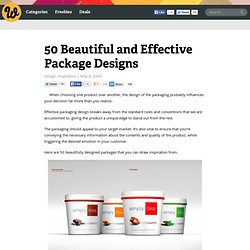 Effective packaging design breaks away from the standard rules and conventions that we are accustomed to, giving the product a unique edge to stand out from the rest. The packaging should appeal to your target market. 20 Fresh Free Fonts for Creative Modern Logos | CrazyLeaf Design Blog. Every single logo designer knows, or at least should know, implementing the right font is at least as important as designing the logo symbol itself.
And you know how long it takes to find the right one! I put together a set of 20 fresh free fonts that you may always count on. Enjoy! Peter Olexa is a freelance graphic designer born in Bratislava, Slovakia. He has over 15 years of experience in corporate identity and web site design. Publishing is no longer a job or an industry - it's a button & Tech News and Analysis. As he has shown with books like "Here Comes Everybody" and his ideas about how the "cognitive surplus" has created a crowdsourcing explosion, Clay Shirky has a way of putting his finger on trends in media — disruptions that we are all experiencing, but sometimes fail to properly appreciate.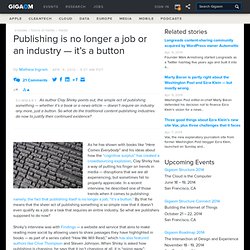 In a recent interview, he described one of those trends when it comes to publishing: namely, the fact that publishing itself is no longer a job, "it's a button." By that he means that the sheer act of publishing something is so simple now that it doesn't even qualify as a job or a task that requires an entire industry. So what are publishers supposed to do now? MWM Graphics | Matt W. Moore. 201 Ways to Arouse Your Creativity. Arouse your creativity A guest post by Katie Tallo of Momentum Gathering.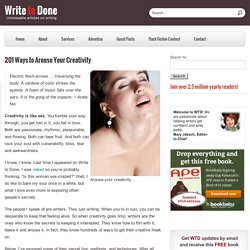 Electric flesh-arrows … traversing the body. A rainbow of color strikes the eyelids. A foam of music falls over the ears. It is the gong of the orgasm. ~ Anais Nin. 20 Unique and Creative Logo Designs - StumbleUpon. Logo is a symbol or emblem commonly used by companies and individuals to aid and promote instant public recognition.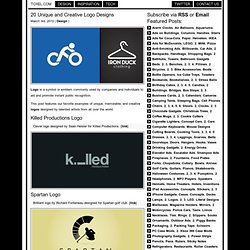 This post features our favorite examples of unique, memorable, and creative logos designed by talented artists from all over the world. Killed Productions Logo. The Psychology of Color [Infographic] | Louisville Painters - StumbleUpon. 60 Highly Clever Minimal Logo Designs - StumbleUpon. Depending on the flavor of your business, your logo may appear big and flashy, bold and colorful or just plain simple and clever. In this roundup, I've turned the spotlight towards the more simple and clever logo styles that leave a strong impression. As simplistic as they may appear, there is genius behind these 60 highly clever minimal logo designs. 100 Websites You Should Know and Use.
Entertainment Meet David Peterson, who developed Dothraki for Game of Thrones There are seven different words in Dothraki for striking another person with a sword. Número de oro y la divina proporción. Durante el renacimiento, el uso de la proporción áurea se extendio entre las artes, uno de los artistas que más uso le dio fué Leonardo Da Vinci. Sus obras se apegaban a una reticula basada en la proporción aurea, en la Gioconda, el rostro encaja perfecto en un rectángulo áureo y las partes de la cara a su vez se componen de rectangulos o proporciones aureas.
El número áureo representa la proporción que existe entre dos segmentos, tales que el segmento menor es al mayor lo que el mayor es a la totalidad. La fórmula es: (A/B)=(A+B)/A. A Compilation of Vintage Textures for Designers. Resources June 10, 2010 Textures are one of the most used resources in making great designs. They can accentuate your images to better portray the feel of the design you're aiming for. Vintage textures, for instance, can add a classic or nostalgic touch to your work. Here at You the Designer, you need not blast to the past to get this brilliant effect. Design Seeds&: For All Who Love Color | Search. Think Invisible - Posters That Will Make You Think | Daily Inspiration. Interactive Marketing. k0pv0.jpg (2400×1507)
Coloribus : Archivo de publicidad mundial : Publicidad Creativa : Ganadores de los festivales de la publicidad. Excerpts from "How to be Perfect" by Ron Padgett | The Writers Almanac with Garrison Keillor. 60 Highly Clever Minimal Logo Designs.
---