XML related
xbird - Light-weight XQuery processor and XML database system written in Java.
XBird is a light-weight XQuery processor and database system written in Java. The light-weight means reasonably fast and embeddable. Features XBird introduces the following features: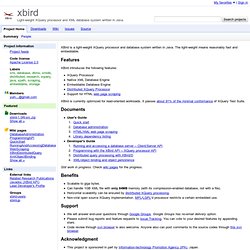 XStream is a simple library to serialize objects to XML and back again. Ease of use. A high level facade is supplied that simplifies common use cases. No mappings required. Most objects can be serialized without need for specifying mappings.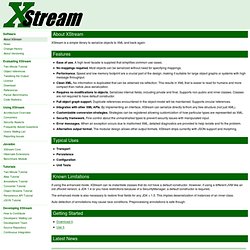 Overview (kxml API)
Overview (XStream Core 1.4.2 API)
The goal of the JAXB project is to develop and evolve the code base for the Reference Implementation (RI) of JAXB, the Java Architecture for XML Binding. The JAXB specification is developed through the Java Community Process following the process described at jcp.org . This process involves an Expert Group with a lead that is responsible for delivering the specification, a reference implementation (RI) and a Technology Compatibility Kit (TCK). The primary goal of an RI is to support the development of the specification and to validate it.
JAXB Reference Implementation — Java.net