Java Dev
Java .Net Bridge. Axis2 - Apache Axis2/Java - Next Generation Web Services. Apache Axis2™ is a Web Services / SOAP / WSDL engine, the successor to the widely used Apache Axis SOAP stack.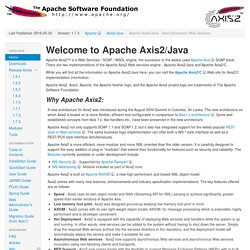 There are two implementations of the Apache Axis2 Web services engine - Apache Axis2/Java and Apache Axis2/C While you will find all the information on Apache Axis2/Java here, you can visit the Apache Axis2/C Web site for Axis2/C implementation information. Apache Axis2, Axis2, Apache, the Apache feather logo, and the Apache Axis2 project logo are trademarks of The Apache Software Foundation. Java.net (Java Platform SE 7 ) Docs.oracle.com/javaee/6/tutorial/doc/javaeetutorial6.pdf.
Issue trackers. SpringSource.org | Hosting.
---