HTML 5 Video
Video. What is "Video" module?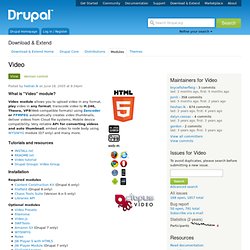 Video module allows you to upload video in any format, play video in any format, transcode video to H.246, Theora, VP8(Web compatible formats) using Zencoder or FFMPEG automatically creates video thumbnails, deliver videos from Cloud file systems, Mobile device compatibility. Very reliable API for converting videos and auto thumbnail, embed video to node body using WYSIWYG module (D7 only) and many more.
Tutorials and resources Installation. VideoJS (HTML5 Video Player) Video.js is a HTML5-based video player with a built-in Flash fallback for older browsers.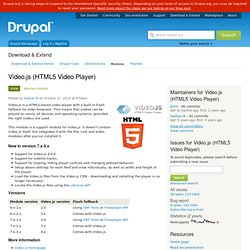 This means that videos can be played on nearly all devices and operating systems, provided the right codecs are used. This module is a support module for Video.js. MediaElement (project page) The MediaElement module brings the MediaElement.js html5 player plugin to Drupal.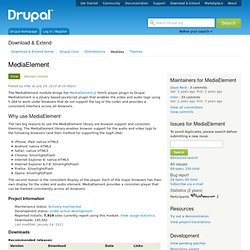 MediaElement is a jQuery based JavaScript plugin that enables the video and audio tags using h.264 to work under browsers that do not support the tag or the codec and provides a consistent interface across all browsers. The two big reasons to use the MediaElement library are browser support and consisten theming. The MediaElement library enables browser support for the audio and video tags to the following browsers (and their method for supporting the tag/h.264): MediaElement.js - HTML5 video player and audio player with Flash and Silverlight shims.
---