Drupal
This pearl tree contains categorised links and information relating to developing, theming and maintaning Drupal websites.
Drupal - Open Source CMS. Drupal Acquia.
Upgrading Drupal. Command Line Tools. Installation & Maintenance. Theming. Building. CRM. Performance & Testing. Drupal Community.
Modules. Extend and customize Drupal functionality with contributed modules.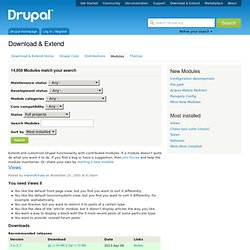 If a module doesn't quite do what you want it to do, if you find a bug or have a suggestion, then join forces and help the module maintainer. Or, share your own by starting a new module. Views. DrupalModules.com.
---