DFF Drupal For Facebook
DFF Drupal for Facebook (project page)
This set of modules turns Drupal into a platform for developing Facebook Applications .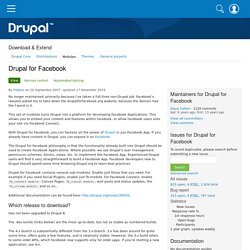 Drupal for Facebook (homepage)
This guide describes creating a web app directly within the core Facebook experience. See the Facebook for Websites guide if you instead want to add Facebook capabilities to an external website. Building an app on Facebook gives you the opportunity to deeply integrate into the core Facebook experience.