FB landing page
Landing Page: Tips, Tools and Inspiring Examples. Landing pages are probably the most underrated type of web page out there but it's importance is crucial in online marketing.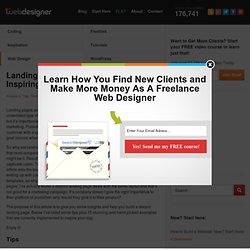 Purpose? Present the customer with a specific and direct promotion or offer in order to achieve a conversion goal (occurs when a customer completes an offer/purpose) of a business campaign. So why are landing pages underrated? Facebook Page Showcase | A gallery of custom Facebook fan pages for design inspiration. Involver: The Web's Most Trusted Social Marketing Platform. Oracle Oracle Solutions Social Relationship Management Involver Involver is Now Part of Oracle Social Relationship Management.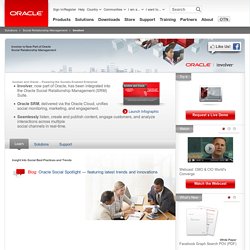 Hike Releases FREE Tab Builder Version 2.0 | Hike – Free Social Apps. Welcome back my fellow Hikers!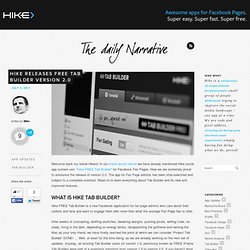 In our brand launch article we have already mentioned Hike social app numero uno: "Hike FREE Tab Builder" for Facebook Fan Pages. Now we are extremely proud to announce the release of version 2.0. The app for Fan Page admins has been strip-searched and subject to a complete overhaul. Page d'accueil Facebook : 5 applications au banc d'essai. Détails Catégorie : Réseaux sociaux 19 Aoû 2011 Lorsque l'on gère une page Facebook, une page d'accueil personnalisée (ou landing page) est une option intéressante pour afficher un contenu spécifique et aux couleurs de l'entreprise, l'association, la marque, etc.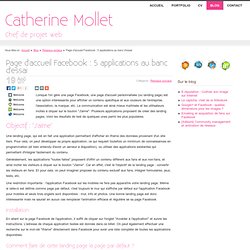 La communication est ainsi mieux maîtrisée et les utilisateurs incités à cliquer sur le bouton "J'aime". Comment créer votre landing page facebook gratuitement et facilement? Votre page professionnelle Facebook est créee?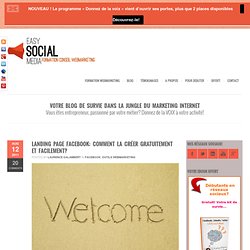 Vous souhaitez désormais créer une page d'accueil Facebook pour accueillir vos nouveaux fans! Comment? Grâce à une landing page Facebook… (si vous n'avez pas encore crée votre page pro, accédez au tutoriel facebook fan page en images) Seulement voilà, vous n'y connaissez rien en programmation ou autre, vous n'avez que 30 minutes devant vous et pas un sous en poche. Ajouter une application iFrame à une page Facebook. Tutorial: Add an iFrame Application to your Facebook Fan Page – 2011.
If you're NOT on the HyperArts Blog, CLICK HERE!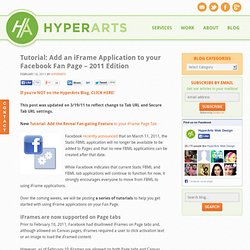 This post was updated on 3/19/11 to reflect change to Tab URL and Secure Tab URL settings. New Tutorial: Add the Reveal Fan-gating Feature to your iFrame Page Tab Facebook recently announced that on March 11, 2011, the Static FBML application will no longer be available to be added to Pages and that no new FBML applications can be created after that date.
While Facebook indicates that current Static FBML and FBML tab applications will continue to function for now, it strongly encourages everyone to move from FBML to using iFrame applications. How to Set up a Facebook Custom iFrame Landing Page Application. Editor's Note: We wrote a more up-to-date article about creating custom Facebook tabs here.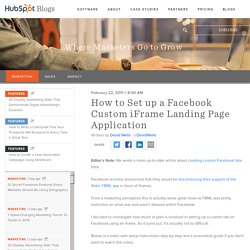 Facebook recently announced that they would be discontinuing their support of the Static FBML app in favor of iframes. From a marketing perceptive this is actually some great news as FBML was pretty restrictive on what was and wasn't allowed within Facebook. I decided to investigate how much of pain is involved in setting up a custom tab on Facebook using an iframe. As it turns out, it's actually not to difficult. Comment Créer Une Landing Page Facebook Avec Iwipa ? Tutoriel Vidéo.
Envie de créer une landing page facebook ?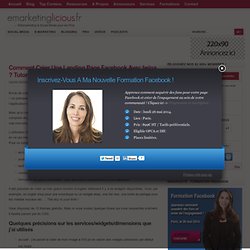 En y intégrant un mini-site ? Et tout ça en moins de 15 mn – ou presque ;) ? Ne cherchez pas plus loin : vous êtes au bon endroit ! J'ai testé pour vous Iwipa, l'application la plus populaire pour la création d'une landing page Facebook. Créer une page d'accueil Facebook | Outils. Facebook est le leader des réseaux sociaux.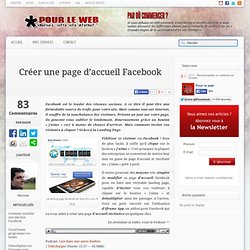 A ce titre il peut être une formidable source de trafic pour votre site. Mais comme tout sur internet, il souffre de la nonchalance des visiteurs. Présent un jour sur votre page, ils peuvent vous oublier le lendemain. Heureusement grâce au bouton « j'aime » ceci à moins de chance d'arriver. NEW: Wildfire launches FREE iFrames app for Facebook page owners. Hi Guys!
Just wanted to let you know that on March 30, we will update this iFrames app to be compatible with the 810 pixel format (for the transition of all brand pages to the Timeline format.) This will not change any designs that have been created for 520 pixels— those designs will get centered on the page with white space on either side. Starting in 2 days, however, you can update your designs to be 810 pixels wide and they will display with no scrolling! When Facebook officially makes the switch on March 10th from FBML to iFrames there'll be a lot of great benefits for fan page owners, including greater flexibility in terms of design and functionality. But it does create a pretty major challenge for the hundreds of thousands of Facebook page owners who've relied on Facebook's FBML app to display a 'fan gate' (otherwise known as a 'reveal tab') on their Facebook page. Top 10 Facebook Apps for Building Custom Pages & Tabs.
Are you looking for an easy way to create attractive pages on Facebook? Are you wondering how businesses are creating Welcome tabs? In this article I'll reveal a number of applications that make it very easy to add functionality to your Facebook page. Custom Tabs: What You Need to Know You may have seen some Welcome pages on Facebook that encourage new visitors to Like the page. You may even be given an incentive such as a free report or, in Tim Ferriss' case, a free chapter of his book.
---