FB landing page
Landing pages are probably the most underrated type of web page out there but it's importance is crucial in online marketing. Purpose? Present the customer with a specific and direct promotion or offer in order to achieve a conversion goal (occurs when a customer completes an offer/purpose) of a business campaign. So why are landing pages underrated?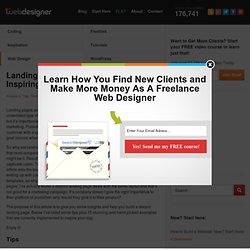 Landing Page: Tips, Tools and Inspiring Examples
Welcome back my fellow Hikers! In our brand launch article we have already mentioned Hike social app numero uno: " Hike FREE Tab Builder " for Facebook Fan Pages. Now we are extremely proud to announce the release of version 2.0. The app for Fan Page admins has been strip-searched and subject to a complete overhaul.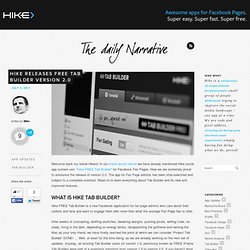 Hike Releases FREE Tab Builder Version 2.0 | Hike – Free Social Apps
Détails Catégorie : Réseaux sociaux 19 Aoû 2011 Lorsque l'on gère une page Facebook, une page d'accueil personnalisée (ou landing page) est une option intéressante pour afficher un contenu spécifique et aux couleurs de l'entreprise, l'association, la marque, etc. La communication est ainsi mieux maîtrisée et les utilisateurs incités à cliquer sur le bouton "J'aime".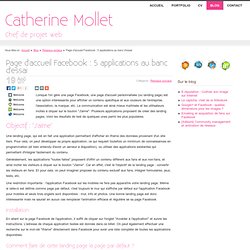 Page d'accueil Facebook : 5 applications au banc d'essai
Votre page professionnelle Facebook est créee? Vous souhaitez désormais créer une page d'accueil Facebook pour accueillir vos nouveaux fans! Comment? Grâce à une landing page Facebook … (si vous n'avez pas encore crée votre page pro, accédez au tutoriel facebook fan page en images) Seulement voilà, vous n'y connaissez rien en programmation ou autre, vous n'avez que 30 minutes devant vous et pas un sous en poche.
Comment créer votre landing page facebook gratuitement et facilement?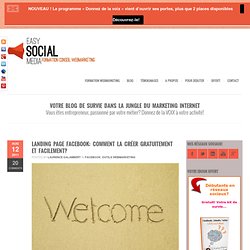 Ajouter une application iFrame à une page Facebook
Facebook avait annoncé qu'après le 11 Mars 2011, il serait impossible d'ajouter l'application Static FBML à des pages et aussi, de créer des applications FBML. [Voir Facebook abandonne le FBML ]. Toutes les nouvelles applications crées doivent donc être de type iFrame.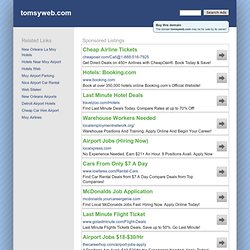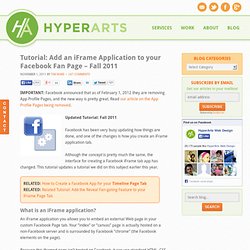 IMPORTANT: Facebook announced that as of February 1, 2012 they are removing App Profile Pages, and the new way is pretty great. Read our article on the App Profile Pages being removed . Updated Tutorial: Fall 2011 Facebook has been very busy updating how things are done, and one of the changes is how you create an iFrame application tab. Although the concept is pretty much the same, the interface for creating a Facebook iFrame tab app has changed. This tutorial updates a tutorial we did on this subject earlier this year.
Editor's Note: We wrote a more up-to-date article about creating custom Facebook tabs here . Facebook recently announced that they would be discontinuing their support of the Static FBML app in favor of iframes. From a marketing perceptive this is actually some great news as FBML was pretty restrictive on what was and wasn't allowed within Facebook. I decided to investigate how much of pain is involved in setting up a custom tab on Facebook using an iframe. As it turns out, it's actually not to difficult.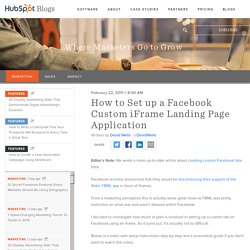 Create a Custom iFrame Tab for your Facebook Page | Out-Smarts Marketing Inc
Recently, Facebook updated their business pages and in the process they replaced FBML with iFrames for creating custom tabs. This means that instead of using FBML to create custom content on your page, you will now need to create a custom application and use an iFrame. Basically, an iFrame allows you to use content across different web domains through code which tells the website browser to request content from a different location. This enables you to display content from one webpage on another website, such as embedding a youtube video or flickr photo on your Facebook business page. IFrames are a bit more complicated than FBML, but we'll walk you through the basic steps below.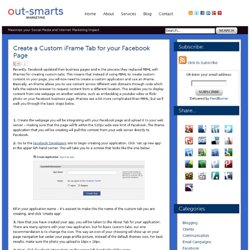 Welcome to YouTube! The location filter shows you popular videos from the selected country or region on lists like Most Viewed and in search results.To change your location filter, please use the links in the footer at the bottom of the page. Click "OK" to accept this setting, or click "Cancel" to set your location filter to "Worldwide". The location filter shows you popular videos from the selected country or region on lists like Most Viewed and in search results.
Chaîne de iwipa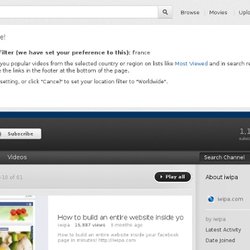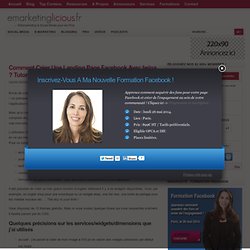 Bonjour! Si vous visitez Emarketinglicious pour la 1ère fois, abonnez-vous à notre flux RSS pour recevoir nos dernières actualités. Envie de créer une landing page facebook ? En y intégrant un mini-site ? Et tout ça en moins de 15 mn – ou presque ;) ?
Créer une page d'accueil Facebook | Outils
Facebook est le leader des réseaux sociaux. A ce titre il peut être une formidable source de trafic pour votre site. Mais comme tout sur internet, il souffre de la nonchalance des visiteurs. Présent un jour sur votre page, ils peuvent vous oublier le lendemain. Heureusement grâce au bouton « j'aime » ceci à moins de chance d'arriver.
Hi Guys! Just wanted to let you know that on March 30, we will update this iFrames app to be compatible with the 810 pixel format (for the transition of all brand pages to the Timeline format.) This will not change any designs that have been created for 520 pixels— those designs will get centered on the page with white space on either side. Starting in 2 days, however, you can update your designs to be 810 pixels wide and they will display with no scrolling! When Facebook officially makes the switch on March 10th from FBML to iFrames there'll be a lot of great benefits for fan page owners, including greater flexibility in terms of design and functionality. But it does create a pretty major challenge for the hundreds of thousands of Facebook page owners who've relied on Facebook's FBML app to display a 'fan gate' (otherwise known as a 'reveal tab') on their Facebook page.
NEW: Wildfire launches FREE iFrames app for Facebook page owners
Are you looking for an easy way to create attractive pages on Facebook? Are you wondering how businesses are creating Welcome tabs? In this article I'll reveal a number of applications that make it very easy to . Custom Tabs: What You Need to Know You may have seen some Welcome pages on Facebook that encourage new visitors to Like the page. You may even be given an incentive such as a free report or, in Tim Ferriss' case, a free chapter of his book.
How to Create a new Facebook Iframe Tab for your Page