Logiciels Libres
Lightning :: Modules pour Thunderbird
Lightning :: Modules pour Thunderbird
Nouvelles notices Corregidor Correction et Gestion Intelligentes de Dictées Assistées par Ordinateur | FR | WIN | GPL 14 avril 2014 Consonnex Le Soundex revisité | FR | WIN | TUX 24 février 2014 iner6 calcul de l'inertie thermique d'un bâtiment | WIN | MAC 21 décembre 2013 Pendu_SVG Pendu des mots savants, rares ou drôles du français.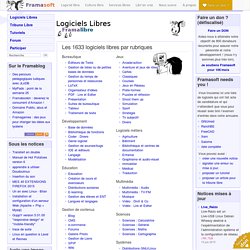 EGroupware Enterprise Collaboration - Browse Files at SourceForge
Free video soft: video converter, ipod converter, mp4 converter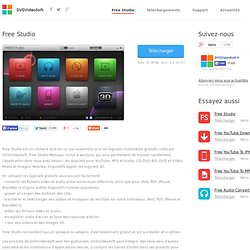 by Dany Super logiciel !! Le meilleur meme avant jen utiliser plusieurs différents mais maintenant j'en ai qu'un seul. Vraiment bravo !!
Turnkey GNU/Linux is a free Debian based library of system images that pre-integrates and polishes the best free software components into secure, easy to use solutions. TurnKey was started in 2008 by Alon Swartz and Liraz Siri who were inspired by a belief in the democratizing power of free software, like science, to promote the progress of a free & humane society. Without the freedom to freely distribute, tinker and learn from free software the Internet as we know it would not exist. Free software is the silent, often invisible power behind the greatest technological marvel of our era. At the time of writing Debian, the largest GNU/Linux distribution has over 37,500 packages in its software repositories. The free software movement has collectively created a treasure trove of software that anyone is free to use, distribute, modify and learn from.