Logiciels Libres
Lightning :: Modules pour Thunderbird
Lightning :: Modules pour Thunderbird
Framasoft - Campagne 2013 - « Moins de Google / Plus de Libre » Framasoft s'efforce de faire connaître et promouvoir le « Libre » depuis 12 ans. Nous poursuivons cet objectif d'éducation populaire avec plus d'une vingtaine de projets menés par une communauté de bénévoles soutenue par une association qui compte 3 salariés.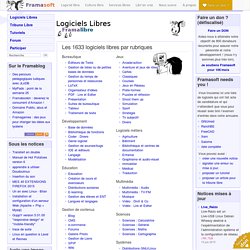 EGroupware Enterprise Collaboration - Browse Files at SourceForge
Free video soft: video converter, ipod converter, mp4 converter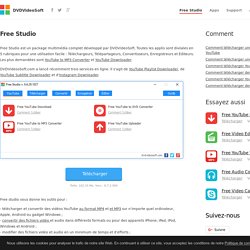 by Dany Super logiciel !! Le meilleur meme avant jen utiliser plusieurs différents mais maintenant j'en ai qu'un seul.
Turnkey Linux is a virtual appliance library that integrates and polishes the very best open source software into ready to use solutions. Each virtual appliance is optimized for ease of use and can be deployed in just a few minutes on bare metal, a virtual machine and in the cloud. We believe everything that can be easy, should be easy. Packaging a solution as a virtual appliance can be incredibly useful because it allows you to leverage guru integration skills to build ready to use systems (I.e., turn key solutions) that just work out of the box with little to no setup.