Moro
Svadageneratoren. Humanist erhverver reel kompetence. En 26-årig idehistorie-studerende fik et chok, da noget, han havde lært på universitetet, viste sig at kunne bruges i den virkelige verden.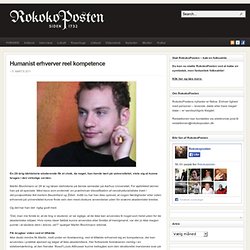 Martin Blochmann er 26 år og læser idehistorie på tiende semester på Aarhus Universitet. For øjeblikket skriver han på sit speciale 'Med kaos som endemål: en præliminær klassifikation af neostrukturalistiske træk i det postpolitiske felt mellem Baudrillard og Žižek'. AT-AT DAY AFTERNOON. Television Tropes & Idioms.
Bildelenker
Top 48 ads that would never be allowed today » Article » OWNI.eu, Digital Journalism. Bad analogies. They lived in a typical suburban neighborhood with picket fences that resembled Nancy Kerrigan's teeth.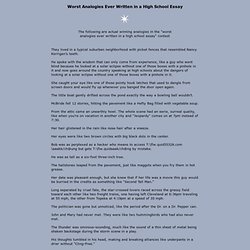 He spoke with the wisdom that can only come from experience, like a guy who went blind because he looked at a solar eclipse without one of those boxes with a pinhole in it and now goes around the country speaking at high schools about the dangers of looking at a solar eclipse without one of those boxes with a pinhole in it. She caught your eye like one of those pointy hook latches that used to dangle from screen doors and would fly up whenever you banged the door open again.
The little boat gently drifted across the pond exactly the way a bowling ball wouldn't. McBride fell 12 stories, hitting the pavement like a Hefty Bag filled with vegetable soup. From the attic came an unearthly howl. Calvin & Hobbes. I have always been a big fan of Calvin & Hobbes comics, and their author, Bill Watterson.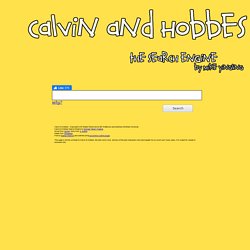 Since discovering the complete script online, as well as a collection of every daily strip on another website, I knew I could make the two reference each other and therefore create a "Calvin & Hobbes Search Engine" for lack of a better name. So I set out to do it. Currently the search only looks for EXACT phrases (not case sensitive), so if you're looking for a comic with the words "balloon" and "airplane" you cannot enter them both, or it will search for "balloon airplane" together. Perhaps in the future I will fix this, but it's actually a lot more difficult than leaving it as-is. Hadouken!!! : gaming. Harry Potter and the Methods of Rationality Chapter 1: A Day of Very Low Probability, a Harry Potter fanfic.
Disclaimer: J.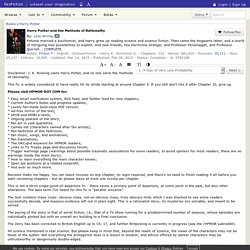 K. Rowling owns Harry Potter, and no one owns the methods of rationality. This fic is widely considered to have really hit its stride starting at around Chapter 5. If you still don't like it after Chapter 10, give up. ಠ_ಠ Look of Disapproval. About ಠ_ಠ, otherwise known as the "look of disapproval," is a character sequence commonly used as a reaction emoticon to express one's disapproval or disbelief.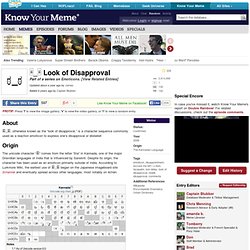 Origin.
---