Mediacenter
Acer Aspire Revo AR3610-U9012 Intel Atom 330(1.60GHz) 2GB DDR2 160GB NVIDIA ION graphics Windows 7 Home Premium 64-bit - Desktop PCs
This review is from: Acer AspireRevo AR3610-U9012 Desktop PC Intel Atom 330 (1.60GHz) 2GB DDR2 160GB HDD Capacity Windows 7 Home Premium 64-bit Pros: Great little system. The Nvidia ION graphics chip makes a BIG difference over the standard Intel GMA 950 that normally comes in most Intel Atom powered systems. It helps take the load off the 1.6 GHz Intel Dual Core Atom cpu. The Dual Core is also noticiably better than the Single Core. It also supports HT as well, as does the Single Core.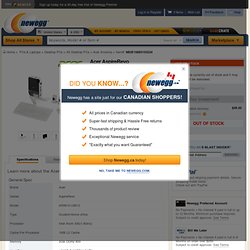 Subsonic is a free, web-based media streamer, providing ubiquitous access to your music. Use it to share your music with friends, or to listen to your own music while at work. You can stream to multiple players simultaneously, for instance to one player in your kitchen and another in your living room.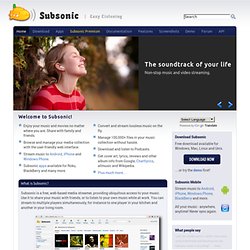 Subsonic » Free Music Streamer
boxee: the open, connected, social media center for mac os x and linux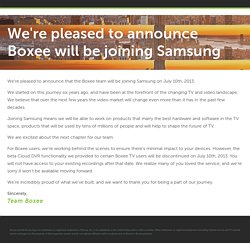 We're pleased to announce that the Boxee team will be joining Samsung. We started on this journey six years ago, and have been at the forefront of the changing TV and video landscape. We believe that over the next few years the video market will change even more than it has in the past few decades. Joining Samsung means we will be able to work on products that marry the best hardware and software in the TV space, products that will be used by tens of millions of people and will help to shape the future of TV. We are excited about the next chapter for our team.
Welcome To Popcorn Hour
LinuxMCE is a whole home automation suite.It the 'digital glue' between your media and all of your electrical appliances.It includes full featured solutions for:Media Organize media with special metadata tags View/Listen to media in any room Media automatically follows you through your home New media is automatically detected - even if it's on other devices like another computer on your network or Network Attached Storage (NAS) Control all your A/V gear through LinuxMCE (using IR, USB, Ethernet, or RS-232) including automatically powering everything on and setting the proper inputs on each device Security Monitor sensors and trigger events Monitor security cameras Telecomunication Use VoIP phones anywhere in your home with minimal setup Voicemail, call forwarding, advanced caller ID
LinuxMCE
Welcome to the Frontpage
Freevo Media Centre| Home Theatre Platform (HTCP) & DVR
Imagine a world where the tv guide is fluid, where the time slots are organised to suit your schedule. Imagine a place you can store all of your music, movies and photos for you and your family to enjoy. Imagine having access to all your games, podcasts, upto the minute weather and news reports. Imagine doing all of this for free.
LinuxMCE