Films
Jack Kerouac. Jean-Louis "Jack" Kérouac (/ˈkɛruːæk/ or /ˈkɛrɵæk/; March 12, 1922 – October 21, 1969) was an American novelist and poet.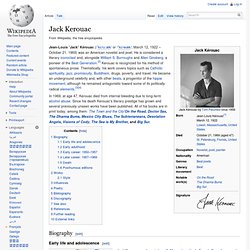 He is considered a literary iconoclast and, alongside William S. Burroughs and Allen Ginsberg, a pioneer of the Beat Generation.[2] Kerouac is recognized for his method of spontaneous prose. Thematically, his work covers topics such as Catholic spirituality, jazz, promiscuity, Buddhism, drugs, poverty, and travel. Last Exit to Brooklyn. Last Exit to Brooklyn is a 1964[1] novel by American author Hubert Selby, Jr.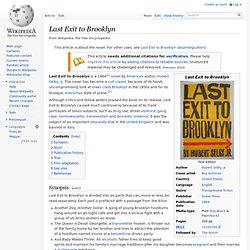 The novel has become a cult classic because of its harsh, uncompromising look at lower class Brooklyn in the 1950s and for its brusque, everyman style of prose.[2] Although critics and fellow writers praised the book on its release, Last Exit to Brooklyn caused much controversy because of its frank portrayals of taboo subjects, such as drug use, street violence, gang rape, homosexuality, transvestism and domestic violence. It was the subject of an important obscenity trial in the United Kingdom and was banned in Italy. Hubert Selby, Jr. Selby wrote about a harsh underworld seldom portrayed in literature before then: his first novel was prosecuted for obscenity in Great Britain in 1967, and banned in Italy.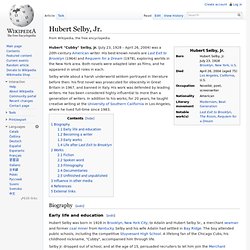 His work was defended by leading writers. He has been considered highly influential to more than a generation of writers. In addition to his works, for 20 years, he taught creative writing at the University of Southern California in Los Angeles, where he lived full-time since 1983. Biography[edit] Early life and education[edit]
---