Films
Jean-Louis " Jack " Kérouac ( pron.: / ˈ k ɛr uː æ k / or / ˈ k ɛr ɵ æ k / ; March 12, 1922 – October 21, 1969) was an American novelist and poet. He is considered a literary iconoclast and, alongside William S. Burroughs and Allen Ginsberg , a pioneer of the Beat Generation . [ 2 ] Kerouac is recognized for his spontaneous method of writing, covering topics such as Catholic spirituality , jazz , promiscuity , Buddhism , drugs, poverty, and travel. Kerouac became an underground celebrity and, with other beats, a progenitor of the hippie movement , although he remained antagonistic toward some of its politically radical elements. [ 3 ]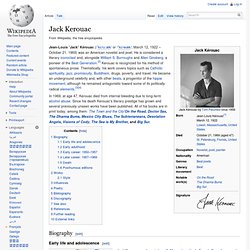 Last Exit to Brooklyn is a 1964 novel by American author Hubert Selby, Jr. The novel has become a cult classic because of its harsh, uncompromising look at lower class Brooklyn in the 1950s and for its brusque, everyman style of prose. [ 1 ] Although critics and fellow writers praised the book on its release, Last Exit to Brooklyn caused much controversy due to its frank portrayals of taboo subjects, such as drug use, street violence , gang rape , homosexuality , transvestism and domestic violence . It was the subject of an important obscenity trial in the United Kingdom and was banned in Italy .
Last Exit to Brooklyn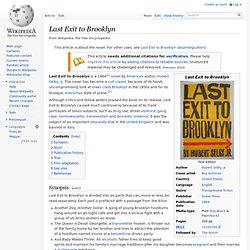 Hubert Selby, Jr.
Hubert "Cubby" Selby, Jr. (July 23, 1928 – April 26, 2004) was a 20th century American writer. His best-known novels are Last Exit to Brooklyn (1964) and Requiem for a Dream (1978), exploring worlds in the New York area. Both novels were adapted later as films, and he appeared in small roles in each. Selby wrote about a harsh underworld seldom portrayed in literature before then: his first novel was prosecuted for obscenity in Great Britain in 1967, and banned in Italy. His work was defended by leading writers.