POLITICS
Neoliberalism as a Water Balloon. Kabul assault: British forces involved in fight back. IRANIANS WE LOVE U: a message to Iran from Israel. Robert Redford on the state of journalism, politics and film. Interactive: Investigate Britain's arms trade | News. Turn autoplay off Edition: <span><a href=" Beta About us.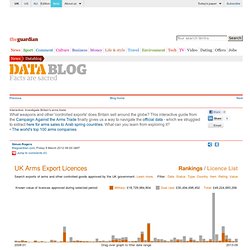 Christy Moore - Goose Green (Taking tea with pinochet) Tibetan monk sets himself on fire | World news. Another Tibetan Buddhist monk has set himself on fire in western China amid a wave of such protests against China's handling of the vast Tibetan areas it rules, overseas groups have said.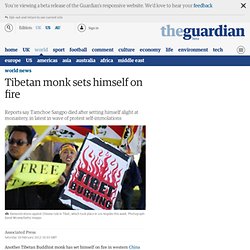 Tamchoe Sangpo set himself alight on Friday during a prayer ceremony at Bongtak monastery in a remote region of Qinghai province, the advocacy group Free Tibet said. It gave no details about his current condition, although US-funded broadcaster Radio Free Asia said he had died. In Tibet acts of self-immolation rise amid a battle for hearts and minds | World news.
Inside Tibet's heart of protest Link to video: Inside Tibet's heart of protest On the roof of the world, Chinese paramilitaries are trying to snuff out Tibetan resistance to Beijing's rule with spiked batons, semi-automatic weapons and fire extinguishers.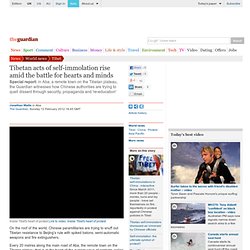 Every 20 metres along the main road of Aba, the remote town on the Tibetan plateau that is at the heart of the current wave of protests, police officers and communist officials wearing red armbands look out for potential protesters. Dozens more paramilitaries sit in ranks outside shops and restaurants in an intimidating show of force. Teenage Tibetan nun sets herself on fire in China | World news. Tenzin Choezin, the Buddhist nun who was reported by the International Campaign for Tibet to have set herself on fire Photograph: Freetibet/AFP/Getty Images An 18-year-old Tibetan nun has set herself on fire in western China in the latest protest against Beijing's handling of the Tibetan regions it rules, an activist group said.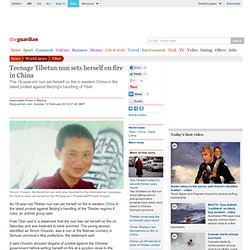 Free Tibet said in a statement that the nun had set herself on fire on Saturday and was believed to have survived. Bc video: Sincerity makes rare, welcomed appearance in political speech. Christy Moore-Hurt. A Lesson for Anarcho-Capitalists. War is a Racket by Smedley Butler. Noam Chomsky on Adam Smith & Invisible Hand - americanfeud.org. Paul Mason: 'These revolts have ended the period of capitalist realism' - video.
Why religion is like a penis. Britain has socialism in its psyche, too | Tristram Hunt. The Conservative commentariat has gone weak-kneed at the prime minister's "popular capitalism" speech.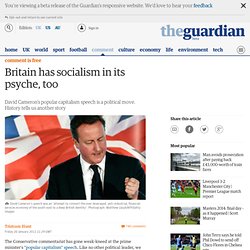 Like no other political leader, we are told, David Cameron "gets" the creative, iconoclastic energy of capitalism. This is the kind of free-market economics, according to the Spectator's Fraser Nelson, writing in the Telegraph, that is "hard-wired into the national DNA". RSA Animate - Crises of Capitalism.
George Carlin ~ The American Dream. Blair Inc's 'baffling' increase in earnings | Politics | The Observer. Tony Blair at a press conference in Beijing in August last year.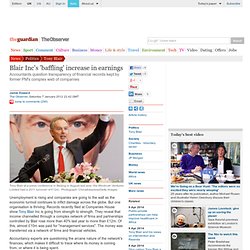 His Windrush Ventures Limited had a 2011 turnover of £12m. Photograph: Chinafotopress/Getty Images Unemployment is rising and companies are going to the wall as the economic turmoil continues to inflict damage across the globe. But one organisation is thriving. Guns as Christmas Gifts Went Up 100% in 2011. Newt Gingrich comments on Palestinians draw heavy criticism | World news. Leading Palestinian officials have rounded on the Republican presidential candidate Newt Gingrich for his description of Palestinians as an "invented" people and "terrorists".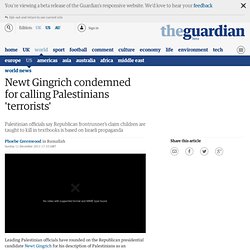 The Republican frontrunner insisted at a candidate debate on Saturday – to warm applause from the audience – that "these people are terrorists. They teach terrorism in their schools. Genial foreleser. Russians fight Twitter and Facebook battles over Putin election | World news. Russians have flooded Facebook and Twitter as they organise unprecedented protests against Vladimir Putin's United Russia party.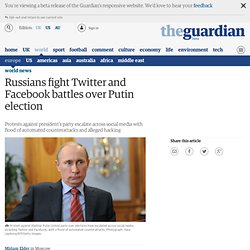 But they are not alone. Thousands of Twitter accounts appear to have been created with the sole purpose of drowning out opposition voices by flooding the service's hashtag search function. The automated attacks have dumped a blizzard of meaningless tweets with hashtags such as #Navalny, on which tweets about Alexei Navalny are collated, making it impossible to follow the flow of news about the arrested opposition leader.
Many of the so-called "Twitter bots" have now been shut down. Two Lesbians Raised A Baby And This Is What They Got. Lessons from Iceland: the people can have the power | Birgitta Jónsdóttir. The Dutch minister of internal affairs said at a speech during free press day this year: "Law-making is like a sausage, no one really wants to know what is put in it.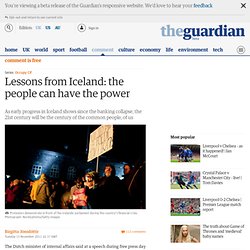 " He was referring to how expensive the Freedom of Information Act is, and was suggesting that journalists shouldn't really be asking for so much governmental information. His words exposed one of the core problems in our democracies: too many people don't care what goes into the sausage, not even the so-called law-makers, the parliamentarians. Why Iceland Should Be in the News, But Is Not. You may not be able to visit this page because of: an out-of-date bookmark/favourite a search engine that has an out-of-date listing for this site a mistyped address you have no access to this page The requested resource was not found.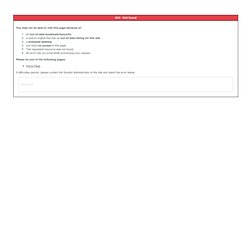 An error has occurred while processing your request. Please try one of the following pages: Home Page. Norway's dirty little secrets | Mark Curtis. Can the European left look to Norway to push the world's powerful nations to act morally abroad? A Labour/socialist left coalition government is celebrating electoral victory there, the first time an incumbent government has won re-election in 40 years. Four years ago, it promised to act as a "peace nation" to support a "more democratic world order" and human rights. Yet socialist-led Norway – still living on its benign image abroad – has instead become the home of four dirty little secrets.
A Brief History of The United States of America. Dalai Lama warns of backlash against immolations. Vladimir Putin scoops Chinese peace award | World news. The Russian prime minister, Vladimir Putin, is used to receiving accolades in friendly nations, but even he may raise an eyebrow at the prize he has just been awarded in China: peacemaker of the year. After two wars in Chechnya, one conflict in South Ossetia and two of the deadliest hostage relief operations in modern history, the former KGB officer was named on Monday as the winner of the second Confucian peace prize.
It is unclear if Putin is even aware of the award which was chosen by an obscure cultural organisation, the China International Peace Research Centre, from a field of nominees including Bill Gates, Angela Merkel, Kofi Annan, Jacob Zuma and a Tibetan Panchen Lama imposed by Beijing. The 16-judge panel said that Putin deserved the award because his criticism of Nato's military engagement in Libya was "outstanding in keeping world peace", regardless of the fact that it had no bearing on the outcome of the north African conflict.
Mixed messages on climate 'vulnerability' 13 November 2011Last updated at 14:45 There are concerns that climate change may exacerbate flooding in cities such as Bangkok One of the most striking new voices on climate change that's emerged since the UN summit in Copenhagen two years ago is the Climate Vulnerable Forum. The grouping includes small island states vulnerable to extreme weather events and sea level rise, those with immense spans of low-lying coastline such as Vietnam and Bangladesh, and dry nations of East Africa. It's currently holding a meeting in Bangladesh, with UN Secretary-General Ban Ki-moon as the keynote speaker. UN vote on Palestinian state put off amid lack of support | World news.
The UN security council on Friday put off a decision on admitting Palestine as a state while the Palestinian leadership considers whether to press for a vote it is all but certain to lose. The UN went through the ritual of adopting a confidential report from the admissions committee – which is the security council in another guise – that was unable to reach a common position on whether to recognise a Palestinian state in the face of strong US opposition. But a vote was put off while the Palestinians decide whether to press the issue after concluding that they do not have enough support in the security council even to claim a moral victory in the face of a US pledge to veto recognition of a state. The Palestinians appear able to muster only eight of the nine votes they need to win approval after France joined Britain in saying it would abstain even though Paris last week backed recognition of a Palestinian state by Unesco.
Vatican joins calls for crackdown on financial markets | Business. #occupywallstreet. Incredible Speech By Wall Street Protester "End The Fed" 2011. America's child death shame. St Paul's may seek injunction to move Occupy London activists | UK news. Links. Mmflint sin kanal. JohnPilger.com - the films and journalism of John Pilger. Immortal Technique at Occupy Wall Street: "We are here to stay"
Turkish students hurl eggs at IMF speaker. The War On Democracy by John Pilger. The World vs Wall Street. Occupy Wall Street protests - Wednesday 6 October 2011 | World news.
---